Snap comes to iPhone & web
By
Eric
on November 28, 2012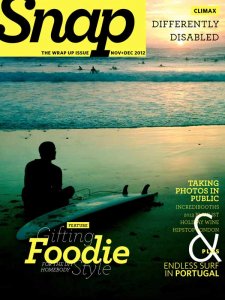 Originally published only on iPad, Snap is now also available on iPhone and on internet. Snap is a digital magazine from the Hipstamatic team. Apart from promoting the application, it aims at glorifying the amazing development of iPhoneography. And it works. Each issue is a graphic jewel.
The fifth issue (November/December) is out. Apart from incredibly beautiful photo reports, you'll also find in The Wrap Issue a pretty awesome report which was first published in Hipstamatic New England. The portfolio was made with IncrediBooth, another app fromSynthetic (the parent company of Hipstamatic and Snap). The result is mind-blowing. It gives new perspectives to an app that was until now seen  only as a mere photo booth.
Snap is available for free in the App Store, but also on the Internet.
This post is also available in: French