Tintype SnapPak
Hipstamatic released update 261 just in time for December Holidays. The update itself was unremarkable, fixing minor bug fixes. But it was also a prerequisite for its latest and most complicated new filters to date, Tintype SnapPak.
As the Pak name suggests, Tintype filters were inspired by the earliest photography techniques of the mid-19th century. The Pak contains one new lens, Tinto 1884, and two new films: D-Type Plate and C-Type Plate.
Tinto 1884
This filter belongs to the family of variable-focus 'Tilt-Shift' lenses that also include Loftus and Americana. Like Loftus, the lens provides a central area of sharp focus surrounded by a halo of extreme soft focus. It also provides a cool cast to ambient lighting making it appear as if taken under a flourescent bulb. This contributes to the metallic / silvery tones evoked by early Tintype images.
Note: In the intial release, the Tinto lens was referred to as 'Tinto 1884' in marketing materials and artwork. Data driven elements in the UI and EXIF data refer to the lens as 'Tinto 1848'. According to the Corporate Overlords at Hipstamatic, '1884' is the correct name and future updates will fix the '1848' discrepancy.
It has been observed that the Pop Rox flash negates the focal effects of this film, likely a bug.
D-Type Plate
D-Type derives its name from the 19th century Deguerrotype. It is monochrome film with a rather complex series of contamination and border patterns meant to give a random appearance of chemical staining and historical weathering. Its companion film, C-Type Plate, has a similar system of overlapping effects and some of the patterns are shared.
There appear to be four pattern layers. For illustrative purposes we will refer to these patterns as the 'Black','White','Grey' and 'Ghost'layers. Each layer consists of one to three distinct patterns, and these patterns both rotate and/or flip along a central axis to increase the sense of randomness.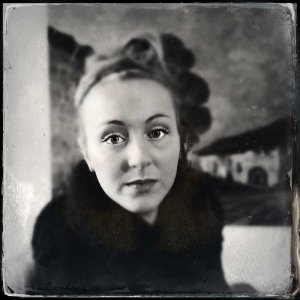 The Black Layer consists of uneven edges, corner patterns and smears, and black particle contamination across the image. There appears to be two distinct patterns: The dominant pattern lacks triangular corners, but a rare variant has a triangular patten in three corners. (Note this unusual variant is the dominant pattern used in C-Type film)
The White Layer consists of irregular streak patterns along the border, with white speck contamination. There appears to be two patterns, with one of them dominant.
The Grey Layer consists of at least one, if not two, faint edge patterns.
The Ghost Layer consists of smear and stain patterns across the face of the image. There appears to be only one variant, an uneven smudge pattern coupled with a pattern that appears to be chemical stains (when seen against a dark background) and metallic dimples (when seen against a white background)
If that were not enough, there appear to be rare, random occurences of small cyan-colored stains and a white 'ghost corner' pattern.
C-Type Plate
Offered in the TinType SnapPak, C-Type is a reference to the 19th century Cyanotype development process. True cyanotypes are monochrome films - popular among scientists and engineers - resulting a blue & white image (giving origin to the term 'blueprints'). For Hipstamatic, the attribute ends there.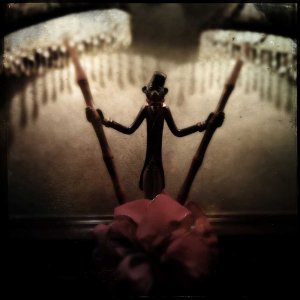 C-Type is a color film that significantly desaturates the color element (a similar effect is occasionaly seen in BlacKeys B+W film). Superimposed on the image is a complex layering of border and contamination patterns shared with its sister film, D-Type Plate.
In addition to contamination patterns, C-Type adds a blue/pink tint not present in D-Type. The intended effect is to give an image a 'hand tainted' appearance found in 19th century prints. The effect is more plausible when paired with the companion Tinto 1884 lens, which adds another level of focus distortion.
© Tom Choinski (Hipstamatic New England)
Hipstamatic New England Tom Choinski
This post is also available in: French