The Hipstography Awards 2016 – Nominees for Documentary Portfolio of the Year
By
Eric
on janvier 23, 2017
Quels sont vos 3 portfolios préférés? Vous pouvez voter pour un seul portfolio, pour deux ou pour trois; trois étant le maximum.
Un seul vote par personne est autorisé.
Fin des votes pour cette catégorie: le jeudi 26 janvier.
Remarque pour les lecteurs francophones: étant seul à gérer le site, il m'est impossible de copier les textes accompagnants les portfolios dans les deux langues. Je n'ai donc gardé que l'anglais. Merci de votre compréhension.
---
"Kabul At Work" by Erin Cunningham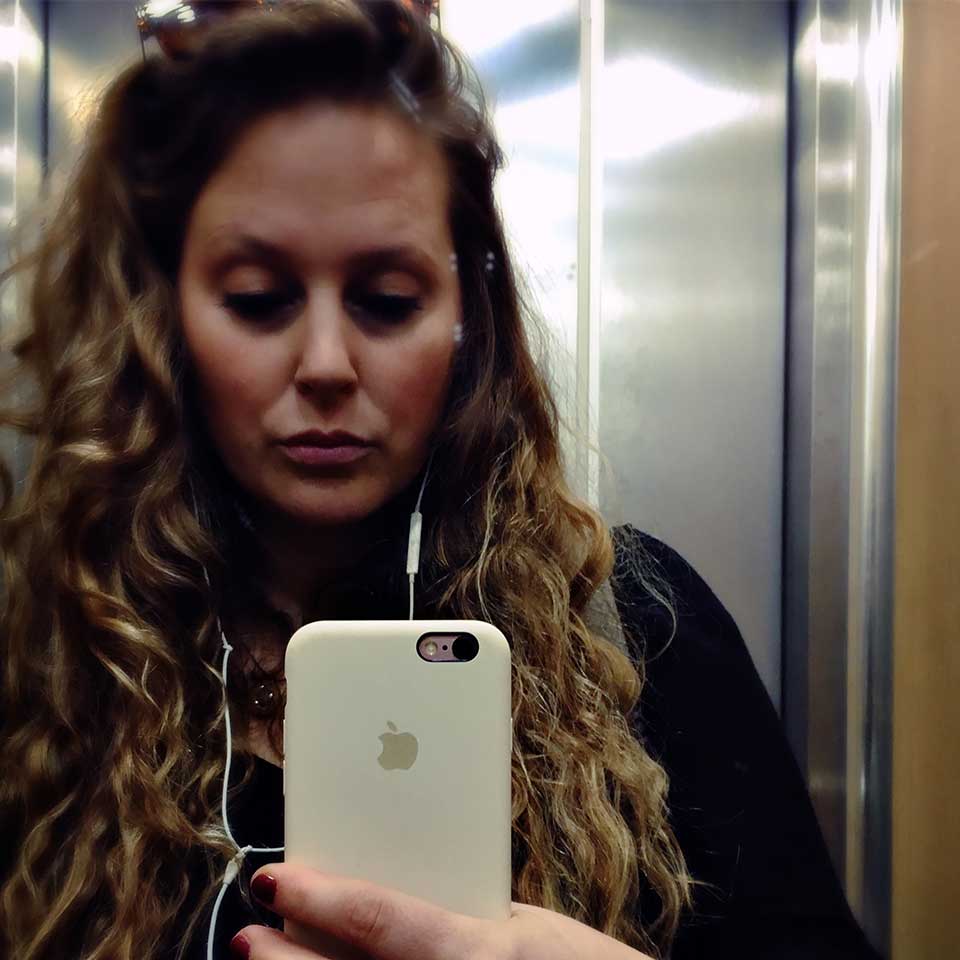 Name: Erin Cunningham
Hometown: Huntington Beach, CA, USA
Resides: Istanbul, Turkey
Profession: Journalist
Hobbies: Reading, annoying friends with incessant picture-taking, too much time spent on planes
Hipstographer since: 2012
Year of Birth: 1983
Favorite Combo:  Libatique 73  +  Cheshire  +  Apollo 
Favorite lens:  Yoona 
Favorite Film:  Love 81 
Favorite Flash:  Apollo 
"Afghanistan is currently suffering some of the worst violence since the U.S. invasion in 2001, and not even the capital, Kabul, is spared from Taliban attacks. But life goes on and this city of nearly 4 million is still a vibrant hub for culture and trade. These are just small snapshots of everyday life on the streets of Kabul, 15 years after the Taliban were ousted in a U.S.-led war."
Erin Cunningham
---
"The magic of the Cannes Festival" by Valery Hache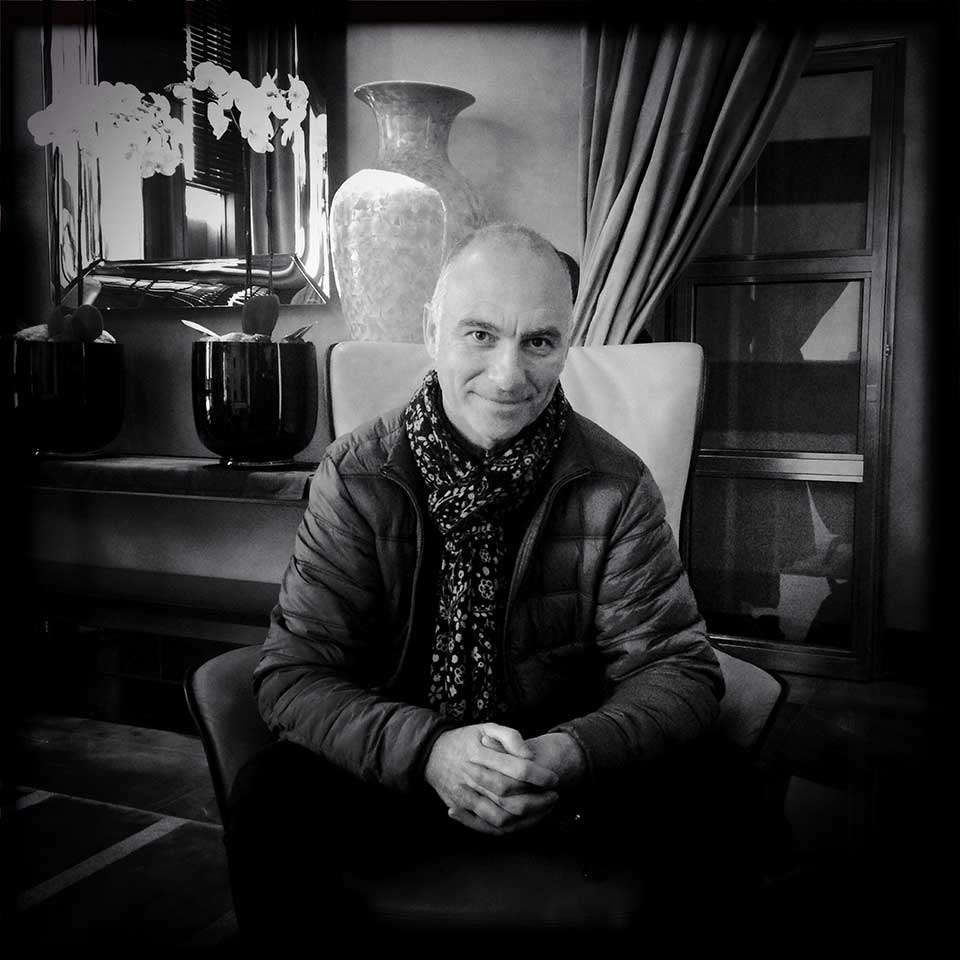 Name: Valéry Hache
Hometown: Rennes
Resides: Nice
Profession: Photojournalist at AFP
Hobbies: Photography exhibitions, the sea, photography books and films
Hipstographer since: 2013
Year of Birth: 1962
Favorite Combo:  John S  +  BlacKeys SuperGrain 
Favorite Lens:  John S 
Favorite Film:  BlacKeys SuperGrain 
Favorite Flash: None
"What a start to the first week of the 69th Cannes Festival! There is so much to see that you could easily stay up 24/24! Unfortunately, in order to keep up with the tempo of this mad marathon, you do need some sleep. I work for the agency France Press, so I have first row access to the red carpet that sees a constant stream of stars parading all over it, night after night. The second stop is the famous "Photocall", where all the actors make a brief appearance to have their photographs taken in front of the "wall of photographers". This is where I caught this shot of Woody Allen, here to present his latest film "Café Society". I also love sauntering along the "Croisette" where you get to see the most surprising things and people!! This is the magic of the Festival!"
Valery Hache
---
"World Youth Day in Krakow" by Niels Brunelli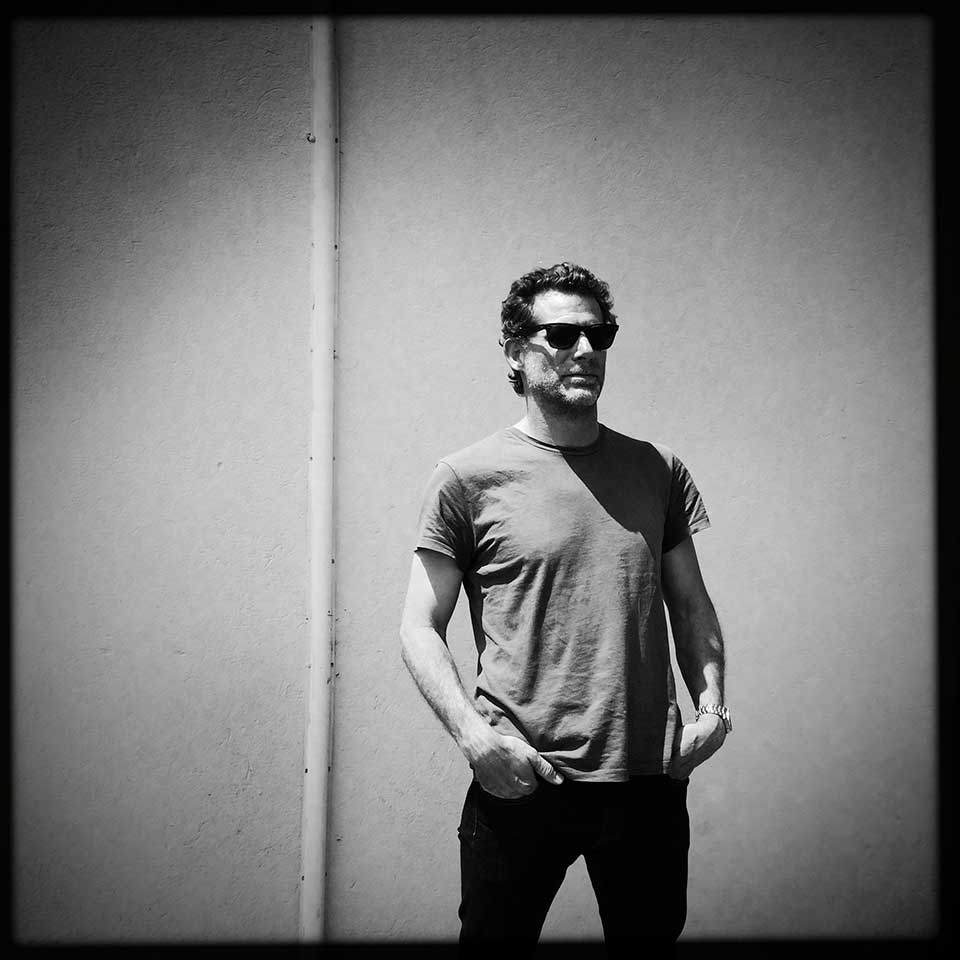 Name: Niels Brunelli
Hometown: Laméque (Canada)
Resides: Cannes (France)
Profession: Video journalist
Hobbies: Pop culture, Music, Photography
Hipstographer since: 2015
Year of Birth: 1970
Favorite Combo:  Jane  +  BlacKeys SuperGrain 
Favorite Lens:  Jane 
Favorite Film:  BlacKeys SuperGrain 
Favorite Flash: None
"I work for a French TV station as a photo journalist and, for 5 days, from August 27th till 31st, I covered the World Youth Days in Krakow. As I'm always carrying my iPhone, I would whip it out at any and all occasions. I didn't have a particular theme in mind, I just captured what was going on around me.
The World Youth Day celebrations happen every three years. The religious youngsters come together to pray, engage in reflection and party… read: catholic partying! At times, it's reminiscent of Woodstock, without the drugs, the alcohol and the music is… well… rather religious: an acquired taste, I'd say! That said, I was truly struck by the fervour and friendliness of these kids. The highlight of the event was the Sunday morning mass, in the presence of his Holiness, the Pope. I witnessed 2,5 million people praying in unison, in a huge field. It was a truly extraordinary experience! I took pictures there that I will never forget. The evening before, there was a vigil and when night fell, everyone lit a candle. The next day, early in the morning, a priest took confession from one of the pilgrims, in public. I hope you all appreciate this little photographic pilgrimage. "
Niels Brunelli
---
"N.E.P.A.L. – Never Ending Peace And Love" by Agostino Toselli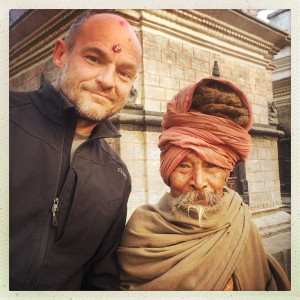 Name: Agostino Toselli
Hometown: Milano, Italia
Resides: Spotorno, Italia
Profession: Architect
Hobbies: Outdoor sports (glider, sail, trekking)
Hipstographer since: 2010
Year of Birth: 1969
Favorite Combo:  Neville  +  Daydream 
Favorite Lens:  Jane 
Favorite Film:  Ina's 1982 
Favorite Flash:  Standard 
"Nepal isn't as far away as you might think, but it's very far in terms of landscape and humanity compared to our Western way of life. It's an enchanted land where nature and life are allowed to follow their natural rhythms. This is my photo book of a trekking trip in the Annapurna region. It boasts some of the highest peaks in the world, as well as the most remote villages and, of course, chaotic Kathmandu... I hope this series conveys the magic I felt. If you want to help Nepal and yourself, make it your next holiday destination!"
Agostino Toselli
---
"20th Anniversary Million Man March" by Eric Easter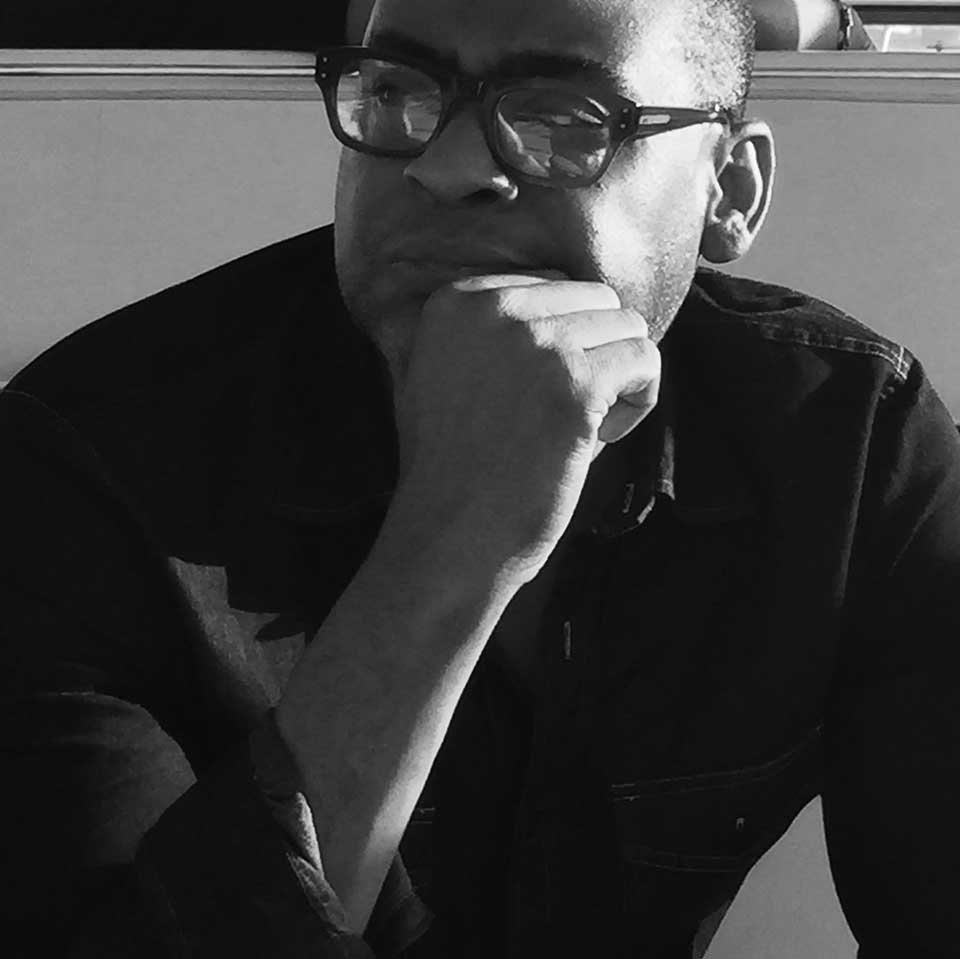 Nom: Eric Easter
Hometown: Baltimore MD
Resides: Washington DC
Profession: Documentary Producer/Writer
Hobbies: Photography, cooking, fishing, hiking, camping
Hipstographer since: 2014
Favorite Combo:  Tinto 1884  +  Ina's 1935 
Favorite Lens:  Helga Viking 
Favorite Film:  Blackeys Extra Fine 
Favorite Flash:  Apollo 
"I did not intend to shoot the Million Man March 20th anniversary rally. I run a news service that provides content to newspapers and magazines and had already hired writers and a photographer to cover it. But I live down the street from the National Mall so I went, mostly out of curiosity, and to give my kids some context for the first march, which I also attended.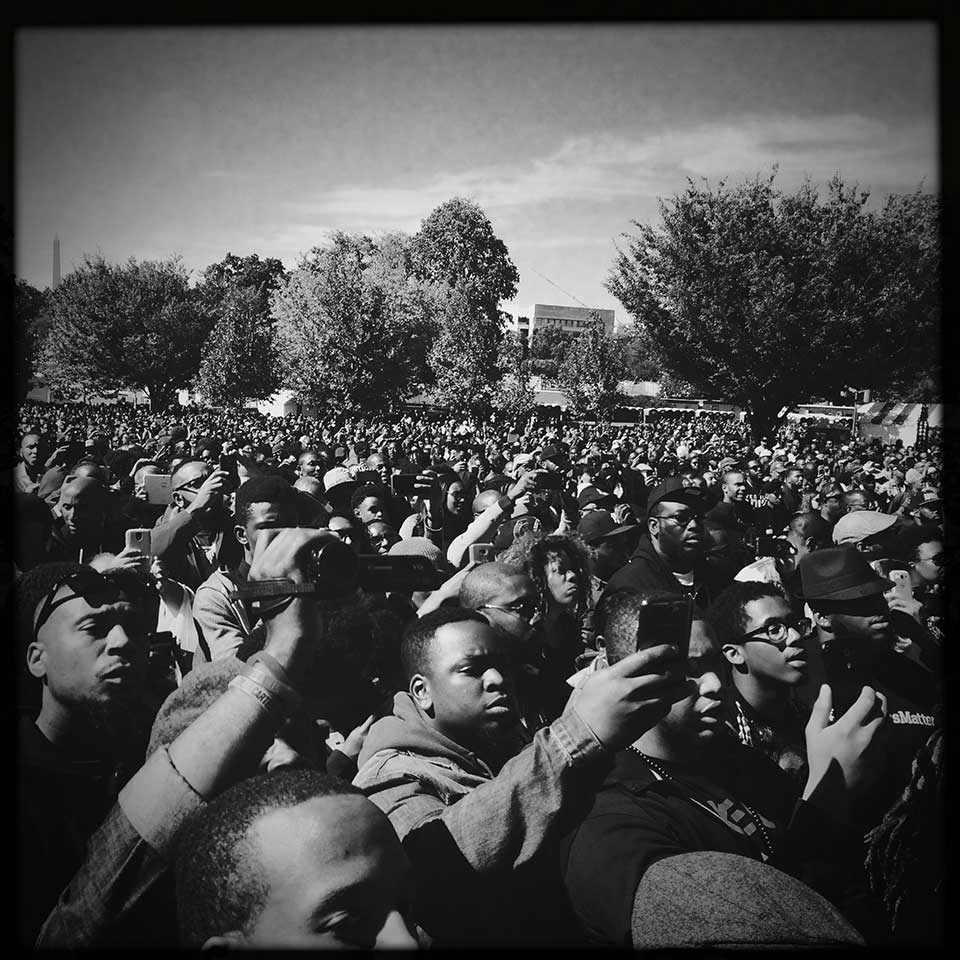 I shot maybe 25 pictures total. With 500,000 people in one place, most using cellphones, batteries drain quickly. I posted the first few pics to Facebook then stopped because cell service was overloaded and posting took forever.
But when I got back home I saw a slew of messages from Facebook friends, most of whom are media and entertainment people, asking for more shots. The pics had also been shared quite a bit. A couple of hours later, I got a call from Dudley Brooks, the photo editor at Washington Post Magazine, saying that he had hired several shooters to cover the event, but mine were the only ones showing a different side of the march.
He asked for the full shoot, chose a few, and that became a 4-page spread in the Post Magazine, along with an article I wrote. All an accident, basically.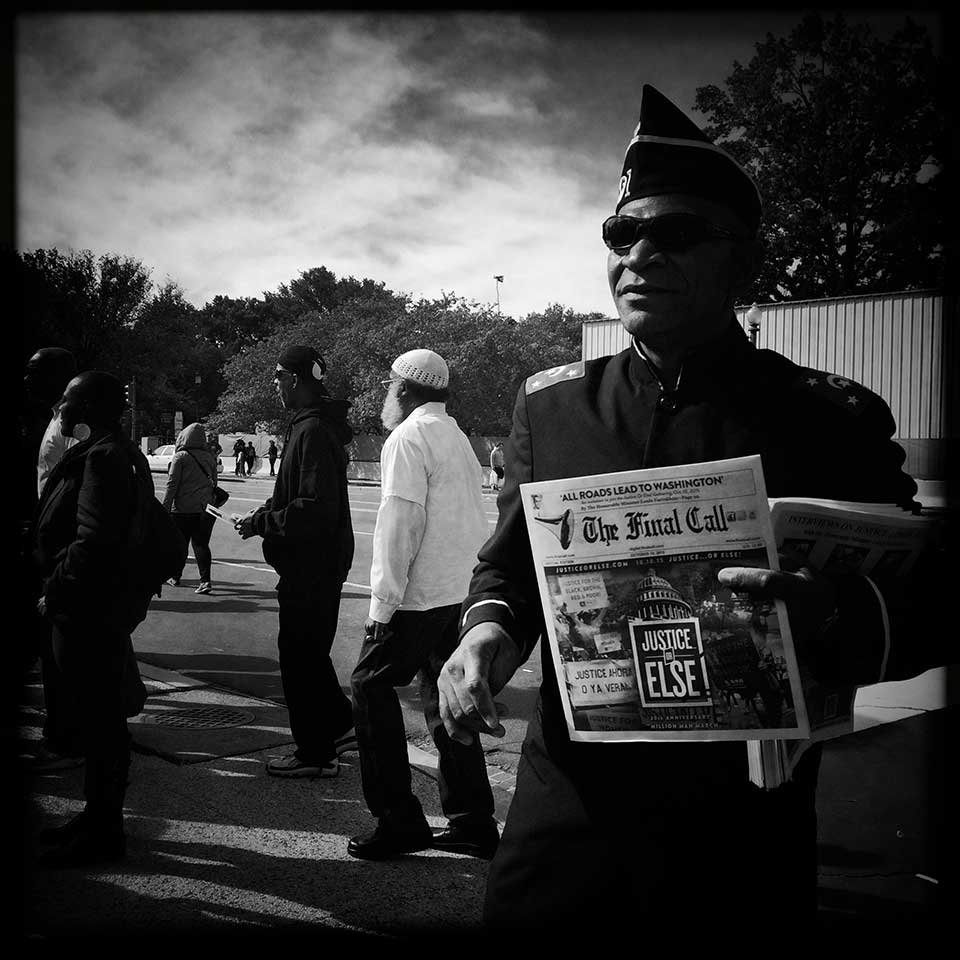 It was a huge compliment. I consider Dudley to be one of the best shooters in the world. And while I've edited two major photo books and exhibitions, I've never showed my work publicly because I work with too many great photographers who do that for a living. So it's my first published work, and if I'm not mistaken, probably the first time the magazine has run a full photo spread shot with an app.
The thing I love about Hipstamatic and shooting with cellphones, in an environment like a march or protest, is that people tend not to be intimidated by, or show off for the camera. You can be a lot more discreet and get a natural feel for what's happening.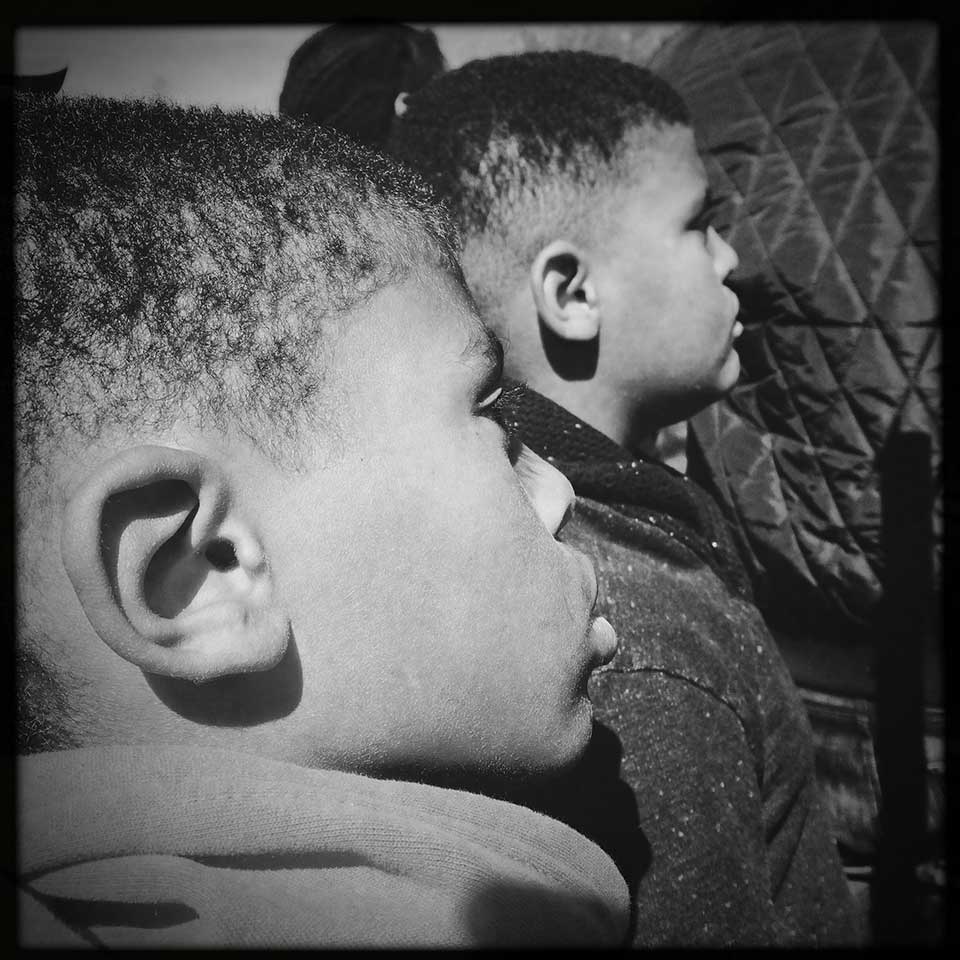 Most all of the shots are the John S Lens with BlacKeys Supergrain film."
Eric Easter
---
This post is also available in: Anglais