Hipstamatic Street Photography
By
Eric
on November 13, 2013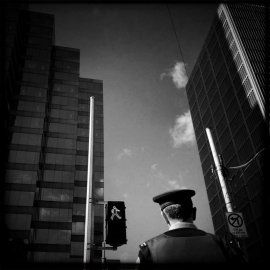 New Facebook group dedicated to Street Photography simply titled "Hipstamatic Street Photography". This group was started by Matthew Wylie, a talented hipstographer who I regularly publish photos by.
Group rules are simple: photos must be taken by Hipstamatic or Oggl and can not be edited by another app. Please indicate general location of shot, and the combo used is always preferred. And of course, they should be related to the theme.
Matthew has published an excerpt of a beautiful text (from other writers of the genre) on the group page:
"What is Street Photography?:

It is a branch of realistic fine-art photography that records unposed scenes in public places (streets, parks, restaurants, stores, museums, libraries, airports; train, bus, and subway stations, etc.)

The primary subject is people, at rest or in motion, alone or with others, going about the every-day activities of life (walking, sitting, standing, waiting, reading, eating, talking, listening, laughing, daydreaming, greeting, parting, working, playing, shopping, viewing art, sightseeing, etc.).

The emphasis is not on the subject's personal identity, as in portraiture. And unlike photojournalism, there is no news here, rather, the commonplace; although, the line between photojournalism and street photography is often blurry. Many of the best street photographers were photojournalists. Unlike travel photography, that aims to entice the viewer to visit a certain place or to fondly remember it, location is relatively unimportant, though busy cities with interesting architecture are commonly seen in these works." - Larry E. Fink

"Street Photography is an attitude." - Nick Turpin

(Source)
See you on the streets!
(Photos by Matthew Wylie)
This post is also available in: French