The Hipstography Awards 2013 – Nominees for Transport Capture of the Year
By
Eric
on February 1, 2014
Which are your favorite 3 photos? You can vote for one of them, or two or three, it's entirely up to you; the maximum, however, is three.
Only one vote per person is allowed. The message "Thank you for your vote" means that your vote has been registered.
Voting for this category will end on Monday February 3rd.
[yop_poll id="25"]
Photo by Simon Heard
Flash: off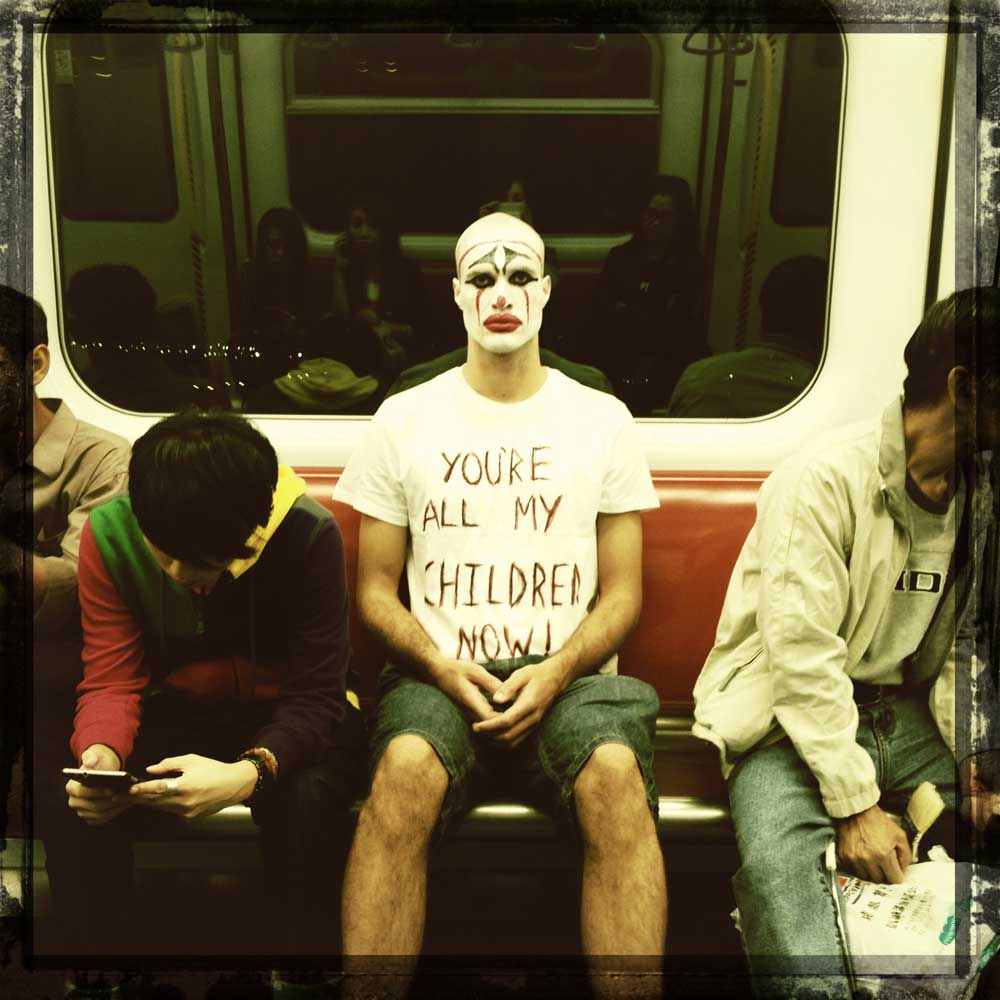 "For Halloween I went to my work party as the clown from The Chemical Brothers live performances. This clown was ingrained in my mind from the first moment I saw them in 2004. So, I dressed up as this clown with the lyrics 'you're all my children now' written on a t-shirt. I had to take the metro to get to the party and I'm pretty sure The Chemical Brothers were not so big in Hong Kong so I was greeted with confusion, if anything. What I really like about this photo is how nobody was looking at me, even turning away from me. It was a lot of fun and has given me ideas for similar photos."
Simon Heard
Photo by Julius Tanseco
Flash: off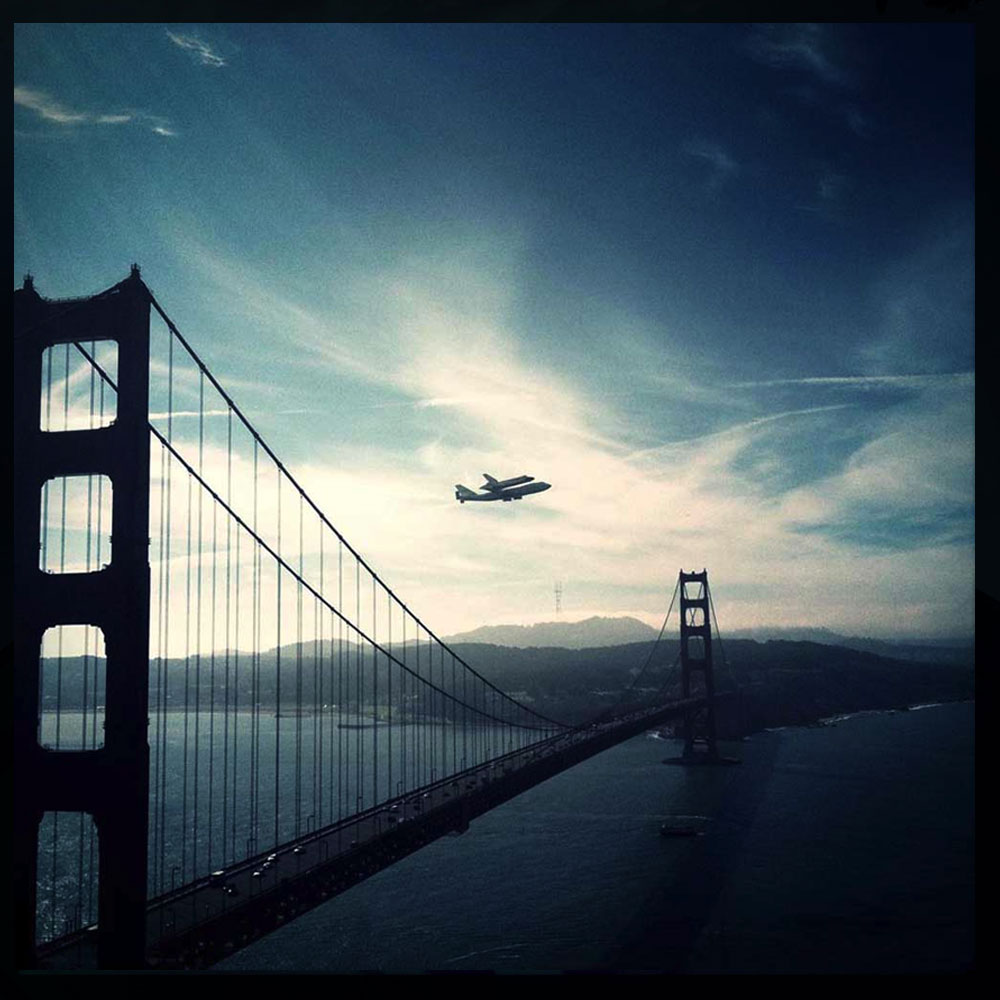 "This picture is by far my favourite that I've taken with Hipstamatic. I woke up on the day of the shuttle flight and did not want to get out of bed. I thought, "I am so tired, do I really want to make the trek out to the marina just to see this shuttle?" Finally I convinced myself to get up - this is a once in a lifetime event and I definitely cannot miss it! My original plan was to go to Crissy Field to watch the shuttle flight. There's a great view of the Golden Gate Bridge on the beach. On the drive there, I thought, "I bet no one will be up at Battery Park! That would be the perfect place to see the shuttle and get some great shots!"
My friend and I got there to find the place crowded with news photographers and shuttle fans. I have just downloaded the W Mag FreePak pack for Hipstamatic and LOVED the effect. I thought it would be perfect for the shot! As soon as the shuttle flew by us I just kept taking pictures of this amazing flight. This picture has received so much publicity! I'm so thankful for it all! Every time I look at it, I think about that moment where I had goosebumps watching this once in a lifetime flight"
Julius Tanseco
Photo by Jason Mynatt
Flash: off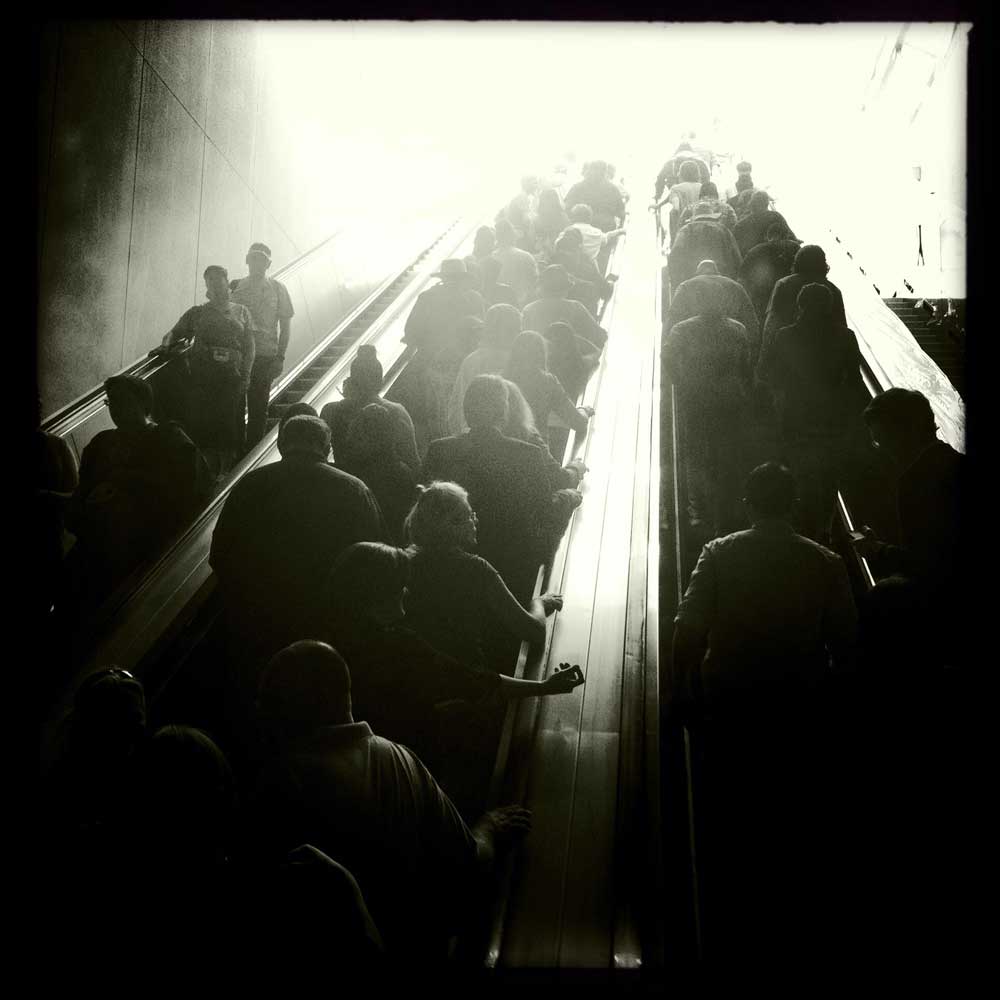 "I shot this while exiting DC's metro at Foggy Bottom. I often shoot in subways because of the lighting and the people. I noticed the people ascending into the light and thought that John S and Claunch would work perfectly. I snapped one shot and headed up myself. Back at my hotel I saw the result and loved it. Especially the woman's extended hand near the bottom of the photo.."
Jason Mynatt
Photo by Leslie Kelly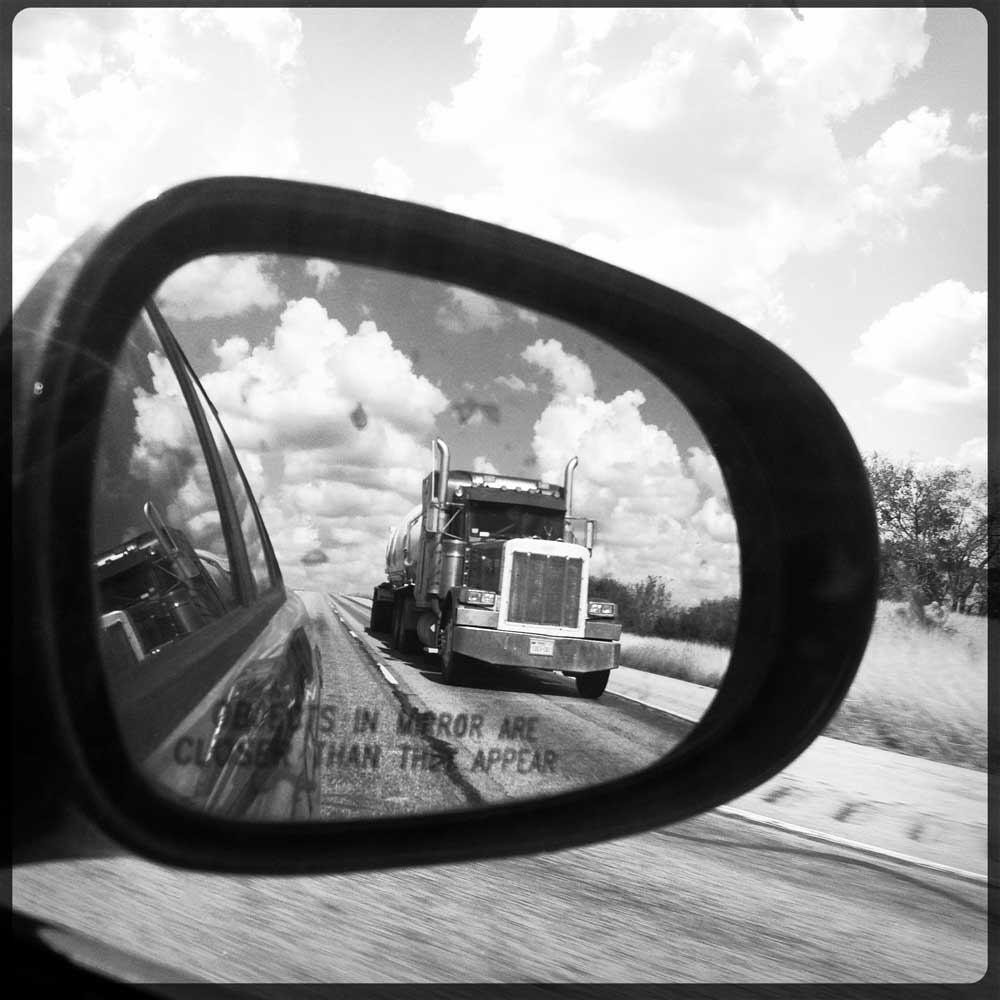 "In Texas you can't get from here to there without a car. So most of my Hipstamatic snaps are shot from my car. This was a day trip last November from San Antonio to South Padre Island, Texas on the Gulf of Mexico. It is a 2 hour drive on Interstate 281 through rural farms and ploughed under cotton fields, with little in between.
I chose Tejas Lens, Rock BW-11 Film & Pop Rox Flash to emphasize the starkness of the winter countryside, mirages on the horizon and cumulous clouds and their shadows.
Please note: using your iPhone Camera while driving is hazardous. The first rule is to be able to instinctually drop your iPhone if you sense danger, you can always repair or replace an iPhone."
Leslie Kelly
Photo by Denis Perekhrest
Flash: off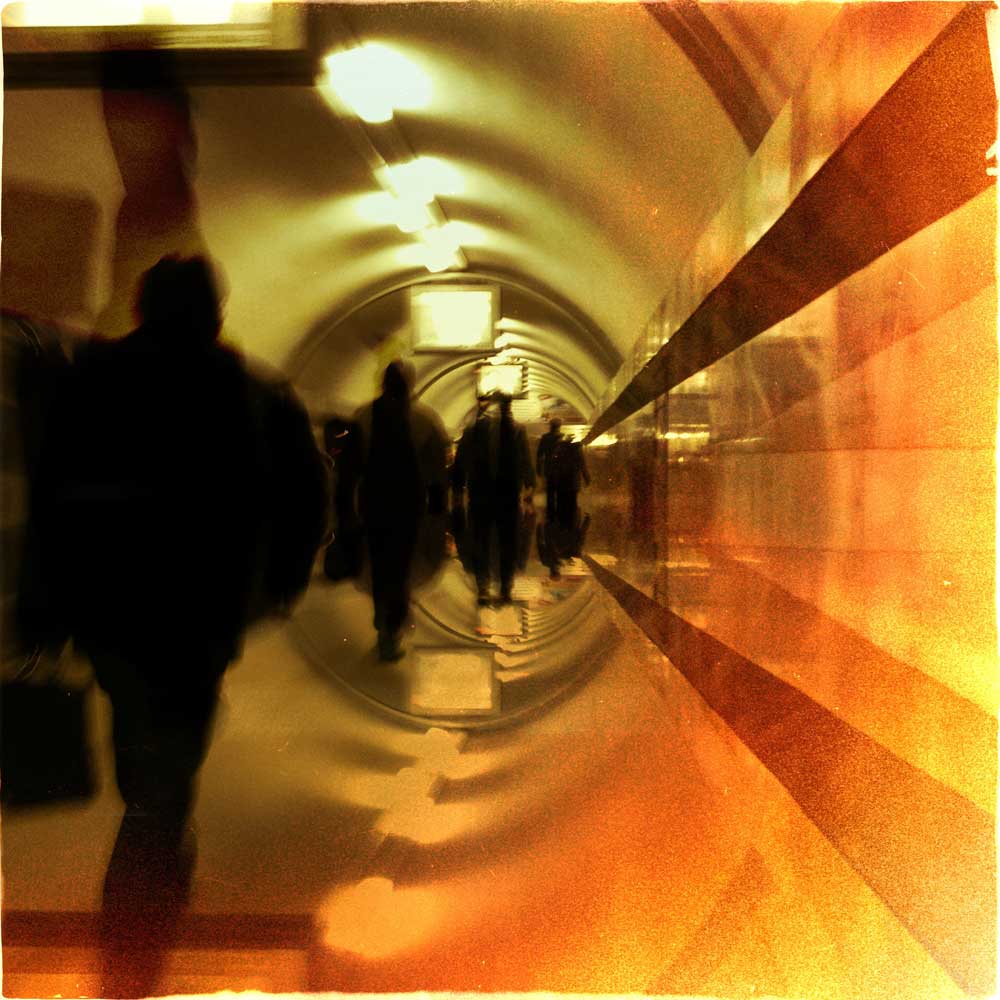 "Unexpected effect by Salvador 84 lens. This shot was made on the go (so it's a little bit blurred) in tube between two Minsk subway stations."
Denis Perekhrest
Photo by Ivan Vetrov
Flash: off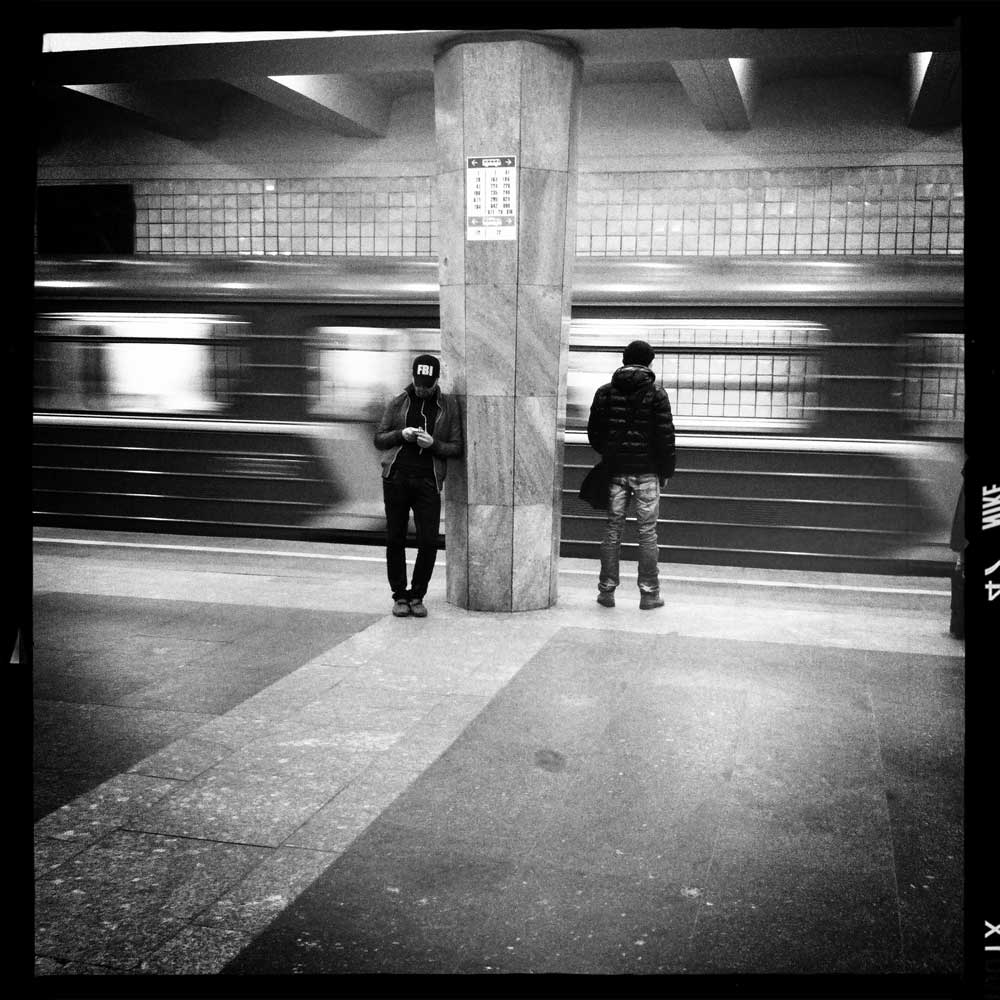 "I was riding the subway (Moscow metro) and saw these two guys at the train stop. The photo was taken instantly because I had to do it, before my train left."
Ivan Vetrov
Photo by Alex Fung
Flash: off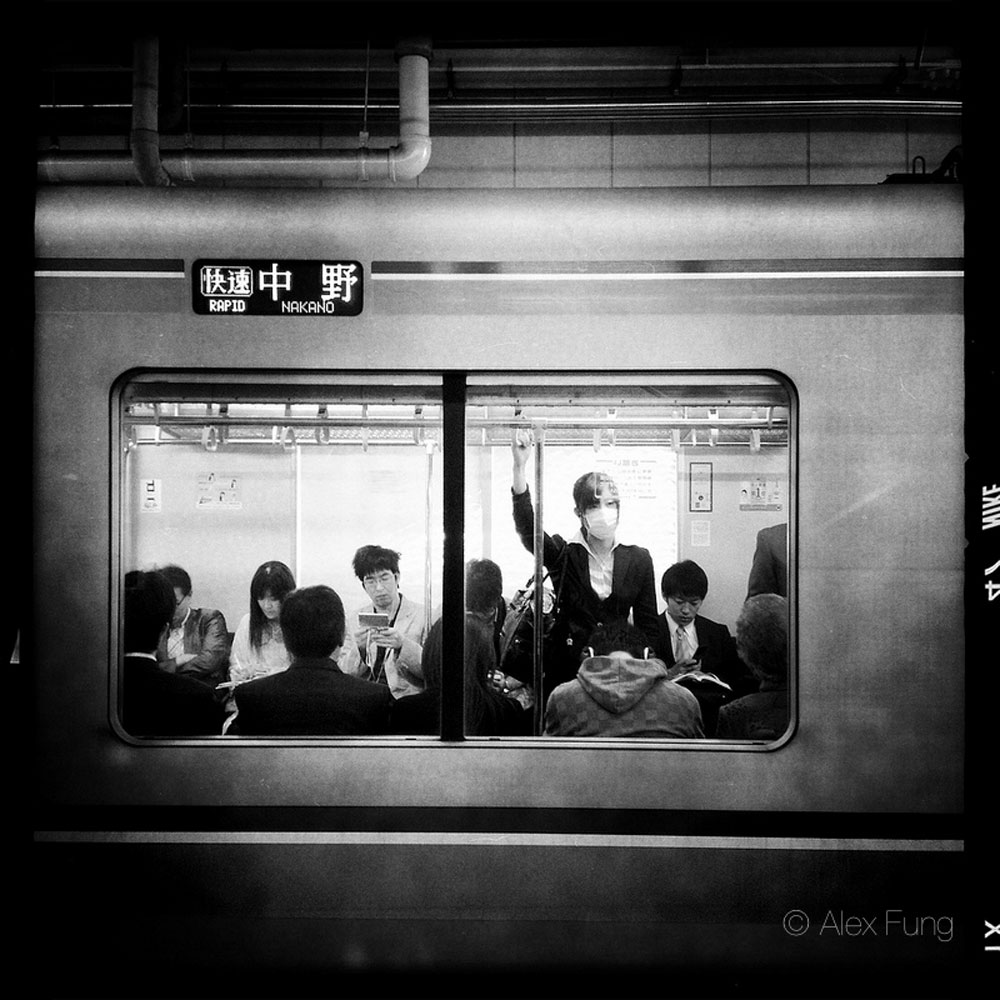 "I enjoy using Hipstamatic because it is such an easy and fun way to capture the unexpected and candid moments of daily life. A lot of my mobile street photography has been shot in black and white with Hipstamatic. The simplicity of this app allows me to focus on lighting and composition while also shooting in a way that is spontaneous and up-close."
Alex Fung
Photo by Nefise Hussein
Flash: off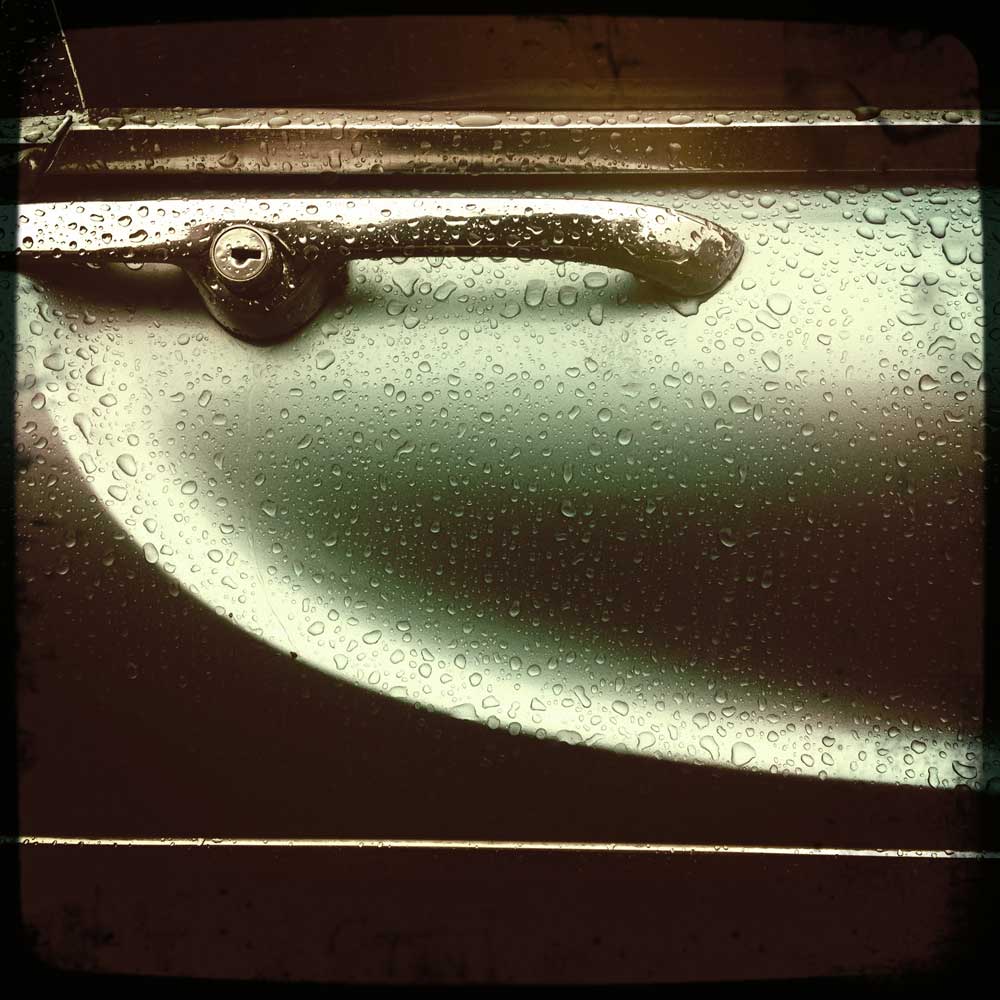 "Vintage London Rain"
"Yes (another) rainy, summer morning in London, hey what's new! For a change I was inspired by it, when I happened upon this classic Volvo - P1800 ES (circa 1970s). The car looked so beautiful covered in rain droplets.
I love some of the retro design features of the car, like the chrome handles and bumper, mirror and also the lines/shapes of the car (nice sweeping curves), always looks quite 'sexy' I think… the combination of those elements. So I just wanted to show all three in this abstract pic. Love the combination of Float film & Lucifer VI lens, perfect for creating a 'vintage' looking image."
Nefise Hussein
Photo by Michael Housewright
Flash: off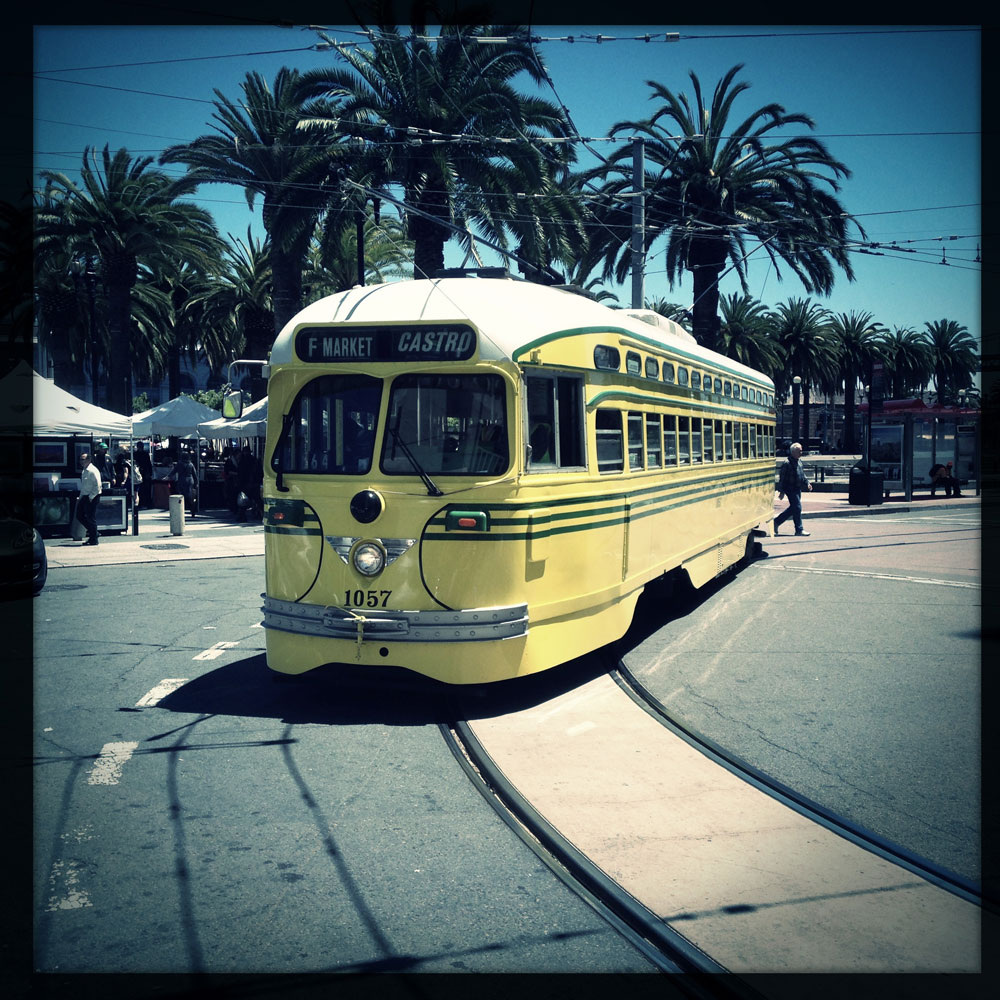 "A vintage tram along the Embarcadero in San Francisco."
Michael Housewright
Photo by Tony Hirtz
Flash: off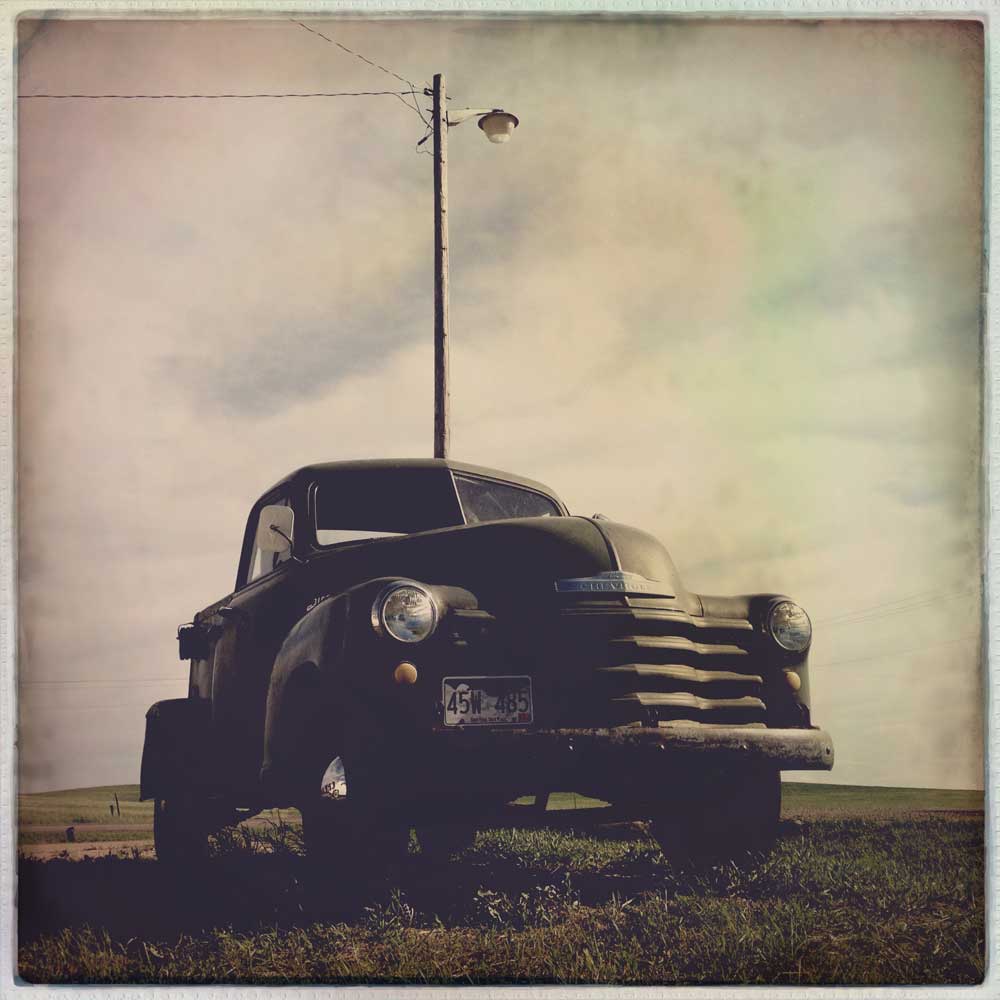 "This shot came many miles West of Wisconsin, near the South Dakota and Wyoming border, in a town called Vivian: a time capsule of dirt roads, prairie land, and abandonment shot with Madelena/Robusta."
Tony Hirtz
This post is also available in: French