'Into the Wilderness of the Human Spirit' by David Norbut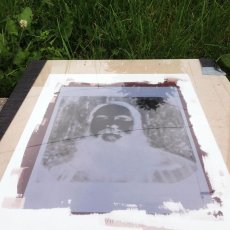 Photographer David Norbut documents a behind the scenes look at his current series "Into the Wilderness of the Human Spirit". Taking portraits from the Hipstamatic app on an iPhone 5 and making prints using the Salt Print Process from the 1800's.
The salted paper process was invented by William Henry Fox Talbot, known as The Father of Modern Photography, in 1833 while he was on his honey moon. He was the first to make a silver image on paper. On his first attempts paper coated with a silver nitrate solution and exposed to light only gave a faint metallic silver image. He later discovered that by first applying salt to the paper and then coating it with the silver nitrate solution he could get a much stronger image. This is basically the same way that we make salt prints today.
The Series will be on display August 2nd at the Chris White Gallery in Wilmington, DE. For more info, contact www.dnorphoto.com
[button color="black" link="http://www.dnorphoto.com"]website[/button]  [button color="grey" link="http://www.wearejuxt.com/david-n"]wearejuxt[/button]  [button color="orange" link="http://www.flickr.com/photos/davidnorbutphotography/"]flickr[/button]  [button color="black" link="http://instagram.com/dnorphoto"]Instagram[/button]  [button color="grey" link="http://www.eyeem.com/dnorphoto"]eyeem[/button]
This post is also available in: French