'Remixing Make Beautiful' by Samuel Gasc
Samuel Gasc, a graphic designer by trade, is not only responsible for  the HipstaChallenge, but also took on the role of curator for the Make Beautiful project. Always looking for ways to stir up creativity, he will be launching this month yet another concept called Remix. I wanted to know more about it, so I decided to ask Samuel a few questions...
So, you're in charge of the "HipstaChallenge", but also of "Make Beautiful".  What's the difference between the two?
HipstaChallenge began as a personal project in June of 2011 to encourage myself to shoot more with Hipstamatic on a daily basis, but the assignment-driven photo project rapidly evolved into more of a community with others sharing their interpretations of my curated themes. Very quickly I transitioned to being more of a curator, providing creative direction, inspiration, and feedback for people sharing their photographs.
In April of 2012 Hipstamatic published a monthly list of themes under the name Hipst-a-Day to offer daily creative inspiration to users of the app. In June Hipst-a-Day became the Make Beautiful global art project, encouraging people to see the beauty surrounding them at all times and to share it photographically with the world. The monthly lists of daily themes remained a large part of the project. I was fortunate enough to be a contributing writer from near the start, and by August of that year I became the lead writer, continuing in that role to this day.
"Make Beautiful" is not a competition; how would you define it then?
Make Beautiful is a springboard. It exists as a means of encouraging others to produce beautiful work. Sometimes we need a little push, some extra inspiration… Make Beautiful aims to provide that, one day at a time through the creative prompts.
Every month, you'll be suggesting 30 words, which have to be interpreted through the photographic medium. Are those words related to each other? How do you choose the words?
Every list begins with an idea. From that central theme I do a lot of exploratory writing, jotting down every little thing that might come to mind. Single words, paragraphs, mind maps… you name it. The final lists are essentially a distillation of all of the exploration. After taking the rough ideas and turning them into single words, I then select the ones I feel most strongly reflect my impression of the original central concept.
What do people have to do in order to participate in "Make Beautiful"?
There is both a personal and communal aspect to Make Beautiful. The personal element of Make Beautiful is the creative act: seeing, interpreting, framing, and making the image. The communal component is sharing. HipstaChallenge serves as a home for people involved in the Make Beautiful project and a place for them to share their interpretations of the themes.
Currently the best way to share your photographs for Make Beautiful is to post them directly to the community's Facebook page. Although you can share them via Oggl and Instagram using the #makebeautiful or daily tags, I am simply not on my phone as much as the computer these days, so I can see and share photos submitted via Facebook much more efficiently than the other channels.
You're launching a new project called "Remix". In what way is it related to "Make Beautiful" and how can people get involved?
Remix is a month-long photo contest presented by HipstaChallenge that will invite participants to submit a portfolio of photos that interpret a full month's list of Make Beautiful. Contestants can select any month of Make Beautiful from January of this year to the present, and their portfolio should contain one photo for every theme of that particular month. Photos do not have to be brand new and can be older photographs or ones they have shared in the past. What is most important is that they feel each photo is a strong interpretation of the themes for their chosen month.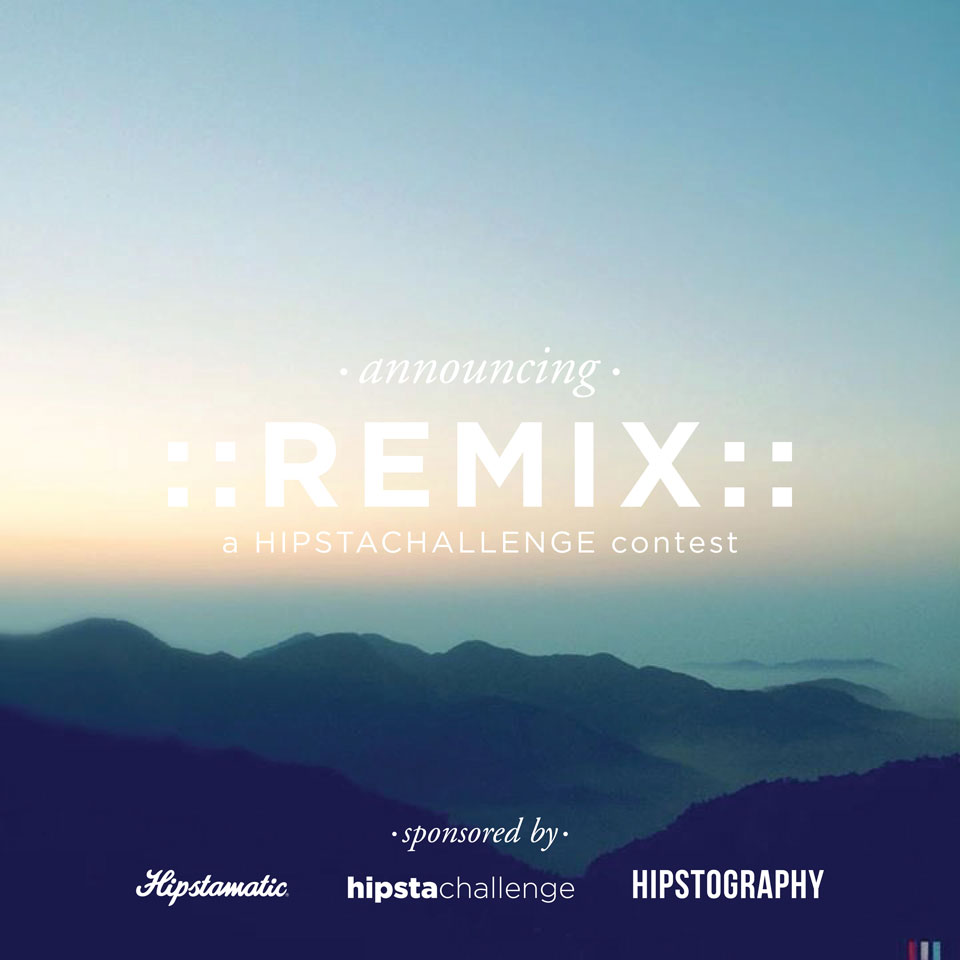 Will you be accepting photographs that were edited with other apps?
No, the contest is limited to photos taken with either Hipstamatic or Oggl.
Since it is a contest, will there be a prize?
Yes, there will be one grand prize and 3 runners-up selected from the portfolios by myself and a small panel of judges. The grand prize winner will have their portfolio of photographs designed into a commemorative book and receive a 20-inch print on wood or metal from the Hipstamatic Print Lab of a photograph of their choosing from their winning portfolio. The runners-up will each receive a 10-inch print on wood or metal from the Hipstamatic Print Lab of a photograph of their choosing from their winning portfolios.
HipstaChallenge has been going for three years now and "Make Beautiful" for two. You must have some interesting stories about it...
By far the most enjoyable and memorable aspect of both HipstaChallenge and Make Beautiful for me has been the community. I've gotten in touch with so many wonderfully creative and talented people over the years, who have both inspired me and encouraged me to continue in this labor of love when it would have been easier to throw in the towel.
I curated HipstaChallenge's first real-world exhibition in February of last year, and it was quite the magical experience. Between Mario and others at Hipstamatic working closely with me to produce gorgeous prints of the work and Jouk Duivis, one of the exhibited contributors, flying in from the Netherlands to attend the closing reception, it made me feel honored to be a part of such an awesome community.
How do people submit their portfolios for Remix?
1. Select a month of Make Beautiful from January to April of this year (1 month only).
2. Interpret each theme from your selected month with one photograph. Final portfolios should consist of 31 images for January, 28 for February, 31 for March, or 30 for April.
a. Photos can be new or old.
b. Please, clearly indicate which photo is for which theme.
3. Send full portfolio via www.wetransfer.com to hipstachallenge@hotmail.com (Limited to 1 entry per contestant)
Note:
- All photos must be your own
- All photos should be the original file and not copies from Facebook, Instagram, etc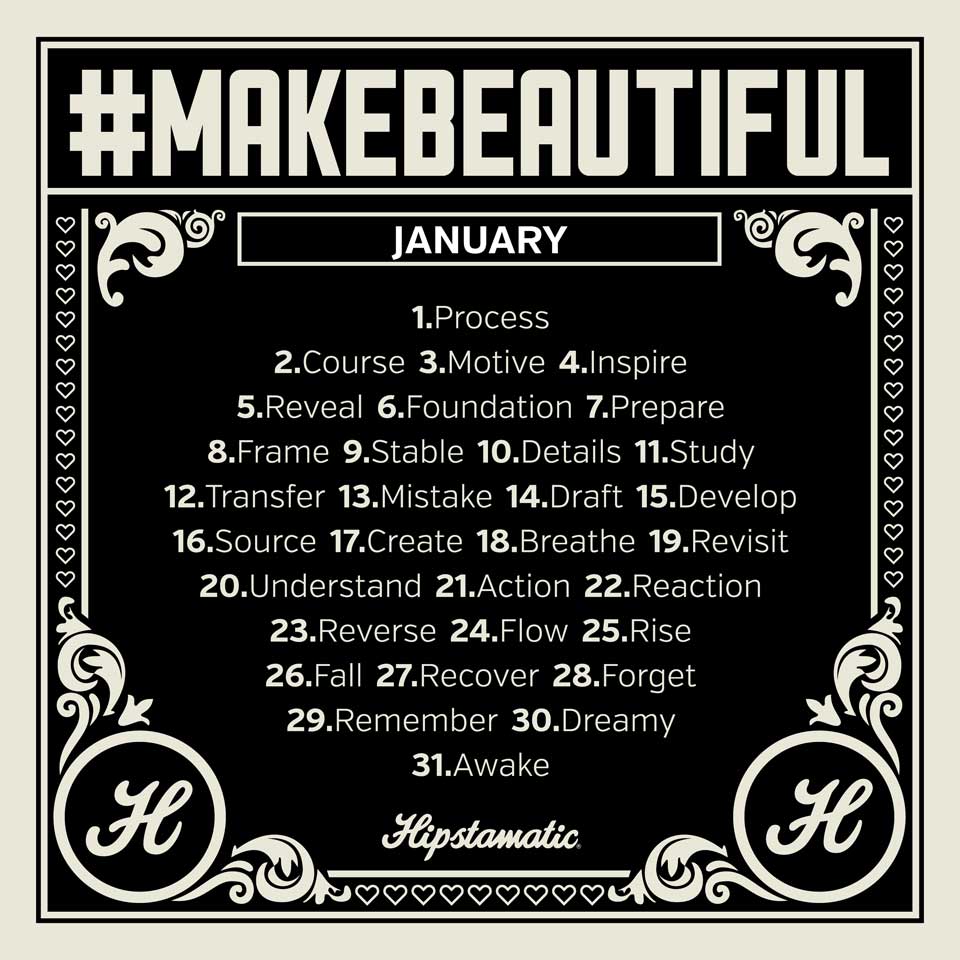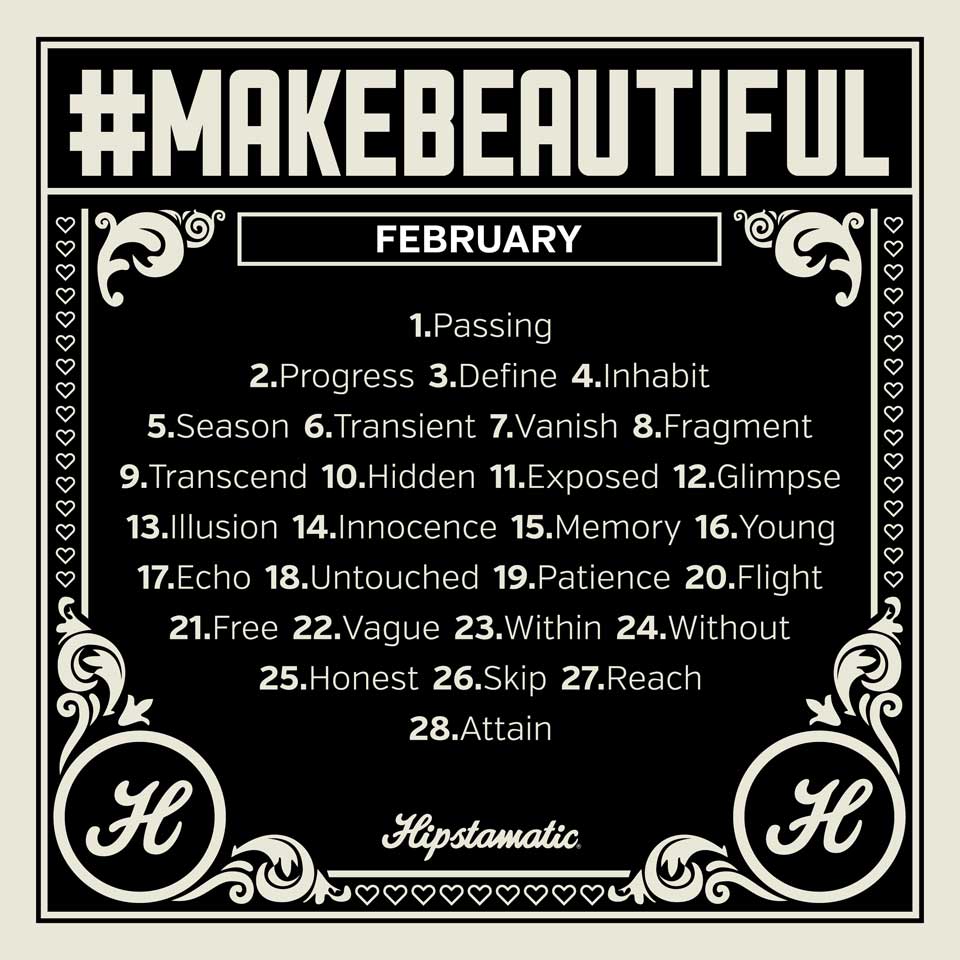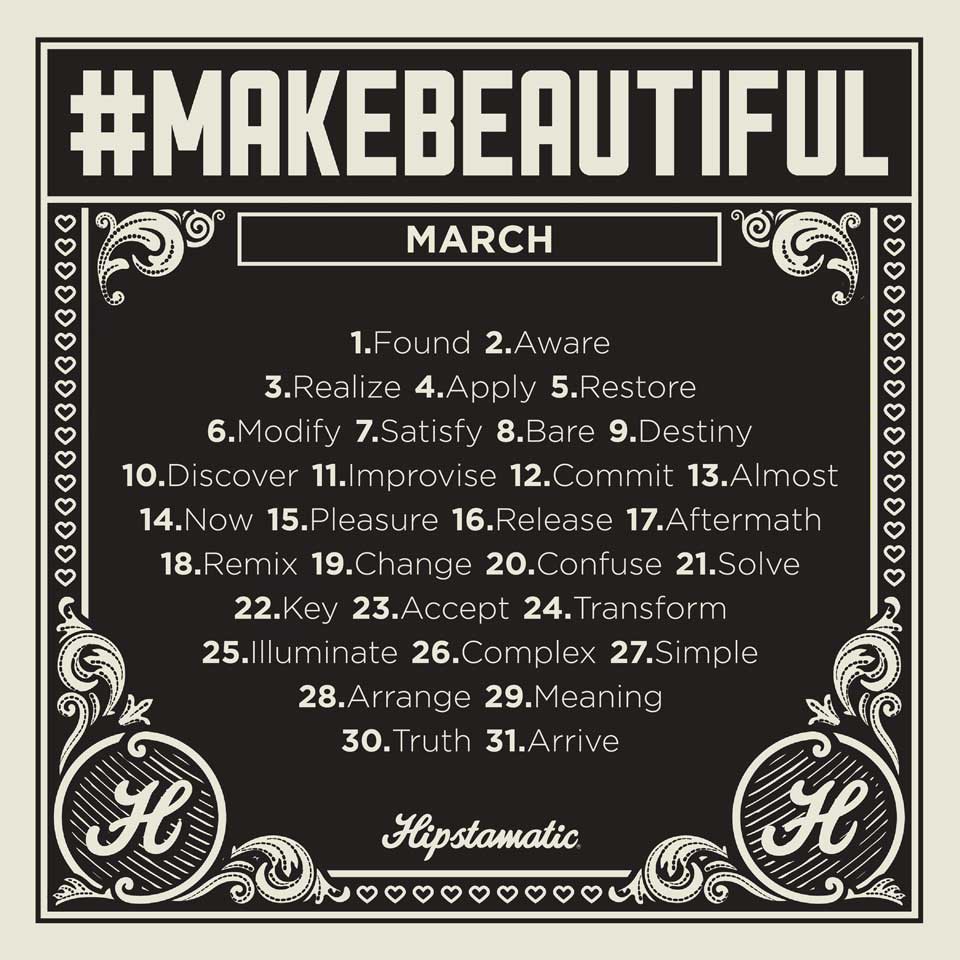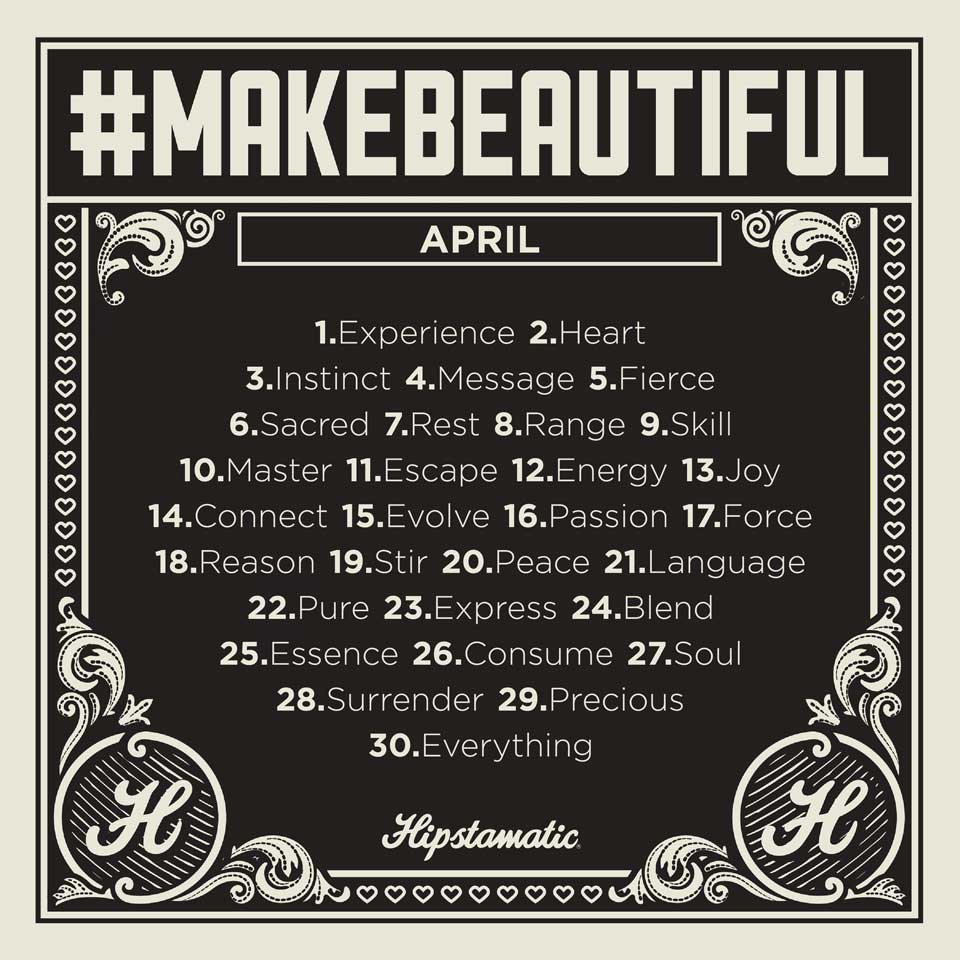 This post is also available in: French