Update for iOS 7 & The Seven HipstaPak
By
Eric
on September 18, 2013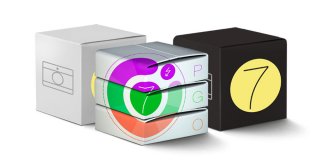 I asked Ryan and his answer was as follows: Hipstamatic Classic is ready for iOS7. There's a new update (270) and a  new Pak, the "The Seven HipstaPak".  The only downside is that the new Pak is only available after installation of the updated iOS. Personally, I think I'll wait a few hours, or even days, before taking that step.
BUT before updating the iOS, Disposable users should be aware that the app is not supported by iOS7 and might not work any longer.
"The Seven HipstaPak" contains mainly... flashes!! Can you believe it? Three new flashes at once: Juicy Orange, Purple Raindrops and Leprechaun Tears, but that isn't all, we also get two new cases to go with the new iOS look. To find out more about the new gear, go here.
Whatever you do, don't forget to back up your iPhone before attempting any kind of iOS7 update and be prepared to say bye bye to your Disposable. Cross your fingers ;-)
This post is also available in: French