Ben Watts, 'Urban Pop in the edges'
Un grand nombre d'objectifs et de films Hipstamatic tablent sur un effet vieilli, usé ou même abîmé. Ce n'est pas le cas du Bondi HipstaPak. Afin de recréer le style du photographe Ben Watts, Hisptamatic lui a emprunté plus que son style urbain, saturé et nerveux. Ils lui ont emprunté ses bordures.
"J'ai dit 'attendez, il faut mettre aussi les bordures.' Je pense que les bordures font 70% de ce film Big Up," dit-il. "Les bordures ont été ajoutées à la dernière minute. Je pense qu'elles sont d'une grande importance."
"Big Up" est une référence à son livre du même nom, une collection de ses premiers travaux sous forme de scrapbook. Ben Watts a quitté Londres, où il est né, pour l'Australie en 1983. Il y a étudié la photographie au Sydney College of Arts. Lorsqu'il visite New York en 1990, il découvre rapidement la scène hip-hop urbaine. Il y vit depuis 1995, réalisant des prises de vue pour des clients tels que Vogue, Nike, Polo Ralph Loren, Miller Lite, The Gap, Apple, Kodak, Sonny Music et Tommyboy Records.
En 2011, son ami Mazdack Rassi, fondateur de Milk Studios, organise une rencontre entre Ben et Hipstamatic. L'objectif Watts et le film Big Up font leur apparition au sein du Bondi HipstaPak en mai de la même année.
Selon Ben, définir les effets de l'objectif a été très facile: forte saturation, contraste élevé.
"Tu sais quoi? C'est exactement comme ainsi que cela s'est passé", dit-il en se remémorant la simplicité du processus de développement du pack Bondi. "C'est pour ca que je continue de l'utiliser, il donne des photos dont le style me correspond."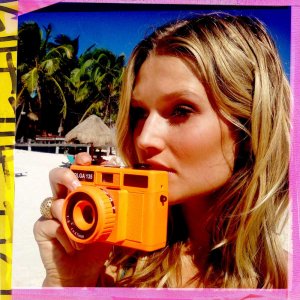 Ben ajoute qu'il n'a pas été en contact direct avec les développeurs du logiciel (le développement a duré une semaine). Ce fut un processus différent de celui qu'il avait expérimenté avec HTC pour la création de l'application de collage photo WattsUpPhoto pour Android. Cependant il est plus satisfait du résultat de sa collaboration avec Hipstamatic.
"Ouais ils sont cools. Mais ce ne sont pas les gens les plus reconnaissants du monde. Je ne connais même pas leurs noms [les créateurs des objectifs et des films Hipstamatic]. Ça aurait été sympa de parler à quelqu'un au téléphone. Mais bon, quand je vois quelqu'un poster une photo prise avec mon film sur ma page Facebook, ça me met toujours le sourire aux lèvres."
Avant de travailler avec Hipstamatic, Ben n'utilisait pas son iPhone pour prendre des photos. "Maintenant c'est tout le contraire. Je l'utilise beaucoup. Il y a des fois où tu as besoin de capturer une image. La récompense est instantanée et on peut la partager immédiatement." Hipstamatic est son application préférée pour ses travaux personnels. Pour les photos professionnelles, il utilise toujours son DSLR.
Il pense que la raison pour laquelle Hipstamatic est moins populaire qu'Instagram est que les deux applications ont des buts différents. Toutes deux utilisent la photographie, cependant Instagram privilégie le partage sur les réseaux sociaux. Hipstamatic "privilégie la qualité de la photo", et les résultats parlent d'eux-mêmes.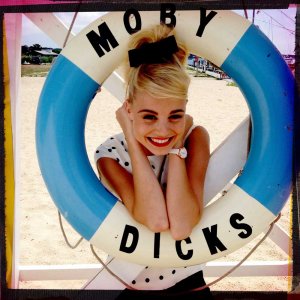 "Hipstamatic donne à chaque objectif et à chaque pack leur propre personnalité", dit-il, comparant certains effets à ceux des appareils photo Polaroid 180 et 195. "Instagram leur attribue seulement des noms… C'est vraiment dommage qu'Hisptamatic n'ait pas réussi à percer [plus tôt]. Ça aurait été génial d'avoir un Hipsta-gram ou un truc du genre."
"Ce sont toutes ces personnalités, et la variété de combinaisons possibles qui font d'Hipstamatic une appli à part," dit-il.
"C'est vrai que j'aime bien la saturation [de l'objectif Watts], bien que j'aime aussi la combinaison des bordures [du film Big Up] et d'autres objectifs. Ils sont tous supers mec, mais ce qu'Hipstamatic a réussi à faire, c'est de les rassembler tous sous une même bannière, et ça c'est génial. C'est comme une boîte de chocolat: j'aime bien celui-ci, j'aime bien celui-là avec la noix dedans, celui-là c'est un bon toffee. Il y en a pour tout le monde."
Mais choisir la combinaison d'un film, d'un objectif et d'un flash est juste une partie de l'aventure, ajoute-t-il.
"En fin de compte, c'est l'image qui est importante. Beaucoup de gens utilisent de la poudre aux yeux pour essayer d'améliorer une photo. Ils utilisent les objectifs et les effets à la va-vite, ils essaient de faire qu'un truc fade ne le soit plus. De ce point de vue-là, je suis un puriste. Je m'en fiche de savoir comment c'est imprimé ou comment ça a été assemblé. Ce qui compte, c'est la lumière et la composition. La direction artistique n'est pas un effet."
Par Ben Gremillion
En marge de l'interview, nous avons posé quelques questions supplémentaires à Ben qui a eu la gentillesse d'y répondre.
Question de Maria Peters: "Pourriez-vous expliquer le concept Shhhhh? Est-ce votre concept?"
Ben Watts: Il n'y a pas de pensée profonde derrière cela. Everybody looks good shhhhh-ing.
Question de Simone Muresu: "Cher Ben, que pensez-vous du potentiel d'Hipstamatic pour une utilisation professionnelle? À votre avis, dans un futur proche, est-ce une possibilité, du moins dans certaines limites?"
Ben Watts: Je pense que c'est une très bonne application pour photographier dans un but professionnel. Cependant, prendre des photos avec son téléphone peut être distrayant, quand on reçoit par exemple des appels ou des messages en plein prise de vue. Mais l'objectif et le film donnent un super look. Certains de mes clients essayent même de le reproduire !
Question de Simone Muresu: "Quelle est votre combo préféré (excepté "Watts/Big Up") en utilisant malgré tout l'un des ces deux éléments? Par exemple, Matty ALN + Big Up ou Watts + Rock BW-11. Ou alors, n'utilisez-vous que votre pak?"
Ben Watts: Big Up avec l'objectif Watts. That's my jam! Mais bon, ils sont tous supers et permettent tellement de personnalisation.
Question de Tilman Haerdle: "Votre père était road manager des Pink Floyd; avez-vous une relation privilégiée avec le groupe ou alors, il ne vous était pas possible de les rencontrer? Nous avons le même âge, donc The Wall est sorti quand vous deviez vous intéresser à la musique."
Ben Watts: Comme enfant, j'ai fait des tournées avec le groupe et j'ai vu The Wall proposé par le groupe originel. J'ai toujours aimé le groupe et leur musique.
Question de Tilman Haerdle: "Votre style photographique est en audacieux, c'est le moins que l'on puisse dire. Couleurs intenses et contraste saisissant sont des caractéristiques de votre style, du moins selon moi. Qui vous a influencé, ou est-ce le reflet de votre façon de voir la vie?"
Ben Watts: C'est un énorme compliment, et oui, je me plais à penser que mon style a été façonnée par ma vie. Mais il a aussi été influencé par mon admiration pour les photographies étonnantes de Danny Lyon, Bruce Davidson et Richard Avedon.
This post is also available in: Anglais