'Rage Against The Light' par Markus Andersen
By
Eric
on septembre 3, 2015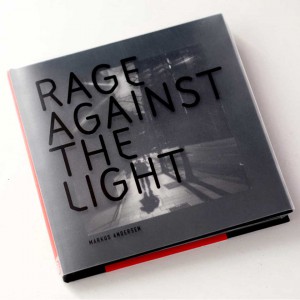 Les photos de Markus Andersen sont régulièrement publiées sur Hipstography et c'est avec un réel plaisir que nous pouvons vous annoncer la sortie d'un livre édité par T&G Publishing intitulé "Rage Against The Light".
Les photos publiées dans ce livre ont été prises avec des films noir et blanc mais aussi de façon numérique, avec Hipstamatic évidemment. Mais Markus souhaitant une homogénéité, la sélection des clichés rend impossible l'identification du support de départ.
Les images sont essentiellement des instantanés de la vie urbaine de Sydney, Australie, ou... de toute autre ville du 21ème siècle. Car le sujet reste la quantité de lumière ou d'ombre qui inonde une ville et la présence humaine dans cet environnement particulier.
Le titre provient du célèbre poème de Dylan Thomas, "Do not go gentle into that good night …. Rage, rage against the dying of the light". Dans Rage Against the Light, Markus Andersen a immortalisé des parties sombres de sa ville parsemées de personnes solitaires et perdues dans leurs pensées. Il avoue d'ailleurs être attiré par le 'côté sombre' de Sydney mais ses images font également preuve de désinvolture et d'ironie.
Félicitations Markus!
This post is also available in: Anglais