User Tips #8: an alternative timer
By
Eric
on November 25, 2013

If there's one function many of us would really like on Hipstamatic, it is almost certainly a timer, allowing us to make self-portraits. Up until now, the only option was to flip the iPhone around, stretch out your arm and hit the "+" button… with rather unpredictable results, to say the least.
When I met Lucas Buick, in July, he told me: "A timer is something we've looked at, and we haven't ruled it out. It's just about figuring out how to make that fit with the analogue experience of Hipstamatic Classic."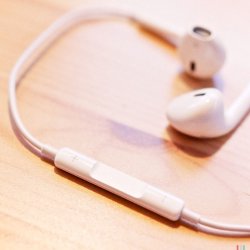 In the meantime, there is an alternative, and relatively simple, solution: using EarPods, the headphones that Apple provides with every iPhone. The headphones are not really known for their amazing sound quality, and I must admit, I have never tried them. That said, I just discovered that they hold a few secrets, among which the possibility of triggering the camera on the iPhone by simply hitting the "+" button on the remote. The good news is that it also works with Hipstamatic!
This is, of course, still not the equivalent of a real timer, but it makes taking self-portraits or group photos a lot simpler.  Unfortunately, this function doesn't seem to work with Oggl.
This post is also available in: French