The Colaba HipstaPak
By
Eric
on January 3, 2014
Finally!!! After having visited Latin America, the North of Europe, the East coast of the US and South Korea, last month, Hipstamatic's first 2014 pak finally takes us to India!! I say 'finally', because I happen to have fallen in love with India, in the early eighties and have visited the place almost every single year since. I am also professionally tied to the country… in fact, I teach two of its most ancient arts here in Belgium, yoga and Bharata Natyam (Southern India's sacred classical dance). When Aravind Kaimal told me he would be going to visit his family in Kerala, Southern India, I was secretly hoping that - in Hipstamatic terms - it would translate into a tribute to India. And it happened!
Namaste, and welcome to India! This is The Colaba HipstaPak, which includes a new lens, the Ray Mark II, and a film, the Irom 2000. 2014 is well and truly launched with a tribute to Indian cinema, but also a hint of controversy! Cool!

Ray Mark II renders tribute to Satyajit Ray (1921-1992), the film director and composer, recognized as the father of Indian cinema. He started his career as a model maker in advertisement and established two small cine-clubs in Calcutta, in the forties.  A meeting with Jean Renoir inspired him to try his hand at filmmaking. Satyajit Ray produced 37 films over his lifetime and his work was recognized with numerous prizes, among which an Academy Award in 1992, a prize at the Cannes Film Festival in 1962 and the University of Oxford's Academy Honorary Award.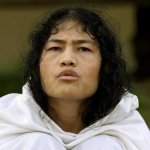 Irom Sharmilla Chanu is an activist, born in Manipur, in the North of India, who has spent her life opposing a law that was introduced in 1980, in certain Northeastern states; this law is meant to bolster the powers of the military. Since 2000, Irom Sharmilla Chanu's battle has manifested itself in hunger strikes, which have led her to be imprisoned repeatedly. You have to know that, in India, hunger strikes are considered to be a suicide attempt, which is a breach of the Indian penal code. She is repeatedly force-fed and her commitment to the cause has earned her the title of "The Iron Lady of Manipur".
As far as the two new components of Hipstamatic/Oggl go, the official communiqué tells us that the Ray Mark II lens is ideal for capturing exterior shots, like rain and those magical outdoor moments with continuously changing light. The Irom 2000, is a borderless film, but that's all we really know at this point. Once again, I am counting on you all to test the combination of both elements, or as separate entities with other lenses/films. I can't wait to see your photos. Thanks in advance.
As always, the Pak is available for Oggl members and is sold for $0.99 (0.89 euros) for those who prefer Hipstamatic Classic. Namaste.
This post is also available in: French