Oggl 1.1
UPDATE: There are some problems with the update. It may be better to wait before installing.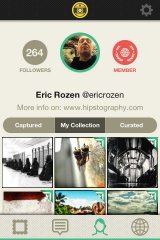 First update for Oggl. I didn't test it yet but here are the changes announced by Hipstamatic:
• Add an artist statement to your profile
• Tap-and-hold to focus, then drag to set exposure
• Double-tap to love photos in feed
• Invite codes are no longer needed
• Battery usage improvements
• Performance improvements
• Other bug fixes
Join me on Oggl: @ericrozen
More information on Oggl can be found here.
This post is also available in: French