Oggl, Initial reactions
A few weeks before an official release, Hipstamatic has provided a few dozen users a beta version to test. So what do they think of

Oggl

? We asked for their opinions, and also asked Richard Koci Hernandez who has been kind enough to honour us with a first review.
Richard Koci Hernandez
First let it be known that I am a huge fan of the Hipstamatic app. Hipstamatic has always been my goto photographic app and, despite the plethora of other photo apps, I still continue to use Hipstamatic 95% of the time. There has yet to be an application to knock it off the coveted spot on my home screen, that is until now.
I would have to say it was love at first sight. The first thing that struck me and sold me was the delightfully simple and fun design of the application itself. I was like, "this is so beautiful and especially fun! I love all the attention to detail and the little user interface animations." Now that was my first impression without actually using the app or understanding its abilities and functions, basically the curb appeal. It only got better from there. The biggest selling point and feature that literally made me smile from ear to ear and practically jump out of my seat was the feature I was dying for, the ability to change films and lenses after taking the initial image. That's huge! One of the reasons I love the original Hipstamatic app is that it mimicked old school photography in that you were locked into your film and lens choice, but here, you are free to choose and experiment and continually change your mind and breathe life into your images. Any photographer familiar with Hipstamatic is going to love this feature of the app. Now this was only part of the application's appeal to me.
The second appeal is the social network aspect. I never thought I'd see a real Instagram rival but I think they have a shot. It's smart, easy and makes the experience all about photography and less about the comments. Unless I'm missing something, there is no way to comment on someone's photograph, you can love it and you can curate it – a cool feature by the way where you can basically repost work that you love on your own stream – but you can't leave one of those pesky emoticons behind as a comment and I for one am happy about that.
It's already replaced the original app as my new goto app as it incorporates all of the things I love about my iPhone photography and sharing. It's the best of both worlds in a single application that is fun, delightful and useful and additionally allows you to share the images with all of your other favorite sites including Instagram.
Allan Ezial
I was lucky to get a chance to get my hands on this new app and found it pleasantly surprising and confusing at the same time. I have been using the Hipstamatic Camera App since the first iPhone and LOVE it. Now, with Oggl, I can change the effects AFTER the shot is taken WOW! I can also share with a very private (Hipstamatic only) network - again, WOW! There are some other cool things about the app as well. But...
It poses the question of why not build all this into Hipstamatic? Why go through the learning process of a new app and let me say that there is a learning process. It needs a tutorial.
It is buggy, but that will change in time.
It would be nice to communicate with fellow followers.
It's more of an energy drain on the phone than Hipstamatic.
I personally feel I take better photos using the Hipstamatic. Could be because I am used to it.
I have mixed feelings about changing the lens/film combos after the shot is taken. Admittedly, while it's fun to do it, I wish they didn't offer this feature. Before Oggl, you had to learn the combos. It made you a better photographer. It separated itself from the other photo apps out there. Now, I feel they are doing what everyone else is doing.
Rosanna Cappiello & Mark Allan Smith
(@MOB Fiction Magazine)
Ever since the early days of using one of our all time favourite iPhone apps, Hipstamatic, we have found ourselves feeling frustrated at its lack of user friendliness. Yes it has been refined over the years, however it still remains rather clunky to use when trying to set a film-lens combination or select one that will produce the desired results.
This is especially noticeable when opportunities occur in front of your eyes where you need to act fast before missing those unrepeatable moments. There have been many times we have photographed something only to find we had a combination selected which did not suit the scene. Finally all this is now a thing of the past with the introduction of Hipstamatic's new baby brother: Oggl.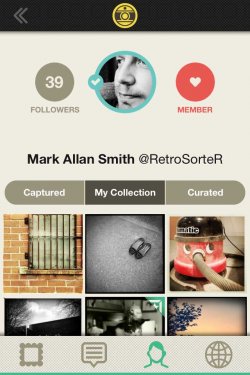 In designing this new app the Hipstamatic team have really thought about how people use Hipstamatic and what they need to capture and create those images. Oggl is so much more than Hipstamatic classic is, incorporating all our favourite and not so favourite lenses and films which can be selected not only prior to shooting but also adjusted afterward so, if we happen to have selected the wrong combo...we can change it to our liking after the shot has been taken!! Thank you Hipstamatic!
Aside from this awesome new feature, the app is a total redesign from the ground up yet keeping the same retro feel that made Hipstamatic so appealing in the first place. The user interface is so nicely and simply designed and it makes it a joy to use.
One other great thing about this app is the inclusion of an Instagram style social network within the app itself which, in our opinion, really is brilliant when compared to other apps that offer the same feature. Oggl looks and feels so smooth with its classy graphics and stylish interface.
Of course, as with all new applications there are features we disagree with or would like to see improve and hopefully we will see changes in the upcoming updated release. The one limitation we feel strongly about is the inability to upload photos taken with other apps, although we do understand Hipstamatic's ethos of keeping their filters exclusive to in-app shooting alone. We also hope that one day the app will allow us to save the original full frame unfiltered images on our camera roll giving us the possibility to edit our images also on other applications when desired.
Overall we found Oggl to be a brilliant app which has a bright future and we will no doubt include it in our list of favourite apps. We do believe that in a very near future Oggl will become a favourite for most Hipstamatic lovers, simply because it opens up a lot more doors to people's creations, and there will be very little room for mistakes.
Thérèse Cherton
I was given the opportunity to test the beta version of Oggl and I am convinced that this application is going to make a stir. It could be described as the sister of Hipstamatic, and uses the same lenses and films. But the huge innovation is that after taking the shot, the lenses and films can be changed and the result viewed instantly. No more testing to decide which combo to use to best capture a particular subject, or landscape. You take your photo and then choose whatever combo you prefer to best do justice to your subject.
The focus is a little slower than on Hipstamatic, but this may be due to the fact that it is a beta version. You can then share your photos with other fans via the application, and find contacts who share your interests. There is also the possibility of using the front camera and which is also a major advantage.
The small regrets that I have with regard to Oggl are firstly that it does not include a flash. Some combos are a bit bland without a flash, so for them I will continue to use Hipstamatic. Secondly, it is not possible to import pictures taken with hipstamatic in order to edit them.
Eliano Imperato
Oggl: Instagram well done. Oggl… yes, this is the name of the new app by Hipstamatic!
At first I was surprised to see an app by Hipstamatic where there's the possibility to choose the combinations of lenses and films (the same gear of the classic Hipstamatic app) to apply to the image after the shot. I think that this new app was created to satisfy the many users who like the features of another famous photo app: Instagram.
After the shot you can choose which combination of lens and film to apply to your image. You can also follow other users worldwide and leave a token of appreciation on their photos with a tap on a heart icon.
The only difference compared to Instagram is that using Oggl you can't import photos from the camera roll.
Well, Oggl is a photo app for millions of people who love Hipstamatic but who like also the social network integration inside the app. Obviously you can also share your shots on the major social networks: Twitter, Facebook, Instagram, Flickr, Tumblr and Foursquare.
Oggl is a newborn app, so we can suppose how many features the hipstaminions are preparing for us. But like any product made by Hipstamatic you can appreciate the design and the attention to detail. I don't know how many people will switch from Hipstamatic to Oggl, but I want to emphasize that these two apps have a different philosophy and they should be used for their different purposes.
Click here to read the article about Oggl.
This post is also available in: French