Hipstamatic 300 – Cadrer ou ne pas cadrer
By
Eric
on septembre 29, 2015
Dans les premières années de son existence, chaque film du catalogue Hipstamatic comportait un cadre spécifique qui était d'ailleurs une marque de fabrique; cela permettait de reconnaître facilement un cliché Hipstamatic et ce n'est que plus tard que les premiers films sont aucune bordure sont apparus. Si certains cadres comme Rasputin ou DC sont discrets, d'autres le sont nettement moins: Pistil, BlacKeys B+W, Float, Estrada 83,...
Outre le cadre proprement dit, un film du catalogue Hipstamatic possède ses propres caractéristiques: sa tonalité, ses nuances, son grain, ses effets,... Une nouvelle option de cette version de Hipstamatic permet de supprimer le cadre tout en gardant le style du film. C'est évidemment une fonctionnalité assez géniale dans le cas où l'on désire garder le style d'un film mais pas son cadre.
Cette fonction est disponible via l'interface de The Editing Suite. J'ai pris comme exemple le film BlacKeys B+W, célèbre notamment pour la date incrustée dans le cadre mais aussi pour sa tonalité particulière: ce n'est pas un véritable monochrome mais il s'en rapproche. Il suffit donc de sélectionner ou non l'option cadre qui se trouve dans le coin droit inférieur de l'écran.
Mais ce n'est pas tout... Certains films ont un caractère aléatoire au niveau de la bordure. Cela signifie qu'un même film peut produire plusieurs cadres différents. Avec cette version 300 de Hipstamatic, il est possible d'avoir un aperçu des différents cadres possibles. Il suffit de sélectionner le film et de secouer l'iPhone latéralement, un peu comme pour la fonction "Shake to Randomize" dans les anciennes versions de Hipstamatic; l'opération est donc à répéter plusieurs fois afin de découvrir les différentes possibilités.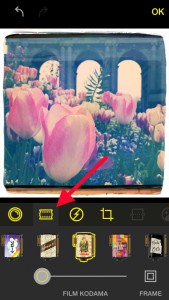 Pour illustrer cette fonction, j'ai opté pour le combo Dee/Kodama/Standard. Le cadre de Kodama est différent à chaque secousse de l'iPhone.
Cette fonction fonctionne aussi avec des films qui produisent des fuites lumineuses, comme Dixie par exemple. Voici trois exemples avec le combo Mabel/Dixie/Jolly Rainbo 2X.
Et cerise sur le gateau: cette fonction marche aussi avec certains flashs qui produisent un effet aléatoire comme le Triad Gel et bien évidemment avec un objectif comme Salvador 84... Et là, j'ai l'impression que cela va faire plaisir à certains fans de Salvador!
Personnellement, je trouve cette fonction absolument géniale car parfois, un cadre ne convient pas à un sujet. Je suis parti en Bulgarie cet été pour visiter, entre autre, des bâtiments de l'ère communiste; je cherchais donc un film avec un effet un peu vintage, avec une certaine texture qui donnerait un côté vieillot aux photos; un peu comme les vieilles photos de l'époque de l'URSS. Les effets du film Love 81 étaient parfaits mais le cadre ne collait pas aux sujets; de plus, ce cadre est un peu lourd et le sujet étant déjà assez massif, j'ai décidé de le supprimer. Résultat: un combo, intitulé "Mad Love", qui est devenu l'un de mes préférés: Madalena, Love 81 et Cadet Blue Gel. Vous trouverez ici ma série de photos.
This post is also available in: Anglais