Hipstamatic 300 – To frame or not to frame
By
Eric
on September 29, 2015
In the early days, each film in the Hipstamatic catalogue had a specific frame, which was, incidentally, part of the brand concept. It allowed you to easily identify a Hipstamatic shot; the borderless films only appeared later. Some of the frames are rather discrete, like with Rasputin or DC, others were a lot less subtle: Pistil, BlacKeys B+W, Float, Estrada 83…
Apart from the frame, each Hipstamatic film has its own characteristics: tone, nuances, grain, effects… One of the new options in this new version is that you can remove the frame while the overall style remains intact. It's a really nice addition if you want to keep the style of a certain film, but remove the frame.
This function can be accessed in the Editing Suite. As an example, I chose BlacKeys B+W, because it is known for the embedded date in the frame and its particular tone; it's not a bona fide monochrome but close enough. All you need to do is to select the frame option on the right bottom corner of the screen.
But that's not all! Some films have a randomized feature when it comes to the frames, meaning that the same film can/will produce different frames, at will… In this Hipstamatic version, you can actually get an overview of all the possible frames. Select the film and shake your iPhone laterally, just like you do when you are using the "Shake to Randomize"-function in the old Hipstamatic versions. Repeat several times to unearth the multiple possibilities.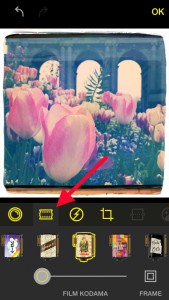 To illustrate my point, I chose Dee/Kodama/Standard. The Kodama frame is different every time I shake the iPhone.
This function also works well with films that produce light leaks, like Dixie, for example. Here are three examples with the combo Mabel/Dixie/Jolly Rainbo 2X.
And… the cherry on the cake: this function also works with certain flashes that produce a random effect, like the Triad Gel and also, lenses like Salvador 84. I think the Salvador fans will be delighted!
I personally really, really like this fabulous function, because sometimes a frame just doesn't suit the subject matter. I went to Bulgaria this summer to photograph, among other things, a few monuments from the Communist era, so I was looking for a film with a vintage feel to it, but also something that had a certain texture that would give the pictures an "old" character, a bit like the old Soviet era photos. The effect of the Love 81 film seemed perfect but the frame just wasn't right. To top it off, the frame is rather heavy and as the subject is already on the heavy side, to say the least, I decided to get rid of it. The result: a combo I called "Mad Love", which promptly became a favorite: Madalena, Love 81 and Cadet Blue Gel. You can see my series here.
This post is also available in: French