Hipstamatic 320
By
Eric
on September 1, 2016
Hear ye! Hear ye! The brand-new 320 version of Hipstamatic has arrived, and it's most definitely more than a mere update! Along with a number of significant changes, many hitches have been resolved, new design changes make the overall operation a lot smoother and, as of now, Hipstamatic also runs natively on iPad!! Seriously, you are being so spoiled. So, without much ado… here's an overview of the new 320 version of Hipstamatic.
Before we move onward and upward, though, here's something important to bear in mind: the biggest changes of this 320 version relate to saving and synchronizing your pictures; all the settings have been brought together in one section, accessible via the Library. Without going into detail, it's now possible to save a version, including its applied Hipstamatic filters, while also saving the original. You can also save each combo change of the same picture, thus creating many different images. The subject matter is vast and complex, so we've put together a tutorial, explaining all the different options of this new 320 version of Hipstamatic. The article can be found here.
Innovations
Hipstamatic for iPad
Great news! Hipstamatic now runs natively on iPad! You can now take pictures with your iPad, but that's not the clincher; the most interesting part of it is that you can now edit your pictures on a larger screen. The big deal is that Hipstamatic 320 (for iPhone and iPad) also boasts another novelty: the synchronization of your Favorite Presets via iCloud, for easy editing on any of your devices. I have, personally, not been able to test it, as the Beta version of 320 is not installed on all my gear.
Preview of your chosen lens in Classic Mode
This is new in Classic Mode: a new switch can be found to the right of your viewfinder which allows you to preview the effect that your chosen lens will produce, before actually shooting. Note: this new function only works for lenses, not for films or flashes. Nice little bonus for Classic Mode fans.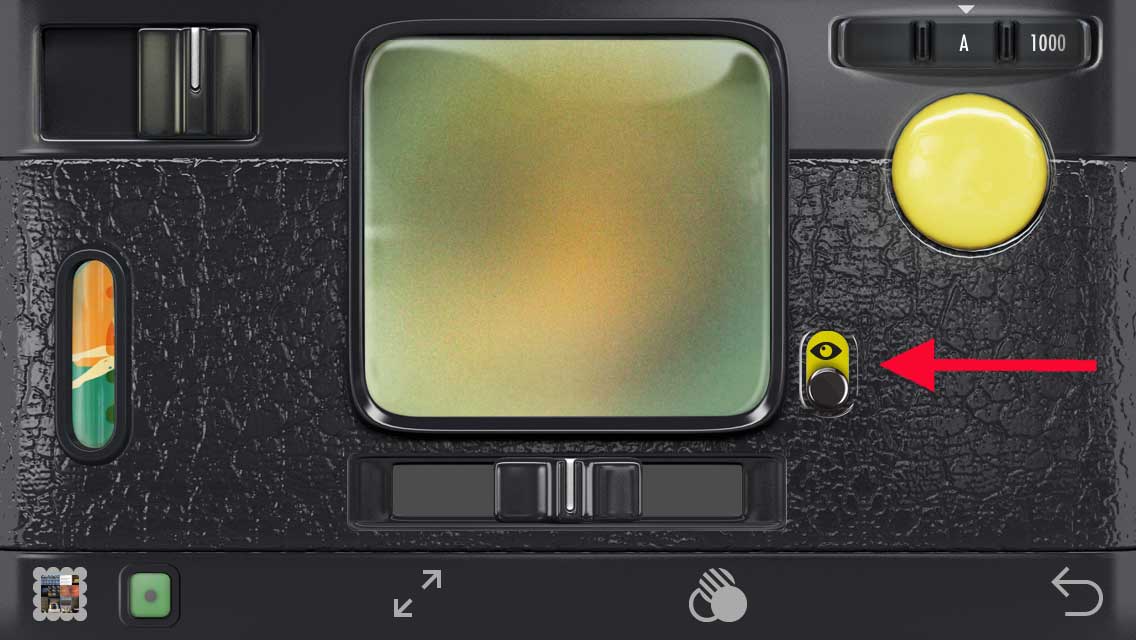 Help, FAQ's and videos
There's a new Help-section that you can access through your Library (via the three horizontal bars in the upper right hand corner of your screen), with videos, answers to regularly recurring questions, and there's even a direct link to contact support!
Design changes
Choice of cameras (Pro Mode)
The button that allowed you to switch to Classic Mode, or to switch to the front camera on your iPhone, has been replaced by two new icons; the two opposing arrows (1) allow you to go to Classic Mode and the little Hipstamatic logo, to the left of the arrows (2), is your selfie button!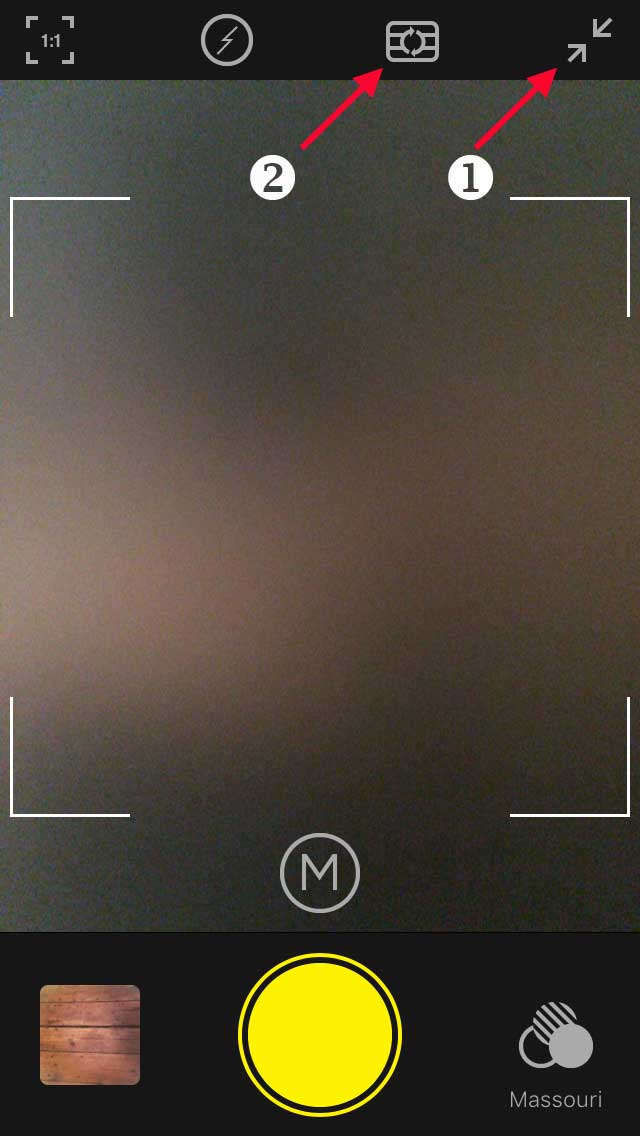 Back to Camera (Library)
It's not downright revolutionary, but very practical indeed! A yellow "Back to Camera" strip can now be found at the top of your screen, when you access your photo gallery; it allows you to go back to shooting in one quick tap. Simple but oh so useful!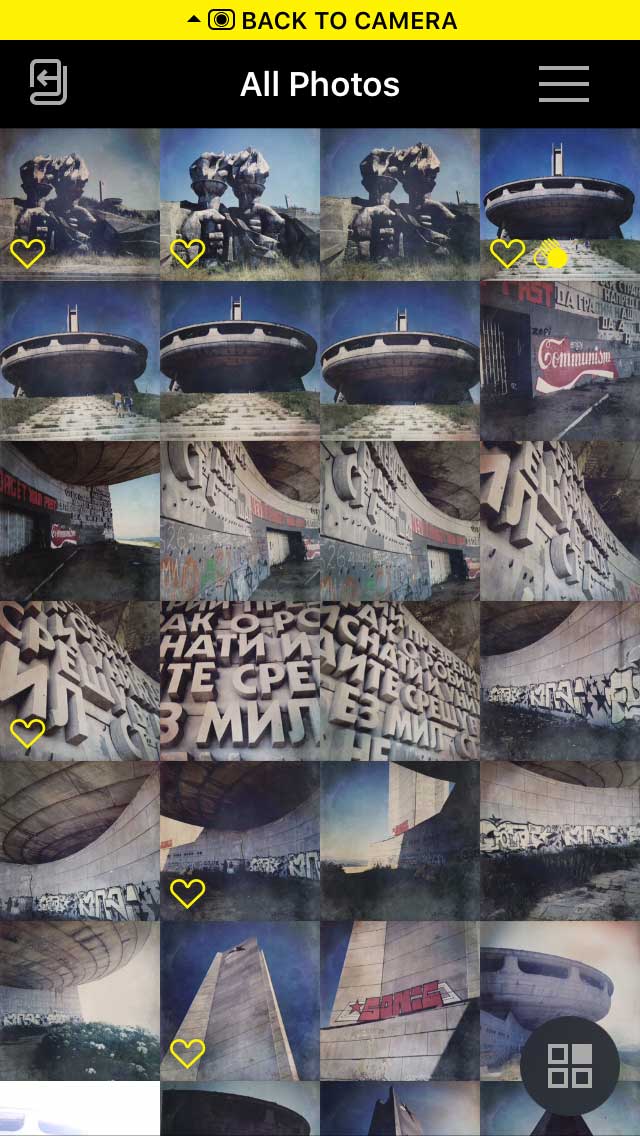 Library interface
In the top left hand corner of your Library, you will notice a new icon, that looks like a book; it allows you to access a second menu, which will appear on the left of your screen and where you'll find all the different sections of your library: "All photos", "Recent photos", "Favorites", "Edited"… as well as all your albums. It basically replaces the five dots (all photos) at the top of your screen, in the previous Hipstamatic version.
Photo deletion
You now have the choice of, either marking-and-moving to the Trash, or immediately deleting when you tap the trash button. In the first case, your pictures are moved to the Trash and you'll need to permanently remove them, at a later date. In the second case, your pictures are immediately deleted. Caution is advised!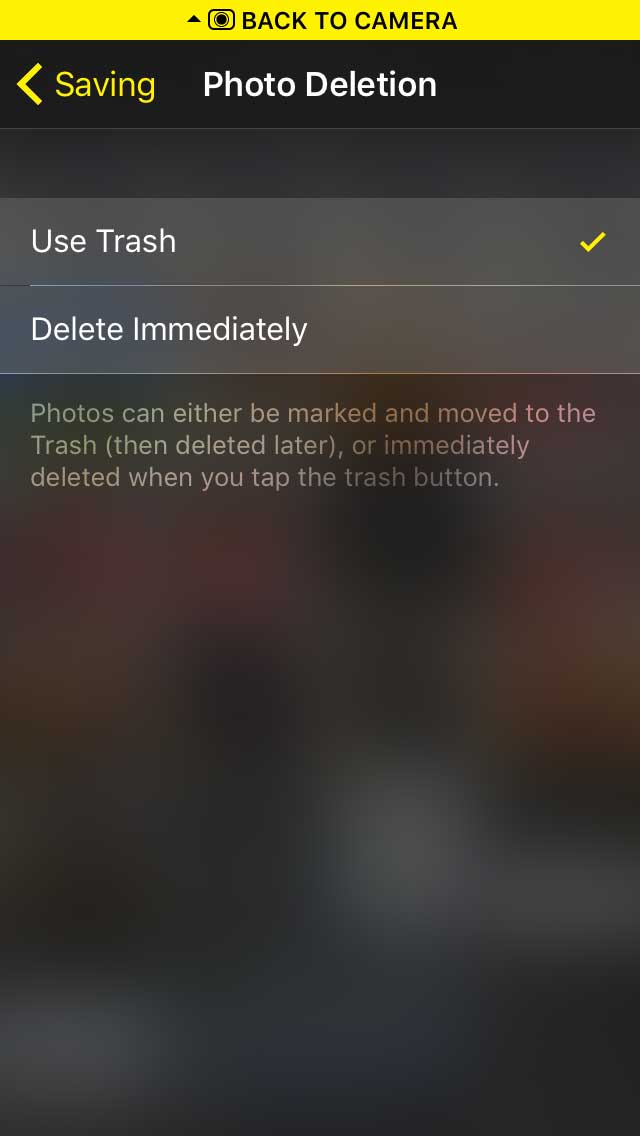 Not so good news...
Sharing on Instagram
Bad news… Due to Instagram policy changes beyond our control, sharing directly from Hipstamatic is no longer possible.
Hipstamatic, however, offers a rather handy alternative: all you need to do is click on "Share in Instagram" ; Hipstamatic then copies the hashtags (#lens, #film, #flash) in memory and you can paste them when you publish your picture on the social media platform.
That being said, Hipstamatic has also added a link in the "support" section on Instagram ("Request this feature back"), so you can ask them to discard this new policy. Leave them a message - you never know - it might result in a return to direct sharing.
This post is also available in: French