Photo of the week by David Bithell
Film:  DC 
Flash: off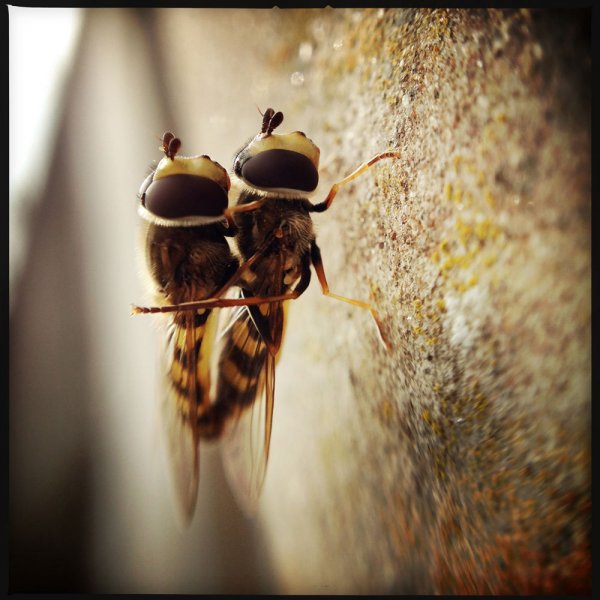 "I've been interested in insect macro photography for a few years now. I've been using a Nikon DSLR with tubes and flash mounted to a bracket to get the best results. The only problem with it is the size and bulk of the kit, it's hardly pocket sized gear. Then I discovered the iphone. Although the iPhone macros aren't technically as good as a DSLR's, you learn to no longer be a pixel peeper and look at the whole picture.
When I got the new iPhone 5 and saw the excellent shots it took I invested in an Olloclip. It was the best money I've spent. Both the phone and Olloclip are always in my pocket so I rarely miss any shots now, even whilst I'm at work! I'm addicted, I've almost completely ditched my camera gear for a phone!
I get strange looks though when I'm crawling along the floor holding my phone and chasing a fly or beetle! This shot was taken with me on my knees up against a wall, the hoverflies had no intention of stopping even as the Olloclip was drawing nearer and nearer.
I can't wait to see how camera phone macros will grow over the next few years."
David Bithell
[button color="orange" link="http://www.flickr.com/photos/lumixm43/"]flickr[/button]
This post is also available in: French