Click. Boom. Amazing! – The Vernissage
By
Eric
on April 27, 2015
Last Thursday saw the official vernissage of Click. Boom. Amazing! at Sofitel Brussels Europe and, on so many levels, it was an absolutely unforgettable evening.
Apart from the 180 guests, 6 hipstographers - all authors of works in the exhibition, - made their way from France, Germany and the Netherlands. I'd hereby like to sincerely thank Berlewen Jolixor, Claire Le Roy, Thérèse Cherton, Florian Bilges, Ger van den Elzen and Henk Goossens for gracing us with their presence. It's so wonderful to be able to put a face to the name and to share our mutual impressions of the Hipstamatic universe.
Michel de Veld and Erik Wennekes, who manage the Hipstamatic Holland group on Facebook, both hipstographers in their own right, were also present. Many thanks to both of them for joining us in Brussels.
Many of the guests weren't familiar with Hipstamatic and it was rather astounding to see and hear their reactions when they were told that all the pictures were made with an iPhone and that none of them even came close to Photoshop! Which brings me to Mathieu Paternoster of River Labs, whom I'd like to thank for the excellent quality of the prints. As promised, I'll be publishing an interview with Mathieu, who will shed light on the pros and cons of printing from this medium.
And of course, I want to thank Mr. Denis De Schrevel, general manager at Sofitel Brussels Europe, for having allowed me to set up the exhibition on his premises. Thanks also to Claire Thirot and Quentin Guiraud for their help and support. Without them, Click. Boom. Amazing! never would have happened.
I am going to take the opportunity to once again thank the Hipstamatic team for the years of "our daily dose of happiness"! They truly revolutionized the world of digital photography and have succeeded in connecting hundreds of thousands of people worldwide through an innovative vision of photography. So, thank you Lucas Buick, Ryan Dorshorst, Aravind Kaimal and Mario Estrada!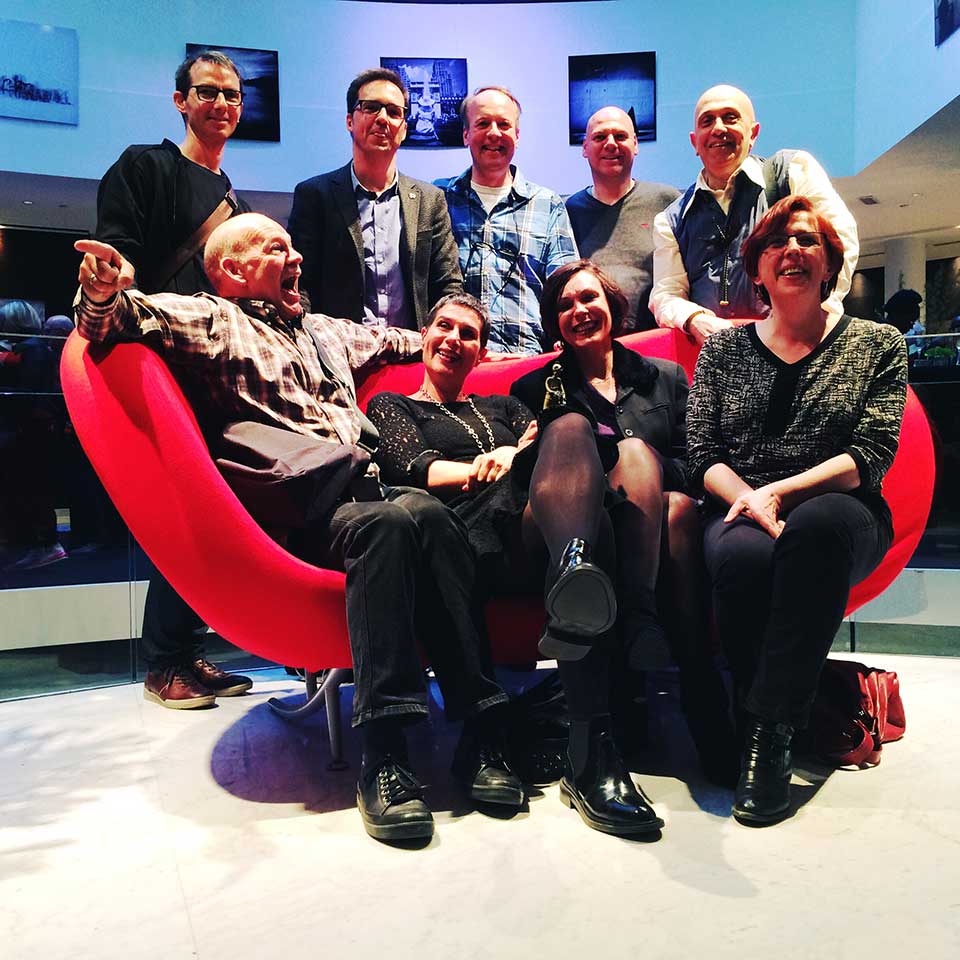 And thanks for the new addition to the Hipstamatic family, DSPO. This evening was, of course, the perfect opportunity to test the app! Here are some pictures from a collective album we made over a period of three hours.
The exhibition runs until July 20th, so if you happen to be coming through Brussels, feel free to drop me a line. I'll be happy to give you the guided tour.
(Photos by Berlewen Jolixor, Claire Le Roy, Thérèse Cherton, Florian Bilges, Ger van den Elzen, Michel de Veld, Eric Rozen, Erik Wennekes and Henk Goossens)
This post is also available in: French