The Athens HipstaPak
Après un arrêt à Philadelphia en juillet, Hipstamatic revient en Europe, sur les terres d'une des plus grandes civilisations de l'antiquité: la Grèce. Et plus particulièrement à Athènes, sa capitale. Athènes est l'une des plus anciennes villes au monde, avec une présence humaine attestée dès le Néolithique. Fondée par le héros Thésée, selon la légende, vers -800 autour de la colline de l'Acropole, Athènes est aujourd'hui l'une des principales destinations touristiques d'Europe.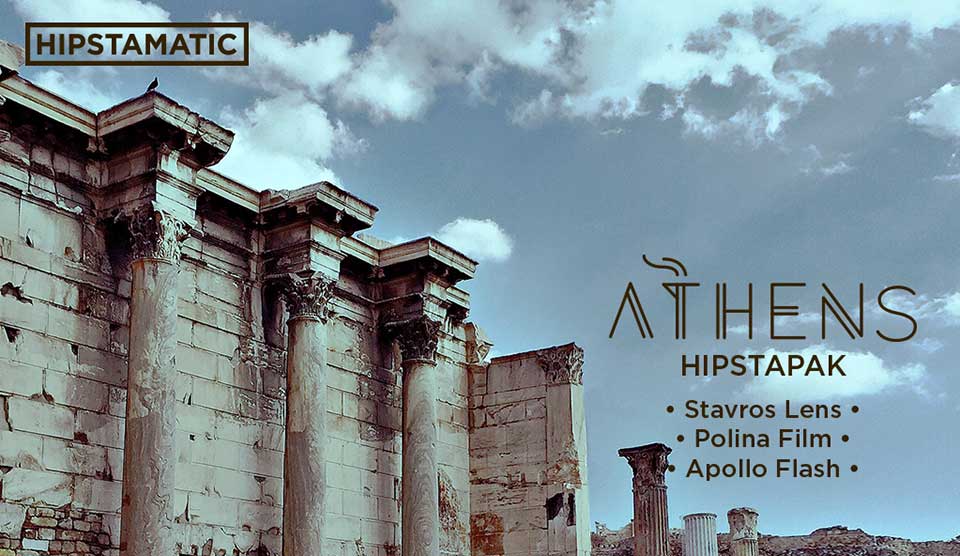 Athènes est aussi la ville où résident deux hipstographers bien connus dans la communauté Hipstamatic et sont eux qui sont les héros du jour: Polina Sarri et Stavros Dimakopoulos. The Athens HipstaPak se compose d'un nouvel objectif, Stavros, d'un nouveau film, Polina, et cerise sur le gâteau, d'un nouveau flash, Apollo.
Stavros Dimakopoulos est un magicien des combos Hisptamatic et jongle avec les différents éléments du catalogue pour produire des combos plus originaux les uns que les autres; il a été nominé plusieurs fois aux Hipstography Awards et a même reçu l'award du "Creative Combo of the Year" en 2014. Stravros est désormais le nom d'un objectif Hipstamatic qui rajoutera une subtile désaturation à vos clichés.
Polina Sarri adore jouer avec les différents paramètres et elle fait d'ailleurs partie de l'équipe qui produit les Hipstography Combo Collections depuis le départ. Elle est la créatrice d'Euphoria, l'un des 3 combos de The Lush Collection. Elle a aussi reçu un Award en 2015 pour sa série Urban People et c'est elle qui a découvert le bug touchant le film Aristotle. Hipstamatic a adoré ce qu'elle en a fait, le bug ne sera pas corrigé et désormais, elle pourra utiliser le film Polina pour accentuer les parties lumineuses et les ombres de ses photos.
Pour couronner le tout, The Athens HipstaPak comporte un flash, Apollo, en l'honneur du Dieu Grec dieu entre autre de la lumière! Ce flash ajoutera un beau contraste à vos images.
Comme toujours, n'hésitez pas à tagger vos photos avec #hipstography sur Instagram ou à les publier sur la page Facebook de Hipstography. Plus d'infos sur les moyens de soumettre vos séries sur la page FAQ.
This post is also available in: Anglais