The Athens HipstaPak
By
Eric
on August 5, 2016
The last stop-off for Hipstamatic was in Philadelphia, in July, but this time, it's back to Europe. More precisely, to the cradle of one of Europe's greatest ancient civilizations: Greece and, particularly, its capital, Athens. Athens is one of the world's oldest cities with a proven human settlement dating back to Neolithic times. Founded by the mythical founder-hero Theseus, around 800 BC, Athens was built around the Acropolis and is, to this day, one of the world's top holiday destinations.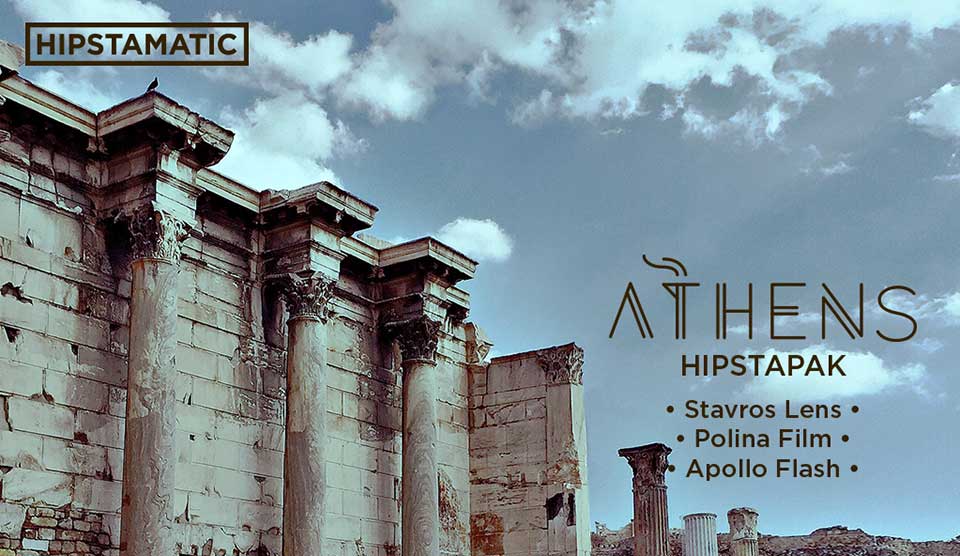 It's also in Athens that two well-loved hipstographers reside… and who today are being recognized for their contributions in the community: Polina Sarri and Stavros Dimakopoulos. The Athens HipstaPak contains a new lens, Stavros, a film, Polina and the cherry on the cake: a new flash, Apollo.
Stavros Dimakopoulos is bit of a Hipstamatic-combo wizard and has an exceptional talent for coming up with new combos; he has been nominated quite a few times at the Hipstography Awards, earning himself the "Creative Combo of the Year" award in 2014. Well, he now has a Hipstamatic lens to add to the list! Stavros Lens adds subtle desaturation to your prints.
Polina Sarri likes to jiggle the parameter dials and has been on the Hipstography Combo Collection team since the beginning.  She's the one behind Euphoria, one of the 3 combos in The Lush Collection. She raked in an Award in 2015, with her series Urban People and also "discovered" the, now infamous, Aristotle-bug! Hipstamatic loved what she managed to do with it and the bug won't be "corrected". Polina Film will add cool highlights and warm shadows to your image with this fine film.
All The Athens HipstaPak needed was a laurel wreath in the shape of a new flash called Apollo, the Greek God of Light… among other things. Apollo Flash adds wonderful contrast to your images.
Go ahead and tag your pictures with #hipstography or publish them on the Hipstography Facebook page. You'll find more details about the different ways of submitting your series on the FAQ-page.
Photos by Stavros Dimakopoulos.
This post is also available in: French