Mophie Juice Pack Powerstation PRO
By
Eric
on December 1, 2012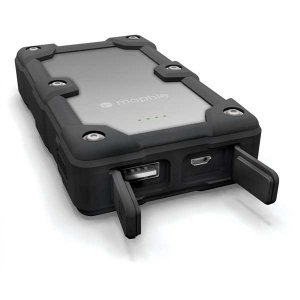 Some photo apps really are battery-consuming; and Hipstamatic is not too bad in this field… Especially if you combine some lenses and films that will eat your battery up in no time.
Imagine the worst case scenario: you are right in the middle of a shooting and you realize that you only have 15% autonomy left… And you wanted to shoot at least 2654 more pics, and the next power plug will only be accessible in several hours. Unthinkable!!!
The solution name (yet again) is mophie. I already mentioned the "Mophie Juice Pack Plus", an Iphone (4 or 4S) cover that contains an integrated battery allowing a full charge (100%) but for the most paranoid/far-sighted among us, the "mophie Juice Pack Powerstation PRO" is still a must-have accessory.
Coming with an additional battery of 6000mAh, the Mophie Juice Pack Powerstation PRO is an external battery that ensures a super-fast recharge. Compatible with most mobile phones, it is also powerful enough to charge an Ipad. I already did several tests and the result is irrevocable: I was able to recharge my Iphone 4S battery 4 times. Yes, 4 full charges!
Two USB ports are integrated and furthermore Mophie improved the battery case so that it can now resist not only to shocks, but also to water. Same verdict that for the Juice Pack: this product really is extraordinary and I can only warmly recommend it. You can thus do a shooting with a light heart… and a fully charged Iphone ! Selling price : USD$99.95
This post is also available in: French