Phlib, a Hipstamatic Photo Frame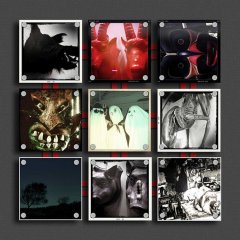 Phlib is short for "photo" and "liberation", and as the official release states: "Photos belong on your wall, NOT on your hard drive!"
A Phlib frame is a metal skeleton to which photos are pinned using small magnets. It is quite impressive because it looks like the photos are floating a few centimeters away from the wall. There are different frame sizes, including a gigantic 2x2 meters. They also have a frame that is of great interest to us: the Hipstamatic frame. It is a 325x325mm frame (and 12mm depth), and you can hang nine photos on it.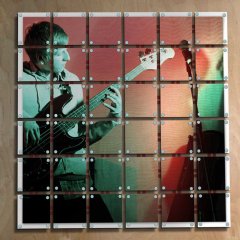 But there is more: apart from the fact that you can create a great composition with nine different pictures, this particular frame also enables you to divide a single picture into nine parts! This is a very original way of using the frame. But to divide the photo, you'll have to use another software application like Photoshop. I'll try to publish instructions later.
There is currently a 20% reduction on hipstamatic frames (32 euros/£ 27.99 + shipping). Plus Phlib is also offering a mega bundle deal consisting of 4 hipstamatic frames (94 euros/£ 79.99). They also offer a photo explosion service for this frame - get your favourite Hipstamatic photo, and spread over all 4 frames.
I have no financial incentive to promote Phlib but I love this product. I have already ordered a few frames previously, and the service is pretty good. And the end result is really amazing! Your guests will be speechless! Go to www.phlib.co.uk.
This post is also available in: French