Annie Helmsworth. Profession: dog musher.
By
Eric
on December 11, 2012
When one lives in a city like Brussels, as I do, one often forgets that there is another world somewhere, that there are places where nature dominates life, places where seasons still exist and where one still can marvel at nature's beauty.
When I first saw Annie Helmsworth's photographs I realized that it had been a long time since I had last seen this type of landscape and, what is more, I loved the inimitable touch of photos taken with Hipstamatic I therefore contacted Annie and I learned that she lives in central Alaska, in a small town called Talketna. In addition to a combo, I also wanted to know more about her.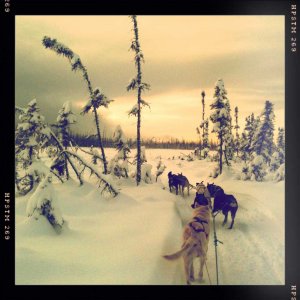 Hello Annie. Can you introduce yourself in a few words?
My name is Annie and I live in Alaska. I'm a dog musher, explorer and love photography.
A dog musher? Do you do this for pleasure or professionally?
I used to do it just for fun but this year I am taking over a business that gives dog sled rides, it will be a change from what I do now ( I work in retail as a garden specialist ) and it is also a big jump with no safety net but I think I'll enjoy it. I'll live in a tiny cabin that sits on the edge of the dog yard, has no running water but does have electricity.
What is a typical day of a dog Musher?
A typical day of a dog musher is filled with dogs. Get up, dress warmly, get the dogs' breakfast ready (in winter they typically get a warm meal to start the day), feed the dogs, clean up their yard, give them all some TLC, make sure they don't have sore feet, hips, ankles etc...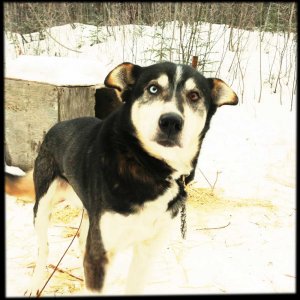 Feed yourself and add some more layers of clothes, get the sleds out, hook up the lines, check the gear to make sure no dog has chewed through their tuglines or the gangline. Providing everything looks good, you start putting harnesses on and hook them to the gangline that's attached to the sled.
The last couple of weeks I've been doing short runs trying to see which dog can run with which. Mushers that race put in 30 miles or so a day and run teams of 16-20 dogs, I run 9 dogs and will sometimes need to add a few more if extra power is needed. After the run, you unhook the dogs, put the stuff away, give pets and hugs to the dogs and get them a snack for a job well done. We have also done winter camping trips that have lasted a week or so and gone places that are unexplored. Great fun!!!
Do you remember your very first picture taken with Hipstamatic? And what was your reaction?
The very first picture I took was of my dog Snakeriver and I was impressed with the ability of hipstamatic app's quality.
You live in a rural area ... What is your favourite season for photos?
I don't have a favourite season for photos as I can always find something that I want to photograph and share with my Hipsta friends.
Depending on the season, do you use different combos?
I use combos according to the light and situation. Winter is tough with the glare of snow and flat light. Our days are very short on daylight in the winter, spring and summer the days are long and it never really gets dark.
Any personal tips that you could share?
All I can give as a tip is… Go have fun, experiment, take photos of what you enjoy, not what you think people want to see.
Personally, I fell in love with your region looking at your photos. Would you like to organize a Hipstameet in your area?
I'd love to have a Hipsta meet in my area; I've been pondering setting up a show of photos submitted by the members of Hipstamatic Sardinia. I would love to bring Hipstamatic to my small town.
[button color="blue" link="http://www.facebook.com/deshkaelf"]Facebook[/button] [button color="green" link="http://ericrozen.org/hipstography/combos/combo-8-annie-helmsworth.html"]Combo #8[/button]
This post is also available in: French