Inside The Haus: Mario Estrada (aka 'Director of Fun')
By
Eric
on October 9, 2013
Mario Estrada, VP of Special Projects & Editorial Director of Snap Magazine (aka 'Director of Fun!')
Mario, you do a lot at Hipstamatic — Snap magazine, special projects, among other things — but you also have the additional title of "Director of Fun" — What does it mean exactly?
The position that I was coming in for was originally social marketing. I was handling all of our social content and being the voice to the community. We were just starting out, and as more and more responsibilities were put on my plate, handling special projects and things like that, we decided it would make more sense for me to have a different title. I was working with a lot of the big corporations and they needed something that they could relate to. We went with VP of Fun, but then that implied that there was someone more fun than me, and we know that's not real! (Laughs). So then we went to Director of Fun, as a great icebreaker, an easy way to talk to somebody, and it handled everything that was more related to marketing and that wasn't part of building the app — that's the gist of what Director of Fun means.
At this point, I'm really VP of Special Projects, and Editorial Director of Snap, and I still do Director of Fun type stuff, like gallery events, music events, which is, by nature, quite fun!
Are you still doing a lot of gallery events?
When we first started, we felt like that was a really important way of showcasing the work that was coming out of our community, and we still do them when we can. However, the problem was that at these art galleries, no one was taking pictures. So, we wanted to complement that experience by doing other events that inspired people to take pictures. So, we started doing more things that involved music, like SXSW, where we were putting on brunch events, giving you opportunities to take pictures and be part of a physical community of people taking pictures, which has been really great.
We do some events here at the Haus, where we'll bring in bands. We've done some gallery events as well, although we haven't done one in a while. But we plan to do at least one social event a month, whether that's a pop up dinner or a music event, and then one gallery. The last event we were part of was the launch of the Lumia in New York.
Don't you think it's important to show photos to a bigger audience?
We didn't want to get rid of the gallery events, it was more that we wanted to add more social events, and give opportunities for people to take pictures. We're still showcasing a lot of artists and the last show that we did here was with Rick Rocamora. Before that we had Travis Jensen, we did a contest with Win Initiative out of New York, and Anton Kawasaki won, so we did his work, and we're printing his pictures in 30x30 inch-format; they're just beautiful, beautiful prints. Now, with some of the other means of printing — our print line with wood, metal and canvas — we did a show with Lisa Bentinck. She did a whole gallery on Ethiopia, some of those images were in the magazine, but we printed them on wood and they were stunningly beautiful! We did an exhibition of metal prints for Travis's black and whites, because the black and whites just look so beautiful on metal, and there's this really great archival gloss layer that goes on top of it. They're just amazing.
A lot of the galleries, too, we'll do a projector show, so that we can incorporate more images. We used to do live events where you'd be able to contribute to a gallery live from anywhere in the world, you just uploaded your images to one of these contests, and they were streamed live, and that was really cool to see.
What's your background before Hipstamatic?
I'm half unicorn! Just kidding. Lucas, Ryan and I all went to school in Wisconsin doing graphic design. We knew we wanted to work together in some kind of a design studio environment, but they were going to stay in the Midwest, and I was focused on moving out to New York. So they started their design studio, and I went out to New York where I thought I was going to be a waiter or a photographer. I got a gig with MTV to shoot events, so I had 3 months before that gig went into effect. This was when I'd just graduated and I really thought that photography was a better career choice for me because I like people, and as a graphic designer you spend your entire day behind a computer. I ended up taking on the MTV-job, and it turned out to be mainly events photography, which I hated; I mean, I wanted to have fun, too!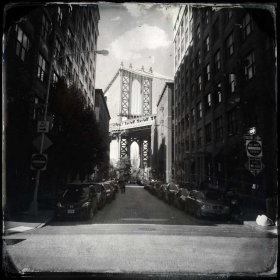 When I got to New York, I went to work as a graphic designer at Bloomingdale's. I was designing shopping bags, gift cards, all of their private label packaging, chocolates, a bunch of different really great things that I was so excited to be working on, but I really missed photography. I started moving more into their editorial team and working on creating some of the big catalogues, working with photographers and models and casting. This made it really exciting again, because I really love photography.
After a while, I kind of got over the whole corporate thing, so I decided to leave. And Lucas found out, the day I quit, and was like, "Hey, I want you on my team," and I was like, "Awesome!" So, then I started working out of New York three days later doing our social stuff.
My relationship was with all these fashion photographers, so I started bringing them in to create looks for Hipstamatic. I didn't know that so many people in the tech industry, or even in photography, were paying much attention to fashion photography, but now, if you look even at the iPad ads, they're dedicating stuff just to fashion. We were one of the first companies that really started embracing fashion as a means of being creative in the tech industry; it was more by default of where we were coming from. We realized quickly that that was actually an industry that would be really fun to embrace and bring on board. It's just crazy now to see so many different tech industry people embracing fashion. It's awesome!
How many readers are you getting for Snap magazine?
Over 400,000 per month. It was one of those things that we launched as a side project. We were really excited about finding a more permanent home for all the content that people were creating. They were sending it to us and we were putting it on Twitter, Facebook or Tumblr, and the life expectancy of any of these posts, is like 24hrs, so we thought, "What if there was something more permanent?" Lucas had worked at a magazine before, and I had been working at a catalogue, so the idea of creating a magazine wasn't completely crazy, we were like, "why don't we just do it?" We had no idea how well it would be received, how it would continue to grow, or how important it would become as an inspirational tool for our community. It's become a really cool project, but yeah, it's still growing, and we're still looking at ways to continue to grow it, and working with really great people to contribute. It's a fun project that has started to demand a lot of time, and possibly also one of the reasons we probably do fewer events. On a monthly basis we would draw in two to three hundred people at any given event, versus 400,000 people on a magazine.

Do you get a lot of submissions every month?
We do, and it's just Molli and I who work on the magazine full time. So, we had to bring on (editorial assistant) Rheanna Martinez to start helping sort through a lot of that. Filtering through some of the content, requesting more content. There are a lot of organic submissions that come in, some times it's a beautiful story, sometimes it's a one-off, which is why we created those 'Moments Captured'. One of the important things, possibly of anything that we've ever done in terms of social - and I'm considering the magazine to be one of the ways that we're working on being more social or involving our community - is that we want to showcase some of the great talent in our community. Ideally, we'd love to give them the celebrity status that they deserve for creating such beautiful work. In that sense, giving them a story in Snap, or just featuring one image that they've taken that's really beautiful… that's kind of where we've always wanted to be.
We got really excited about validating some of these photographers who are creating beautiful stuff. It was like ok, "how do we showcase as many photographers as possible per issue?" That's how the magazine has become what it is now.
Hipstamatic and Oggl take square photos; sometimes, you crop photos for Snap. Why don't you publish in a square format?
There are a few reasons for that. Primarily, we're storytellers. There's a story behind every photograph. In showcasing it, I become the storyteller, and we crop into different moments in the story that you may not have noticed as the artist. It's become more of a point of view, but it's still storytelling. Cropping photos has always been one of those things… maybe it's just that I worked on magazines and catalogues for so long, where there were different things that you could bring out. I like the limitations that are given by using this other dimension, especially with square photos and figuring out how that story is retold in a different format. Then there are two different stories; photos are still being shared on other networks, but it becomes almost like a narrative to me on how that story's told. I'm ok with cropping photos!
Do you accept edited photos for Snap?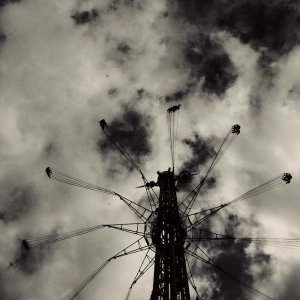 It's very rare that we do that, and only in very specific circumstances. If I can get the original Hipstamatic photo for a photo story, I will always go for that. As an artist myself, I want to keep the integrity of our Hipstamatic photographers and artists. However, if the story needs some form of editing to increase the focal point or darken a shadow to shift direction, as much as I don't like doing it, I'll do it every so often. But, then it becomes hard for people to tell which lens and film combination was used to create it, and I want people to be able to recreate it on their own images and be inspired through the magazine. So, sometimes you just have to allow a story to exist. So overall, I always prefer to have the original image.
I would never post a non-Hipstamatic image on any of our social channels. And with Snap, as it's grown and gotten more popular, it's become more of a photography inspiration tool. I want people to be inspired, I almost want the photography to be more important than the tool that was used. Obviously, I'm going to always try and get the Hipstamatic image, but I do think for Snap, specifically, I'm probably a little more lenient in that I just want beautiful content, I want beautiful photo stories, I want people that tell stories through images, it's a little different.
Has working with the Lumia hardware changed the way you approach designing filters and lens?
When we launched Hipstamatic originally, there was a really bad camera on the iPhone and we thought: "What if we made this look better, and we made it look more analogue?" The goal was to create an image that felt very nostalgic. As the camera got better, we realized that instead of creating these images that were so effected or nostalgic, what if we used this tool to actually create new things. We worked with David Loftus to create a food lens. Some of the new stuff that we did with the Americana lens (with Chiun-Kai Shih), working with Nic Adler (on the Adler lens) to figure out how we can take better images inside of a bar or a venue with the Jolly Rainbo flash — what we were trying to do was create better images. We were our target audience, we're artists and photographers as well and there's certain things that we wanted as the tool became better.
I'd say that for the last two years, we've been working on just creating the most beautiful image possible. It's really no longer about nostalgia. I mean there's a certain component to it, but the newest lenses that we've created are not meant to mimic an old image, they're meant to be beautiful. The 41 mega pixel camera on the Lumia just means we have more room to zoom and take beautiful photos!
So you're not going to start moving away from Hipstamatic's nostalgic heritage?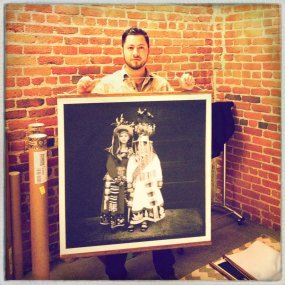 We're not moving away from the core of who we are, but we are evolving. We partnered with Nokia specifically because of the hardware, we were excited about a 41 mega pixel camera that you could carry in your pocket. It's something that hasn't been seen. We definitely wanted to be at the forefront of what that meant, and being able to access some additional controls, and get long exposures… things that we weren't able to do in the past. What should be very clear is that we are photographers and graphic designers and we love what we do. We will continue to create products we love and that, hopefully, our community will love too.
Hipstamatic is our baby, when people get scared that we're going to leave it alone, I mean would you ever leave your baby alone? Why would you ever? There's been a shift of attention; it's like what happens when you have a second child, you have to split the attention, but that doesn't mean that you'd ever leave one behind.
We're art kids, we didn't know we were entering a tech world when we launched Hipstamatic. We were doing what we loved, and we created it and people loved it too. Then we moved to San Francisco and suddenly we're a tech company, because this is a tech hub, which is great and it has pushed us further, but to ever think that we were ever going to abandon one of our kids, that would never happen!
Do you see Hipstamatic as the app of choice for professional photographers and artists?
We introduced Hipstamatic with language that was very familiar to photographers — "lenses and films". We were using very normal language for ourselves when we were describing the products. Everything that we referenced, your "gallery" of photos, everything was art related; even now in Oggl you're "curating" images, it's language that's very familiar to us and photographers, so very early on we were embraced by the photography community.
So, in that way, we definitely have a close relationship to traditional photography, and probably one of the reasons why traditional photographers have really jumped on board.
Are you surprised by the creativity of the users?
All the time! One of the other exciting parts is that, with all these other communities starting up, like Hipstamatic New England, Hipstamatic World, all these communities on Facebook,… and now with Hipstography. You guys are finding work that we didn't see, and there's so much stuff coming in, so sometimes we miss it. It's exciting when you guys are also finding these incredible photographers and all this great work. Oggl, for some reason, has really inspired a new line of macro lens photographers. We hadn't seen much of that before. You get these beautifully detailed images of flowers and bugs, and stuff that would have led me to say, "not another flower picture!" But these are actually really beautiful and you have these moments when you think, "OK, maybe I'll showcase a flower!" They're beautiful to begin with, so it's not hard to get a good photograph of them, but there's new perspective or new point of view.
Millo Salgado is doing a surf story for us, for the next issue. When we first started doing "Adventures in Hipstaland", whenever the photographers, after we'd feature them, went anywhere they'd send us a bunch of images and we thought, "well, I kind of have to give exposure to other people as well." That's how I became friends with Cara Gallardo. She sent us this photo story and it was beautiful, and then as she travelled around, we realized, "wow, you're just always taking these really beautiful images," so we have to try and figure out where we're going to put them.
What are your favorite lens, film, flash and combo?
My favorite combination, right now, is the G2 lens with the BlacKeys film. My favorite lens, not that I use it that often, is the Tinto. My favorite film is DC — I like a simple black border, and the Jolly Rainbo is really the only flash I use. I usually use the hard flash, so I want to tone down the hard flash.
Oggl or Hipstamatic?
I'm using Oggl on a more day-to-day basis, but that might just be because it's a new toy, so I like to play with it! It's a different experience, and I like it, but I'll always have love for Hipstamatic, too.
Photos: Mario Estrada   [button color="black" link="http://oggl.me/mario/"]Oggl[/button]
Previous meetings: Lucas Buick - Ryan Dorshorst -  Aravind Kaimal
Next meeting: Molli Sullivan
© Eric Rozen - Hipstography
This post is also available in: French