Inside The Haus: Aravind Kaimal – Creative Director, Hipstamatic
By
Eric
on October 10, 2013
Aravind, you've come a long way geographically speaking, tell us a little bit about how you ended up at Hipstamatic.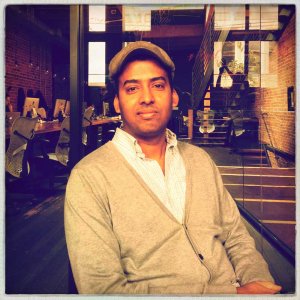 I grew up in India, and came to the US when I was 17. Growing up, the only thing I really put my mind into, was how to draw and how to create stuff. Tintin was one of my inspirations that got me into drawing. I love the level of detail and perfection that Hergé brought with his micro lines. He was a perfectionist. My parents figured out right away that I was not going to become an engineer or a doctor. So they let me pursue my dreams, they let me go with it all the way. One of my uncles convinced my parents that it was best for me to go to school in the US. I graduated in 2004 from Columbia College Chicago and started working. I met Lucas at my first job, we clicked right away, and that's what brought me to Hipstamatic 6 years later.
Can you tell us what your work as creative director involves?
I am mainly responsible for making anything that goes out of this company look meaningful and pretty, whether it's our identity, a filter, UI or any other marketing material. Most of the time I would sit with the guys and we would sketch out an idea that we were in love with, try to simplify it and then look into how we could get this done. Hipstamatic UI is heavily skeuomorphic and it's part of the reason why our fans love the app. When Lucas came to me in 2009 with the idea, he got me excited right away; I was able to design the camera on time, even though I was so new to the 3d world. I had a lot of fun designing it, and even named a lens after my dad, "Kaimal Mark II". We knew it was a great app - it- it was beautiful, but we did not anticipate the fact that it was going to pick up the way it did in December 2009.
Where do you get the ideas for new paks and how do you go about putting them together?
It starts with the theme. Music, design and fashion are the big categories we'd try to tap into. For example, if we decide to work with a fashion photographer, I would first pull swipes and other pallets that fit his or her signature style and try to incorporate them into the filter. It's a meditative process, you'd sit there and stare at that screen all day, come back the next morning, and subtle variations would happen. After a few cups of coffee it would get ironed out with the right amount of everything.
What do you mean exactly by "the filters"?
Filters represent all the lens, film and flash in the Hipstamatic world. Until last year, Lucas used to create them and I mostly focused the cases, and all the other UI related skin and structure. To this day we stand out because of some of the initial filters he designed. I love designing them too. But as I mentioned earlier, it's a meditative process, you sit with it, stare at it until it starts to look the way you had envisaged.
Lucas and I, used to throw around a word he coined "retrofy", even before Hipstamatic. The idea was to never let an image go out the way it came out of a digital camera. The digital era got rid of that, things became so crisp and sharp and perfect. We were anti that, we wanted to bring it back to the old nostalgic era. We wanted it to have emotion, look nostalgic, punch out the colours on it. We wanted to bring back old school. I think all our filters and design will always follow those guide lines.
So you're working on the October pak right now?
(Editor's note: big laughs from Aravind and Molli. Molli Hipstamatic's PR and of course, she knew I would try to get some private and secret information.... But I didn't - she did her job ;-)
Yeah we are working on it as we speak. I assure you it will be our next masterpiece.
In the beginning when Lucas approached you about Hipstamatic did you feel like something big was going to happen?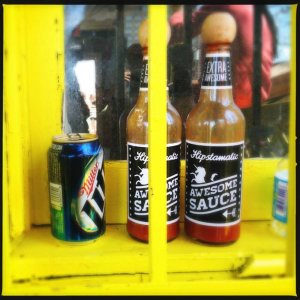 I met him at my first job after graduation, and ever since we've switched from job to job, but there was a time when he went away and said, "I'm going to do my own thing", and he [and Ryan] created their company Synthetic Infatuation. I kept working in the corporate environment. Every now and then I would jump into their team and have a fun weekend designing something, or go to his studio and sit and design with him.
In 2009 when he came up with Hipstamatic I had so much fun designing it, but had no clue it would get momentum on the appstore. They were exciting times, I do remember phone calls from Lucas, regarding how we made $50 a day, $200 over the weekend. Then Christmas came and we got featured on the appstore, followed by Lucas convincing me to quit my job and join them full-time.
Who chooses the name and the look & feel of each pak?
Most of the time it's a collaborative process between all of us. We start by spitting out words that fit the theme unless we have decided to go with a person's name. We had fun naming the Sao Paulo pak, we are big fans of Nando Costa and everything he's created, and the fact that Brazil is just cool, it was meant to happen.
Long Island was another one of those, when we really wanted to do the whole Art Deco look. We wanted to do something really bad with that look and that era, especially as we're all big Gatsby fans. It had to be done, and we got it out of our system.
Other than Blanko Freedom13, BlacKeys extra fine was the first film without a frame. Is this a sign for future releases?
We're going to go back and forth, but we do want to do a few without frames, we're never going to say no to them. We have so many frames, especially when you're looking at things on Social Media, it helps us standout. But it's about time we gave a few options without frames. In the past, we did one without a frame, the Blanko Freedom13, but we thought we still needed some sort of a mark to identify us. I think we've established ourselves at this point, where we can put out a filter without a frame just for the options, because people are so used to it, they can look at it and say, "OK, this was obviously a Hipstamatic filter." Now that you've got like a hundred different apps, it has gotten to a point where you can see some people literally mimicking us, but that's always going to be there, our fans really know us, and they stay with us, we're fortunate!
Do you get the inspiration for new paks from photos that you see and love?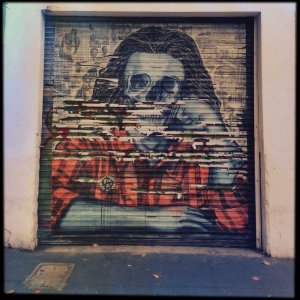 Yeah it's like I said, it's all the nostalgia that we have growing up in the 80s.
Originally, we grew up where you go through your family albums, in our head it's filled with imperfections, and this warmth that film has, depth.
Anybody who says, "Oh, I was born in 95", that generation unfortunately can't relate to the richness that we've had, the depth and the warmth of film. It was a bit frustrating when the digital revolution started, and our effects were an outcry. But now, it's a blend of everything we loved in the past, as well as anything that intrigues us.
What are your favourite lens, film, flash and combo?
The Standard flash is obviously my most favourite, and to be honest, I don't often use flash. That said, when I first saw what amazing photography flash can do was when you posted that series of images Madalena and Robusta ("Flash Effects with São Paulo") and I'm like, "How come I never knew that this is possible?" None of us here can take photos with this app like people out there have done. I've learned from what people have shot, there are some incredibly talented Hipstamatic and Oggl photographers out there!
My favourite lens is the Tinto, I consider that to be my baby, because we went through so much to come up with that. The Tinto lens and D-Type film - those are my favourite because, that was an exploration that we wanted to nail as close as possible, and stay truthful to the craft. It wouldn't have come to life without Ryan. Hipsta fans brought the best out of it. I think I saw it on your site, that movie somebody made with D-type film, I would never be able to make it, the amount of work that goes into that is amazing!
Oggl or Hipstamatic?
I have switched to Oggl but I do love Hipstamatic too. I still use Hipstamatic when I want to just take my time and enjoy photography. But when we hangout we have all these moments, and you have two seconds to capture it. Oggl comes in handy at such times, but I can never say no to Hipstamatic because that's our baby too. I love the fact you can change case and enjoy that whole experience. It's fun!
[button color="black" link="http://oggl.me/aravind/"]Oggl[/button]
Previous meetings: Lucas Buick - Ryan Dorshorst
Next meeting: Mario Estrada
© Eric Rozen - Hipstography (Aravind Kaimal)
This post is also available in: French