The Hipstography Awards 2013 – The Ceremony
By
Eric
on février 9, 2014
Bienvenue aux Hipstography Awards 2013!
Créé en décembre 2012, Hipstography vient donc de souffler sa première bougie. L'année écoulée a été incroyablement riche et passionnante: plus de 120 portfolios publiés, 199 combos, 365 photos of the day, des dizaines d'interviews, de news et de reportages. Un total de plus de 5.300 photos prises aux quatre coins du monde par des centaines d'utilisateurs dont le seul point commun est une simple application photo… Une application qui a radicalement changé la façon de concevoir la photographie pour des millions de personnes.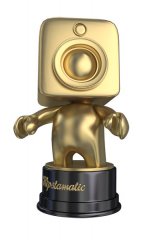 Ces Awards ne sont pas une compétition avec des nominés, des gagnants et des perdants. Bien sûr, il y a des "premières places" et oui, il y aura des déceptions mais ces Awards se veulent être avant tout un hommage à Hipstamatic, à Oggl et surtout à une équipe créative qui a réussi le pari d'unifier des millions d'utilisateurs derrière une vision novatrice de la photographie.
Ces Awards sont aussi une occasion de revoir quelques unes des plus belles séries de photos publiées sur Hipstography depuis un an. Il était évidemment impossible de faire concourir l'entièreté des publications et une première sélection a été effectuée par des membres du jury. Au final, ce sont plus de 200 nominés dans 19 catégories qui ont été soumis à vos votes.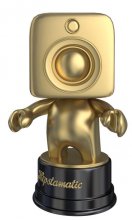 Vous avez été très très nombreux à voter, certaines catégories ont même dépassé les 1000 votes! Dans certains cas, quelques nominés ont dominé la compétition mais pour d'autres, la bataille pour la première place a été rude! Tout s'est parfois joué à quelques voix près…
Merci beaucoup en tout cas de votre participation. Vos votes ont été additionnés à ceux du jury et en fin de compte, ce sont 19 Awards qui seront attribués aujourd'hui: trois Awards pour des combos, trois autres pour des portfolios et treize statuettes récompenseront treize photos réparties dans treize catégories.
Avant de débuter la cérémonie, je voudrais remercier une nouvelle fois les membres du jury pour leur participation à ces Awards:
Ce sont des photographes reconnus mondialement et
ils ont associé leurs noms à l'un des objectifs de Hipstamatic:
Ben Lowy
Ben Watts
Chris Hornbecker
Chiun-Kai Shih
David Loftus
Ils utilisent Hipstamatic, sont des pionniers en matière de photographie mobile
et inspirent les utilisateurs par leurs connaissances:
Daniel Berman
Marty Yawnick
Richard Koci Hernandez
Ils sont journalistes ou spécialistes de Hipstamatic:
Patrick Baz
Stéphane Arnaud
Severine Bourlet
Simone Muresu
Tom Choinski
Samuel Gasc
Ils... sont Hipstamatic:
Lucas Buick
Ryan Dorshorst
Aravind Kaimal
Mario Estrada
Allan Bedford
Il est donc temps de connaître les gagnants et la cérémonie d'aujourd'hui sera divisée en 3 grandes parties. Enfin, peut-être plus car il se peut que quelques surprises viennent enjoliver la fête…
Mais avant de passer aux festivités à proprement parler, je voudrais juste remercier toutes les personnes qui ont accepté que leurs photos soient publiées sur Hipstography depuis le départ, le site ne serait pas ce qu'il est sans eux. Merci du fond du coeur pour cette belle collaboration.
Eric Rozen
Débutons sans plus attendre ces Awards 2013 avec...
This post is also available in: Anglais