The Candy Collection
By
Eric
on décembre 22, 2016
Lancé le 29 décembre 2012, Hipstography fêtera donc dans quelques jours son quatrième anniversaire et pour marquer cet événement, nous vous avons concocté une nouvelle collection de trois combos. Mais à l'approche des fêtes et plus particulièrement de Noël, nous nous sommes dit que vous auriez peut-être besoin de ces combos pour immortaliser vos soirées de fin d'année... Nous avons décidé de ne pas attendre le 29 décembre et c'est donc avec le plus grand plaisir que nous vous offrons aujourd'hui cette nouvelle palette de combos intitulée The Candy Collection.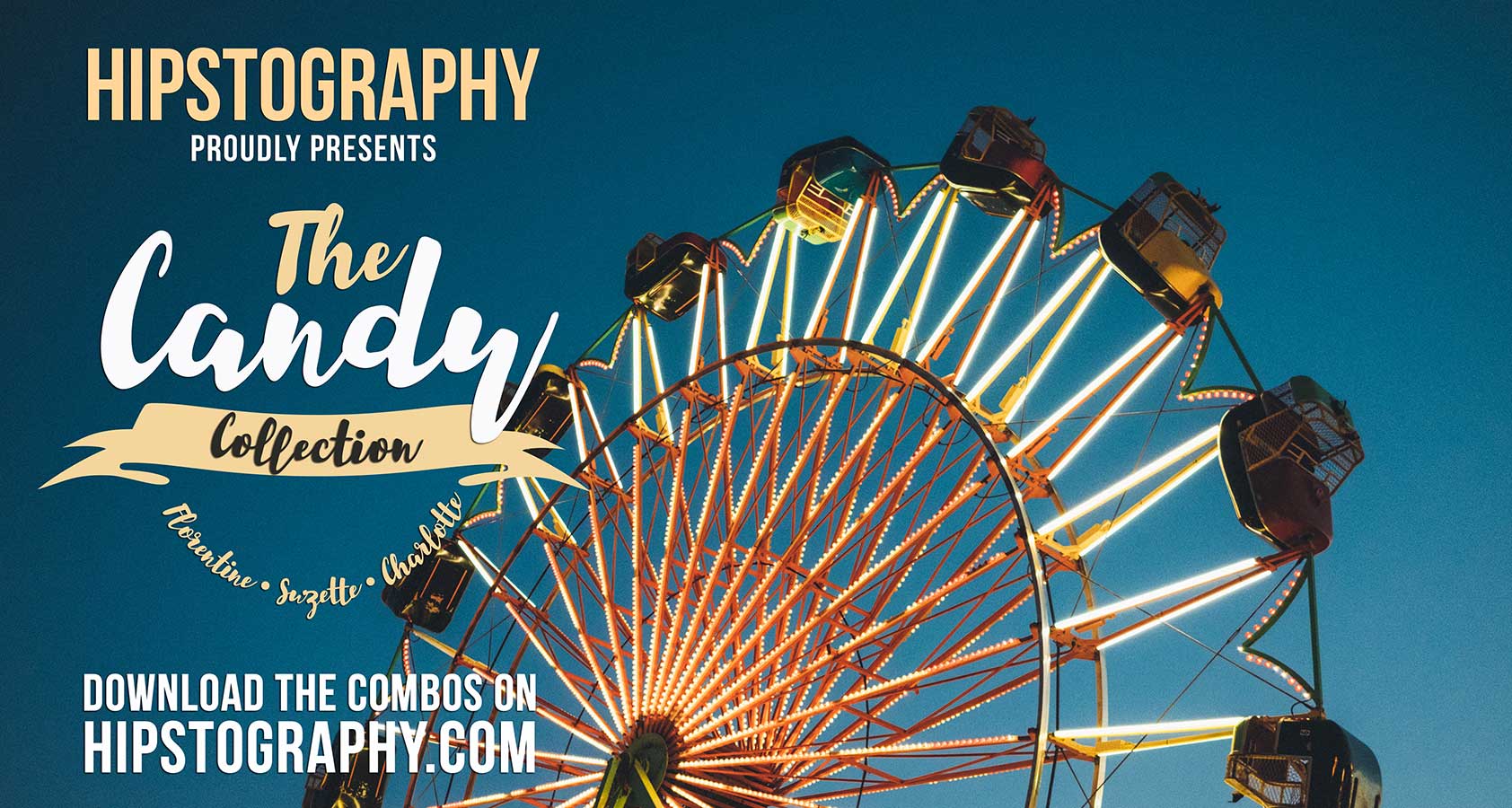 Si les combos des deux premières collections (The Organic Collection et The Lush Collection) se voulaient être naturels, délicats et assez subtils, ceux de The Candy Collection sont plus chaleureux, plus festifs, plus colorés mais tout en gardant une certaine sobriété. Un peu comme des pâtisseries que l'on déguste avec plaisir. Vous savez, cette meringue croquante, ce moelleux au chocolat saupoudré de sucre impalpable, cette gaufre recouverte de crème fraîche, cette délicieuse tarte au citron,... Nous avons donc baptisé ces trois combos avec des noms de plaisirs sucrés: Florentine, Suzette et Charlotte.
Florentine
Florentine est cette délicieuse tarte au citron; légère mais avec un certain caractère. L'élément dominant de sa recette a été l'objectif Anne-Marie mais nous avons réduit son effet flouté pour ne garder qu'une légère trace afin d'embellir le centre de l'image. C'est un combo qui donnera aussi de bons résultats pour des photos en extérieur, que le ciel soit radieux ou ombragé.
Le combo à télécharger se trouve en bas de page.
Vous trouverez sur cette page d'autres photos réalisées avec Florentine.
Suzette
Un moelleux au chocolat saupoudré de sucre impalpable n'est pas digeste mais on s'en fiche... On aime son côté soyeux et quelque peu excessif. Pour Suzette, nous avons superposer deux éléments assez festifs du catalogue Hipstamatic: l'objectif Leonard et le film Liberty. Un combo à utiliser avec une belle luminosité naturelle... Suzette n'aime pas le manque de lumière.
(Photos: Lori Hillsberg)
Le combo à télécharger se trouve en bas de page.
Vous trouverez sur cette page d'autres photos réalisées avec Suzette.
Charlotte
Une meringue semble fragile au premier regard et sa légèreté apparente cache en fait une certaine force de caractère. C'est ainsi que l'on pourrait décrire Charlotte, un combo peaufiné par Polina Sarri qui n'a pas hésité à mélanger avec audace certains ingrédients Hipstamatic: l'objectif Müller, le film Panaji et le flash RedEye Gel. Surprenante Charlotte, son tempérament marqué devrait vous séduire!
(Photos: Polina Sarri)
Le combo à télécharger se trouve en bas de page.
Vous trouverez sur cette page d'autres photos réalisées avec Charlotte.
Avant de télécharger ces 3 combos, quelques petites remarques d'ordre technique et pratique:
Mode d'emploi
Ces combos, comme tous les combos de la section "Combos à télécharger" ou de la section "The Hipstography Combo Collections", sont des combos qu'il faut appliquer APRES la prise de vue. Vous pouvez les utiliser lors de la prise de vue mais aucun des paramètres du Pro Mode (pourcentage de l'objectif, du film, Exposition, Eclat, Definition,...) ne sera appliqué directement.
Pour prendre un exemple concret, Florentine a été créé à l'aide de Anne-Marie mais réduit à 75%, de Hackney et de Triple Crown réduit à 20%. L'exposition est de +0,1, la clarté de 15, etc... En utilisant ce combo lors la prise de vue, vous obtiendrez un cliché dont le combo est Anne-Marie 100%, Hackney 100% et Triple Crown 100%. Il vous faudra donc appliquer le combo choisi par après. Ceci est une limitation générale qui s'applique à tous les combos élaborés dans le Pro Mode.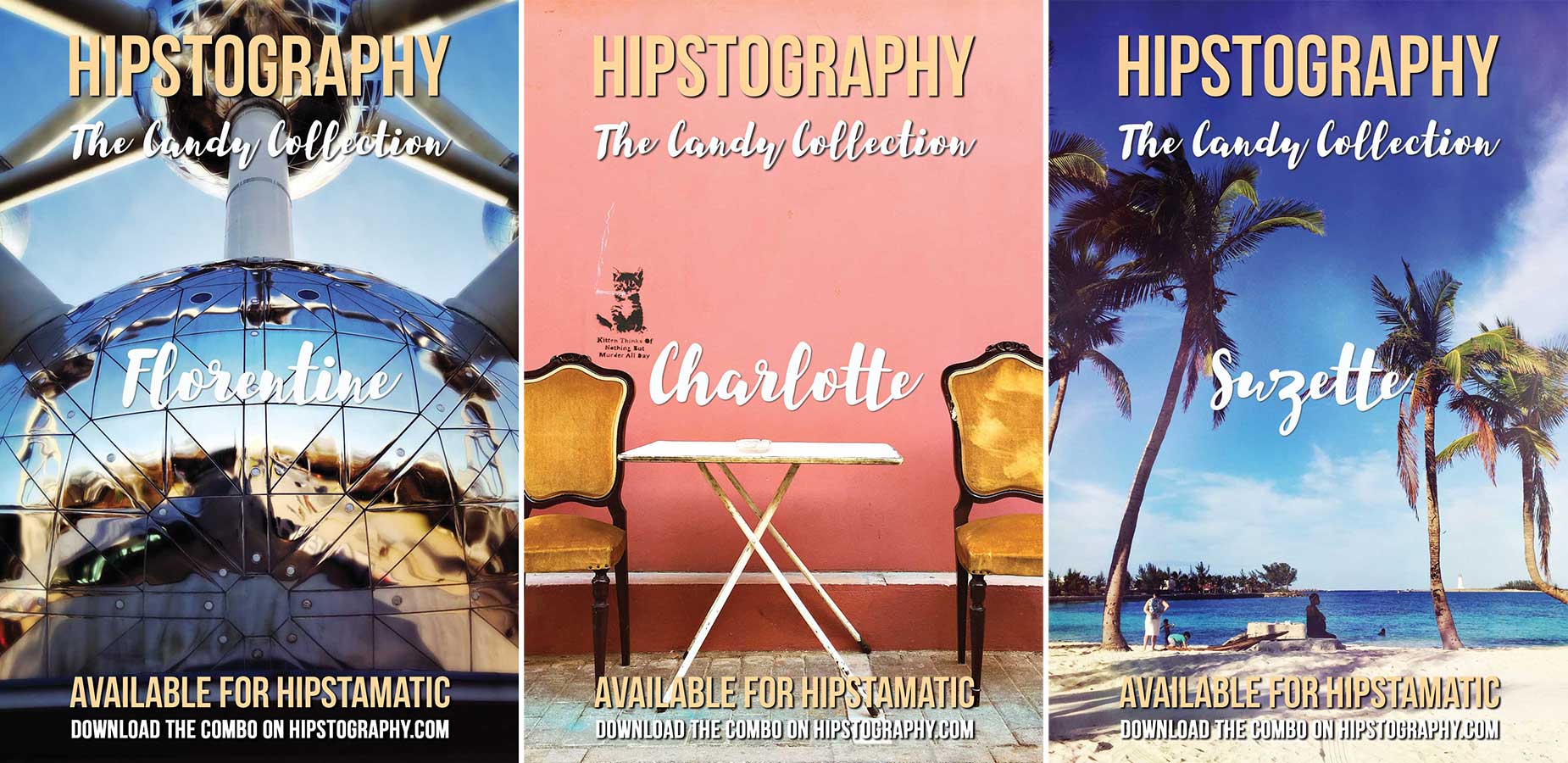 Téléchargement
Du côté pratique, vous trouvez ci-dessous les trois fichiers à télécharger. Il suffit d'ouvrir cette page sur votre iPhone en utilisant un navigateur comme Safari ou Chrome. Si vous êtes arrivés ici, sur cette page, via un article ou un lien paru sur Facebook, il faut faire demi-tour! Le navigateur de Facebook ne permet pas ce genre de téléchargement. Solution: sur votre iPhone, ouvrez Safari par exemple, tapez hipstography.com, cliquez ensuite sur le lien qui vous emmène sur cette page et le tour est joué.
Voilà, nous espérons que ces petites douceurs agrémenteront vos réveillons et autres festivités de fin d'année et surtout n'oubliez pas que ces recettes sont faites pour être modifiées... Loisir à vous de modifier les différents paramètres ou même de remplacer l'un des éléments du combo. C'est cela aussi le charme de Hipstamatic!
Merci à Polina Sarri, Kathleen Magner Rios, Lori Hillsberg, Marc Zetterblom et Sebastian Oskar Kroll pour la création de cette collection!
---
Ces combos peuvent être téléchargés. Plus d'explications sur cette fonction dans ce tutoriel.
Attention, vous ne pouvez pas télécharger le fichier Hipstography.com via le navigateur de Facebook. Le lien doit être téléchargé sur l'iPhone directement via un navigateur comme Safari ou Chrome.
---
This post is also available in: Anglais