The Candy Collection
By
Eric
on December 22, 2016
As it was launched on 29 December 2012, Hipstography will be celebrating its fourth birthday in a few days and we have designed a new collection of three combos to mark the event. However, with the festive season approaching, and more specifically Christmas, we thought you would probably need these combos to immortalise this year's festivities for posterity... We've therefore decided not to wait until 29 December and so it is with the greatest of pleasure that we are today unveiling for you this new palette of combos called 'The Candy Collection'.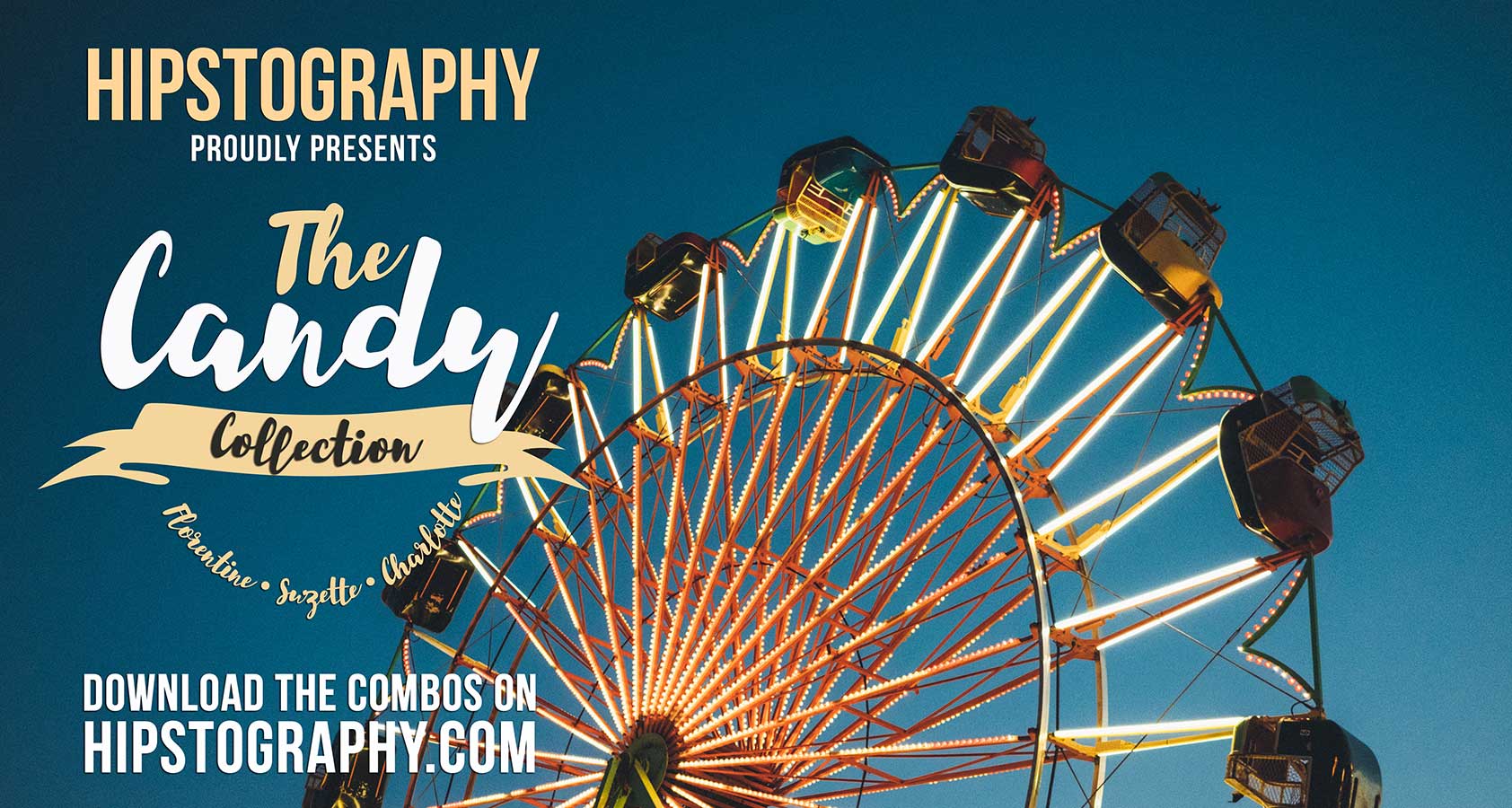 If the first two collections' combos (The Organic Collection and The Lush Collection) were intended to be natural, delicate and quite subtle, The Candy Collection combos are warmer, more festive and more colourful, but while still maintaining a certain sobriety. Rather like some desserts that one eats with delight and delectation. You know what I'm talking about, that airy but brittle meringue, that chocolate cake sprinkled with icing sugar, that waffle smothered in whipped cream, that scrumptious lemon tart,... We have therefore baptised these three combos with the names of sweet delights: Florentine, Suzette and Charlotte.
Florentine
Florentine is a delicious lemon tart; light but with no lack of flavour. The main element of the recipe is the Anne-Marie lens, but we have reduced its blurred effect to just the merest hint so as to embellish the centre of the image. This is a combo that also gives good results in outdoor shots, in both bright and cloudy conditions.
This combo is available for download at the bottom of this page.
You can find a number of pictures taken with Florentine on this page.
Suzette
A rich, dense chocolate cake sprinkled with icing sugar is not the lightest of desserts but who cares... Its rich texture and velvety, almost decadent, taste is irresistible. For Suzette, we have superimposed two quite festive items from the Hipstamatic catalogue: the Leonard lens and the Liberty film. Definitely a combo that should be reserved for really good lighting conditions… Suzette does not like the dark!
(Photos: Lori Hillsberg)
This combo is available for download at the bottom of this page.
You can find a number of pictures taken with Suzette on this page.
Charlotte
At first sight meringue seems fragile, but its apparent lightness actually conceals a certain strength of character. That is how we could describe Charlotte, a combo perfected by Polina Sarri who has not stinted with her daring mixes of various Hipstamatic ingredients: the Müller lens, the Panaji film and the RedEye Gel flash. Charlotte is full of surprises, and its racy temperament will soon have you hooked!
(Photos: Polina Sarri)
This combo is available for download at the bottom of this page.
You can find a number of pictures taken with Charlotte on this page.
Before you proceed to download the 3 combos, please read the following technical and practical observations:
Practical manual
These combos, like those in the "Downloadable Combos" or "The Hipstography Combo Collections", can ONLY be applied AFTER you have taken your picture. These combos are elaborate combinations (unlike the usual lens, film and/or flash) that would consume a lot of resources and, hence, slow down Hipstamatic considerably. You can use them as you're shooting, but none of the Pro Mode parameters (such as exposure, clarity, definition, etc…) will be applied directly.
As an example, Florentine was created with Anne-Marie reduced to 75%, with Hackney, and Triple Crown reduced to 20%. The Exposure is +0.21, Clarity 15, etc… If you use the combo while shooting, you will end up with the Anne-Marie, Hackney, and Triple Crown combo, although everything will be at the original 100% level. That being the case, you will need to apply the combo afterwards to get the full effect.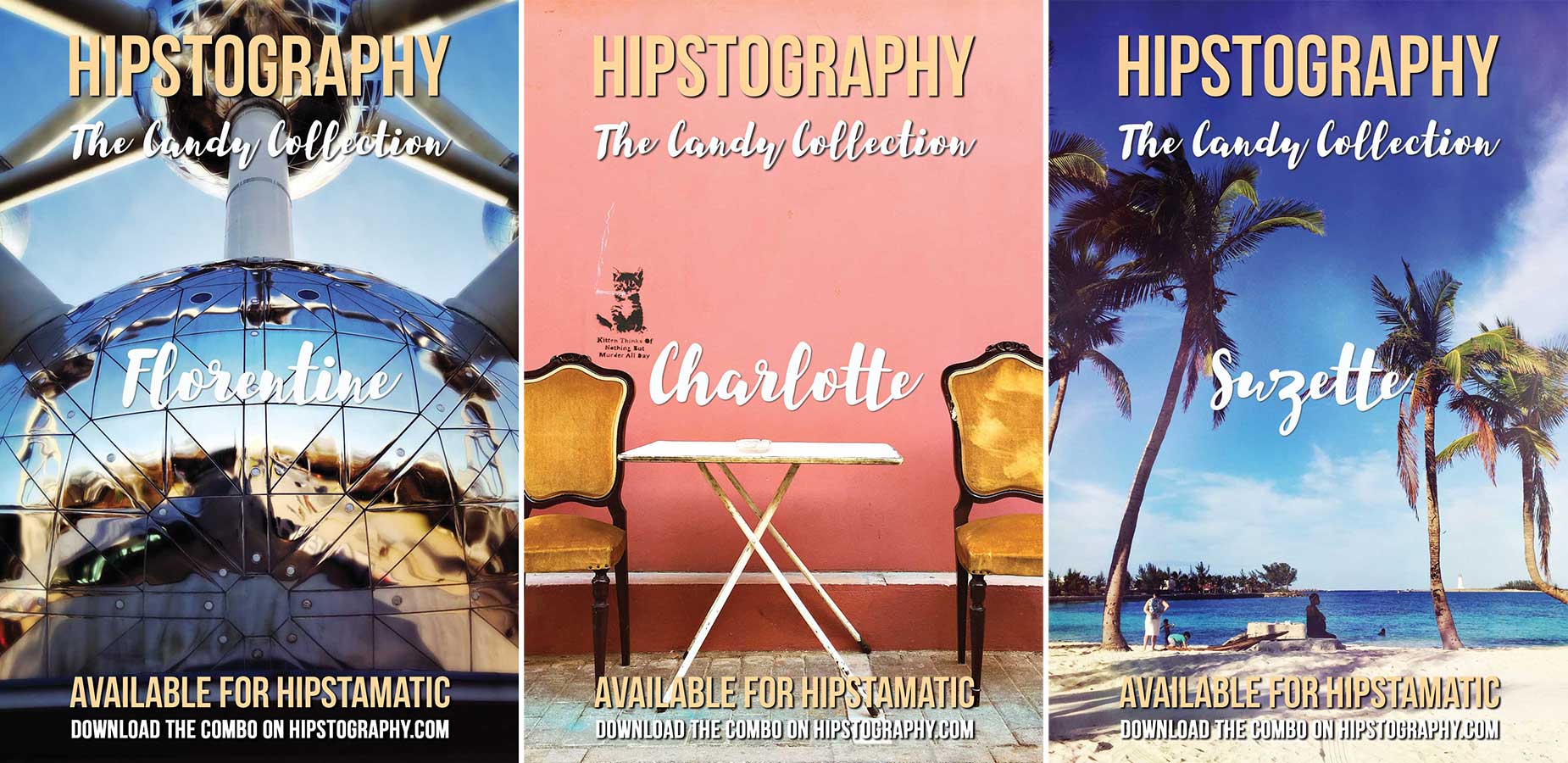 Download
On the practical side of things, you can find the downloads at the bottom of this page. You will have to open the page on your iPhone by using a browser like Safari or Chrome. If you happen to have arrived here - on this page - through an article or a link on Facebook, click on the bottom right icon that looks like a box with an arrow coming out of the top, then select the option of "Open in Safari". The Facebook navigation system doesn't allow this kind of download, so do not attempt the download while viewing the page within the Facebook app. Of course, you can always open the Safari app manually, go to hipstography.com, and click on the appropriate link, which will take you to the page in question if you choose to download at a later time.
So we hope these sweet concoctions will be the perfect complement to your New Year's Eve and Christmas festivities, and more than anything please don't forget that these recipes are made to be experimented with... You're free to play with the various parameters or even replace one or other part of the combo. That is part of the delight of using Hipstamatic!
Many thanks to Polina Sarri, Kathleen Magner Rios, Kally Klonaris-Smythe, Lori Hillsberg, Marc Zetterblom and Sebastian Oskar Kroll for sharing your creative talents!
---
These combos are available for download.
More information about this function can be found in this tutorial.
Please be aware: You CANNOT download the ".hipstamatic" file via the Facebook browser. You will only be able to download it on your iPhone from Hipstography.com via a browser such as Safari or Chrome.
---
This post is also available in: French