The Organic Collection
By
Eric
on December 15, 2015
Launched in September 2015, the Hipstamatic 300 version signalled a historic turning point in the evolution of the application; it is not just a simple update but rather a total overhaul of the Classic version. However, more than anything, Hipstamatic 300 is a breath of fresh air for users who, from one day to the next, have been given an impressive new range of functions to play with. There are of course the Pro Mode functions that allow you to adjust exposure, the balance of the whites or the speed of the shutter before the shot is taken, plus the tools in 'The Editing Suite' section (Clarity, Definition, Texture,...) to work on shots after the photo has been taken. It also gives you the option of removing the borders, adjusting the intensity of each filter and, of course, playing with the new formats.
All these innovations also mean that there are infinite possibilities for personalising the effects produced by Hipstamatic and creating original combos, also called "Favourites". The cherry on the cake is that it is now possible to share these personalised combos with whomever you like, via a small file that you can send, containing all the relevant data. This favourite can then be recopied into your library and applied to your own photos. Please find on this page a complete tutorial explaining how to share a favourite.
On the part of Hipstography, this amazing little function caught our eye from the start and we do offer you these small files for download, from time to time; in this section you can find some combos created by Hipstamatic 300 users for you to download, but we wanted to go further and decided to embark on a new adventure.
We are therefore delighted to offer you the first exclusive collection of combos signed Hipstography: The Organic Collection.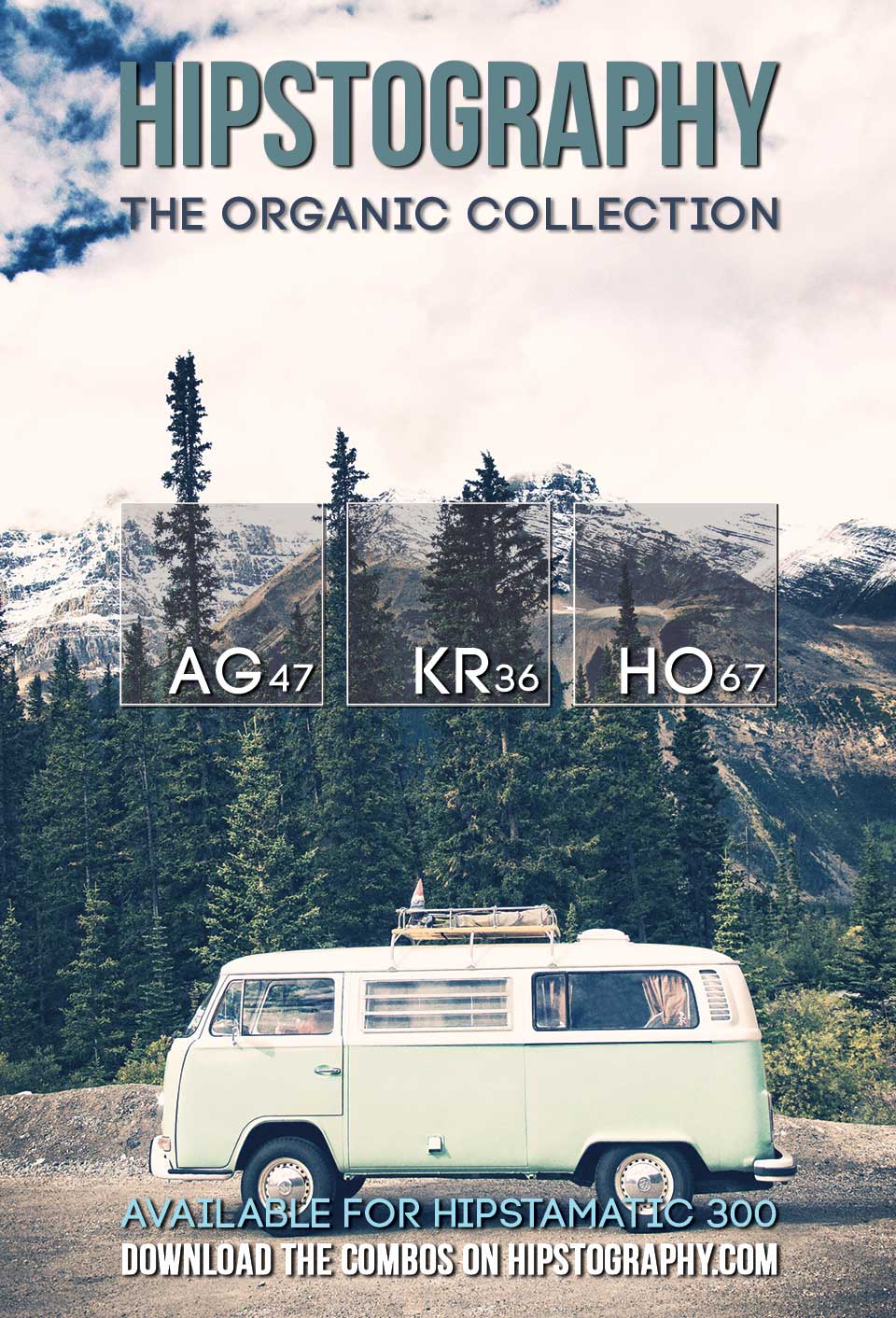 The Organic Collection includes three combos whose effects are subtle, created from the colours that are present in nature: strong browns, muted blues, dusky yellows but also dominant silver or bronze tones. We quite naturally turned to Mendeleev's Periodic Table for inspiration when it came to finding names for these combos: Kr36, Ag47 and Ho67.
Photos: Adria Ellis (Ag47) - Matthew Wylie (Kr36) - Adria Ellis (Ho67)
AG47
The chemical symbol for silver is Ag and its atomic number is 47, so it follows that it is this combo's predominant colour. Ag47 brings out cold tones - blues and greys especially - and makes them metallic.
Photos: Polina Sarri (1-3) - Sebastian Oskar Kroll (4-6) - Eric Rozen (7-9)
The combo is available for download at the bottom of this page.
You can find a number of pictures taken with Ag47 on this page.
Kr36
One of the most difficult lenses of the Hipstamatic catalogue was used as the basis for creating the Kr36: Madalena. We have tried to soften the effects of this very special lens; they are sometimes overpowering while this combo gives a wonderful strength to the shadows and darker tones.
Photos: Matthew Wylie
The combo is available for download at the bottom of this page.
You can find a number of pictures taken with Kr36 on this page.
Ho67
We became fans of the Ho67 combo that evolved by reworking the Tejas lens: it will add warmth to your winter shots by enhancing the warmer tones of the various colour palettes.
Photos: Polina Sarri (1-3) - Sebastian Oskar Kroll (4-7) - Eric Rozen (8-9)
The combo is available for download at the bottom of this page.
You can find a number of pictures taken with Ho67 on this page.
Several people have contributed to creating this first collection but it is especially thanks to the talents of Polina Sarri and Sebastian Oskar Kroll that The Organic Collection is now available to you. Thanks to them for the incredible work they have put in over recent weeks! There were hours of tests, abortive trials and internal negotiations, but also amazing discoveries. We hope you will enjoy these three combos.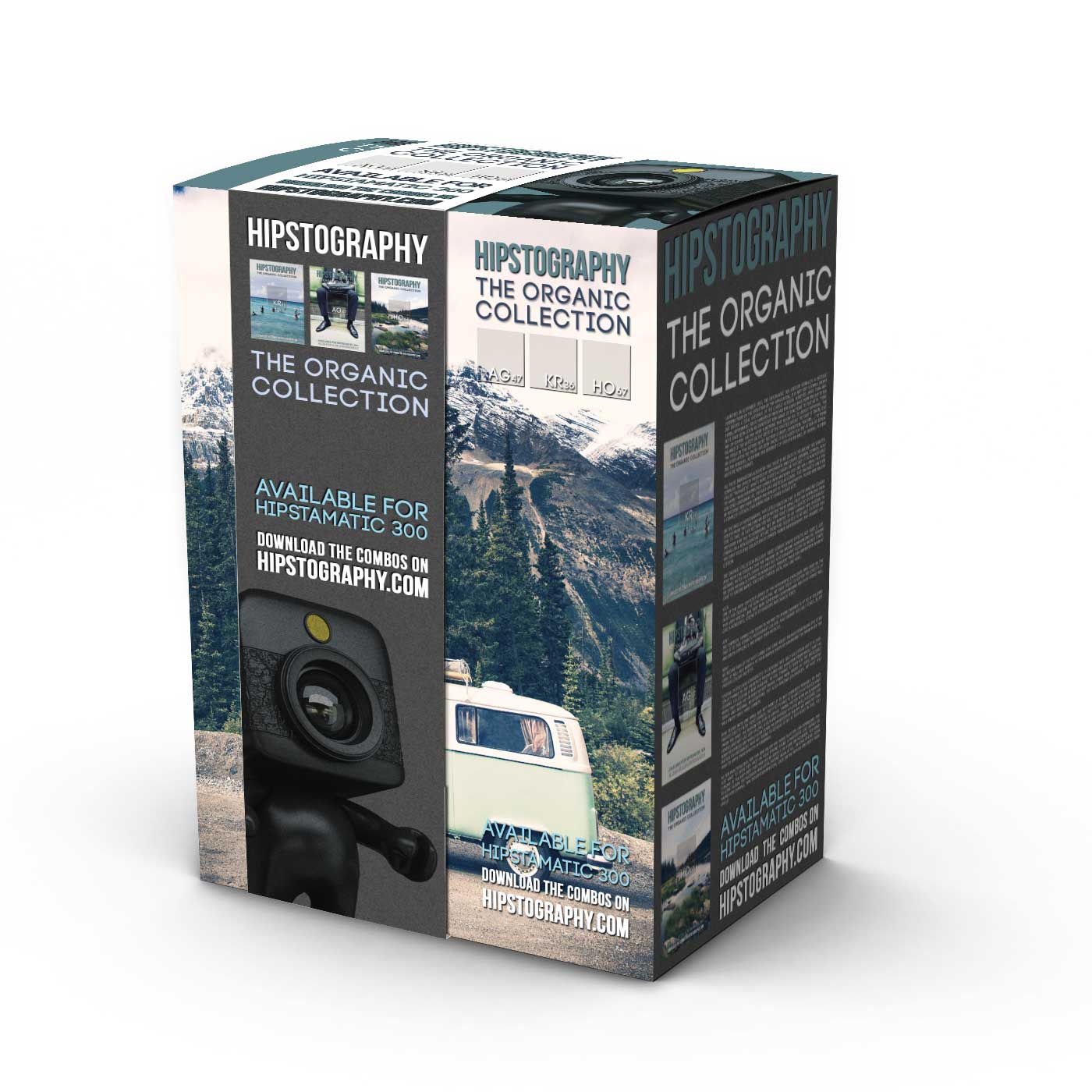 By the way, please note one small but crucial point: it is not currently possible to take photos directly with these combos; the effects have to be applied AFTER you have taken the shot. The reason for this is simple: taking photos with an elaborate combo (and not just with a lens, a film and possibly a flash) would require too many resources and would slow down the operation of the app. We have put this matter to Hipstamatic who are trying to resolve it but, at this point in time, you have to apply these effects afterwards.
As for practicalities: you can find the three downloadable files below. You just have to open this page on your iPhone using a navigator like Safari or Chrome. If you got onto this page via an article or a link on Facebook, you have to start again! The Facebook navigator doesn't work at all. On your iPhone, open Safari, for example, type in hipstography.com, click on this article and Bob's your uncle!
Don't hesitate to send us your comments and to join us on Facebook to produce the next collections. Several teams are already working on them.
---
These combos are available for download.
More information about this function can be found in this tutorial.
Please be aware: You CANNOT download the ".hipstamatic" file via the Facebook browser. You will only be able to download it on your iPhone from Hipstography.com via a browser such as Safari or Chrome.
---
This post is also available in: French