The Cosmetic Collection
Dans le catalogue Hipstamatic, certains éléments sont devenus de véritables marques de fabrique qui permettent de reconnaître un cliché Hipstamatic au premier coup d'oeil. On pense évidemment aux objectifs comme John S, Salvador 84 ou Tinto 1884 mais aussi à des films tels que AO DLX, Robusta ou Big Up. La liste est bien plus longue et cette diversité d'effets plus originaux les uns que les autres est aussi l'un des secrets de la réussite de Hipstamatic. Mais parfois, nous avons aussi envie de clichés plus doux, plus délicats, aux effets atténués mais qui gardent malgré tout une certaine originalité. Des clichés qui, malgré des effets plus sobres, conservent une petite touche Hipstamatic. C'est dans cette optique que nous vous offrons aujourd'hui une nouvelle collection de combos signée Hipstography: The Cosmetic Collection.

Après The Organic Collection, The Lush Collection et The Candy Collection, cette quatrième collection se veut encore plus minimaliste que les précédentes. Nous avons donc durant des mois testé des dizaines de combinaisons possibles et le défi était de taille: utiliser des éléments classiques du catalogue Hipstamatic, réduire leurs effets tout en gardant cette petite touche que nous adorons tous. Une touche cosmétique...
Ces trois nouveaux combos ont été concoctés par une équipe d'hipstographers passionnés et talentueux: Polina Sarri, Lara Khatchikian, Kathleen Magner Rios et Sebastian Oskar Kroll. Merci à eux et c'est avec la plus grande joie que nous vous offrons Vitis, Lilium et Salvia.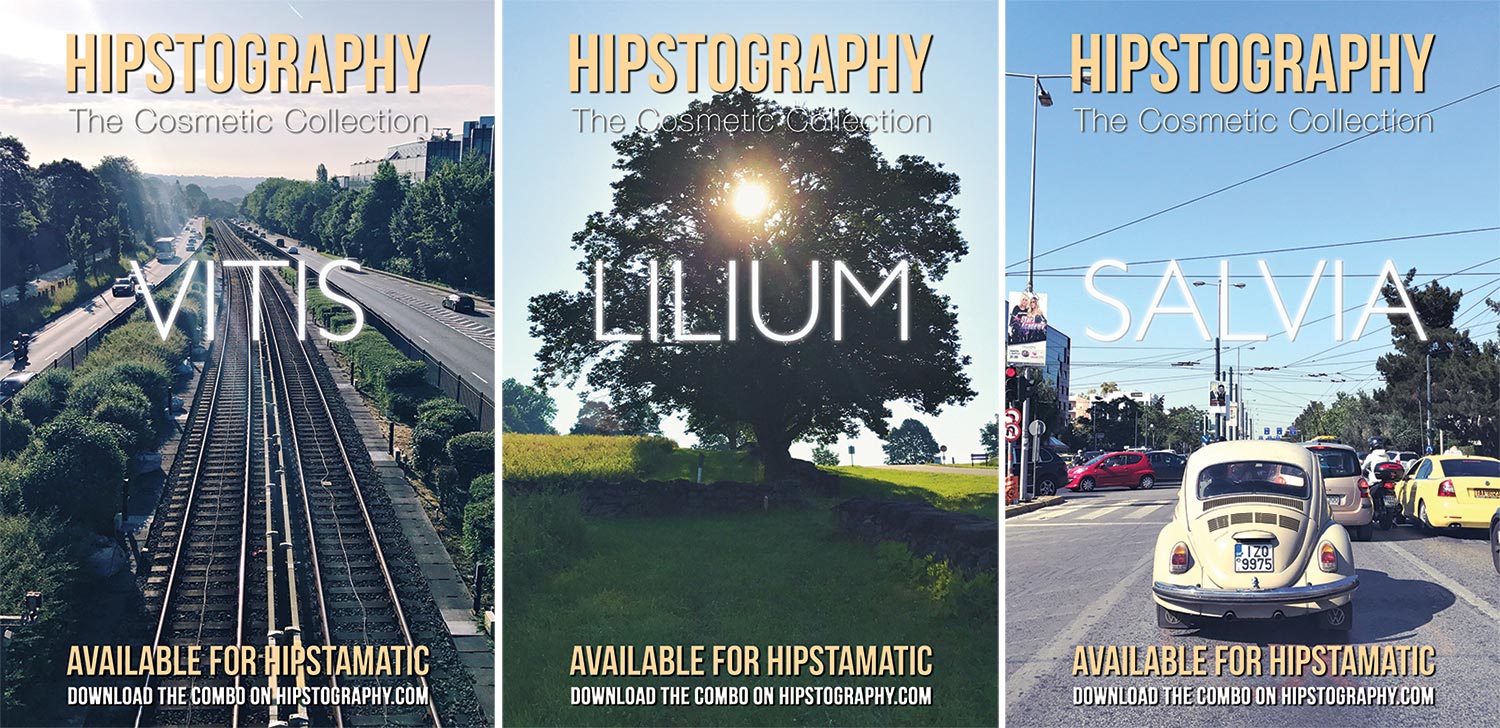 Salvia
Salvia est un combo assez cool au niveau de son caractère et de ses couleurs. Sa caractéristique principale est un effet subtil, à la fois complexe et discret, facile à appliquer sur un large éventail de photos. Il donne aux clichés une touche aérienne en appliquant une une aura presque transparente. Helga Viking est responsable de la teinte bleuâtre, contrebalancée par le flash Apollo qui donne de la chaleur, tandis que le film Irom 2000 ajoute un zeste de luminosité. En fin de compte, c'est un combo contemporain qui sera utilisé dans différentes situations lumineuses avec une grande efficacité, créant ainsi un résultat atténué mais avec du caractère.
(Photos: Polina Sarri)
Le combo à télécharger, Salvia, se trouve en bas de page.
Vous trouverez sur cette page d'autres photos réalisées avec ce combo.
Lilium
Lilium est un des atouts de cette Cosmetic Collection. Avec des tons chauds et des couleurs douces, il transforme les clichés en une oeuvre douce, apportant une qualité presque onirique et éthérée à la matière. Semblable à la fabrication d'un parfum qui se crée en sélectionnant avec précaution des touches de certains éléments, l'objectif, le film et le flash utilisés ici s'entrelacent délicatement et se dissolvent en un effet fluide et crémeux. L'objectif Yoona et le film de Gotland se combinent donc pour donner au combo une dimension très douce, tandis que le flash Triple Crown parvient à donner à Lilium un accent tempéré, rappelant la note de base d'un parfum. Le résultat est un effet concis, qui complète les photographies de sujets variés et des conditions de lumière.
(Photos: Lara Khatchikian)
Le combo à télécharger, Lilium, se trouve en bas de page.
Vous trouverez sur cette page d'autres photos réalisées avec ce combo.
(Photos: Kathleen Magner Rios)
Le combo à télécharger, Lilium, se trouve en bas de page.
Vous trouverez sur cette page d'autres photos réalisées avec ce combo.
Vitis
Vitis a été crée en combinant Jack London et Otto, deux éléments du catalogue Hipstamatic assez neutres, tout en ayant un certain caractère: Jack London rehausse les bleus, Otto réchauffe le cliché. Des éléments idéaux pour cette collection mais contrairement à Salvia et à Lilium, ce ne sont pas dans les paramètres de l'objectif et du film que vous trouverez le secret de Vitis. Ce combo a été réalisé en jouant uniquement avec quelques fonctions du Pro Mode: la clarté, la luminosité, les ombres et l'éclat. Résultat: un combo vibrant qui rehaussera le contraste et la netteté de vos photos, tout en rajoutant une pointe d'originalité qui donnera de très bons résultats, même avec une faible luminosité.
(Photos: Sebastian Oskar Kroll)
Le combo à télécharger, Vitis, se trouve en bas de page.
Vous trouverez sur cette page d'autres photos réalisées avec ce combo.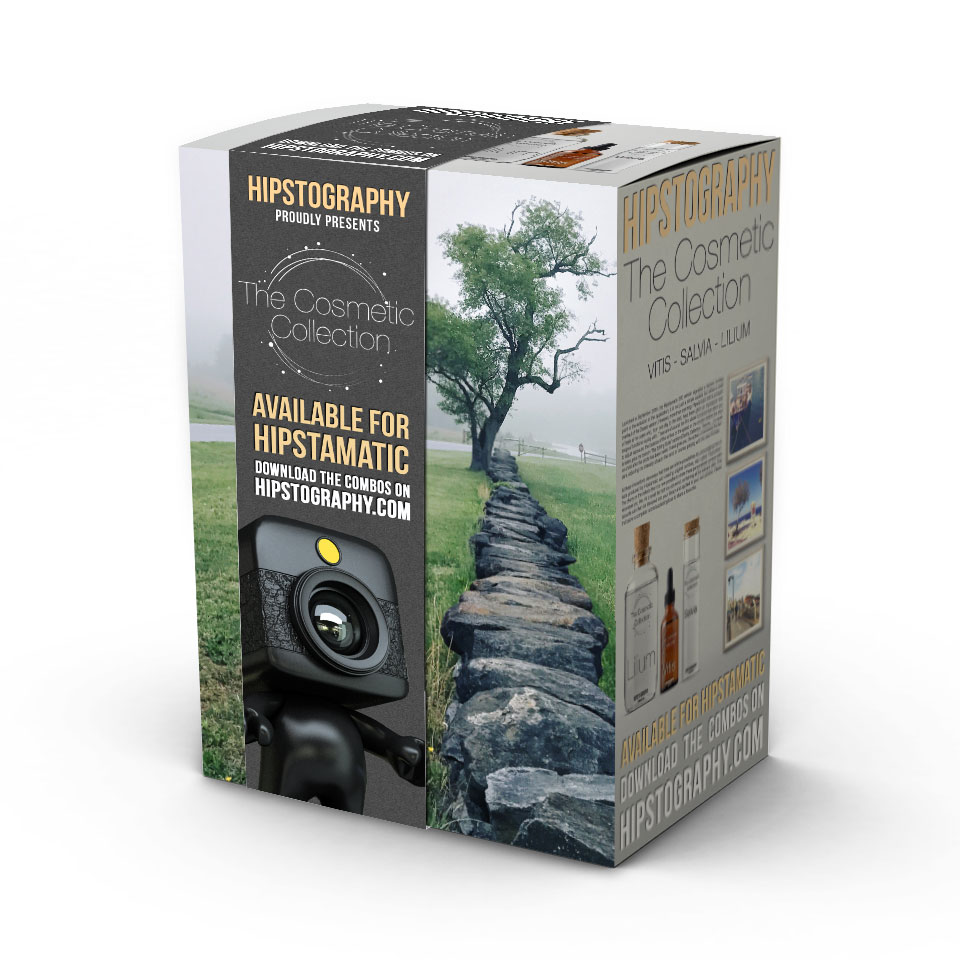 Avant de télécharger ces 3 combos, quelques petites remarques d'ordre technique et pratique:
Mode d'emploi
Ces combos, comme tous les combos de la section "Combos à télécharger" ou de la section "The Hipstography Combo Collections", sont des combos qu'il faut appliquer APRES la prise de vue. Vous pouvez les utiliser lors de la prise de vue mais aucun des paramètres du Pro Mode (pourcentage de l'objectif, du film, Exposition, Eclat, Definition,...) ne sera appliqué directement.
Pour prendre un exemple concret, Lilium a été créé à l'aide de Yoona mais réduit à 26%, de Gotland (21%) et de Triple Crown réduit à 26%. L'exposition est de +0,1, la clarté de 23, etc... En utilisant ce combo lors la prise de vue, vous obtiendrez un cliché dont le combo est Yoona 100%, Gotland 100% et Triple Crown 100%. Il vous faudra donc appliquer le combo choisi par après. Ceci est une limitation générale qui s'applique à tous les combos élaborés dans le Pro Mode.
Téléchargement
Du côté pratique, vous trouvez ci-dessous les trois fichiers à télécharger. Il suffit d'ouvrir cette page sur votre iPhone en utilisant un navigateur comme Safari ou Chrome. Si vous êtes arrivés ici, sur cette page, via un article ou un lien paru sur Facebook, il faut faire demi-tour! Le navigateur de Facebook ne permet pas ce genre de téléchargement. Solution: sur votre iPhone, ouvrez Safari par exemple, tapez hipstography.com, cliquez ensuite sur le lien qui vous emmène sur cette page et le tour est joué.
---
Ces combos peuvent être téléchargés. Plus d'explications sur cette fonction dans ce tutoriel.
Attention, vous ne pouvez pas télécharger le fichier ".hipstamatic" via le navigateur de Facebook. Le lien doit être téléchargé sur l'iPhone directement via un navigateur comme Safari ou Chrome.
---
This post is also available in: Anglais