The Cosmetic Collection
Some of the elements in the Hipstamatic catalogue have become true trademarks that allow you to instantly recognize a Hipstamatic picture. Just as an example, let's take the John S, Salvador 84 or Tinto 1884, but also films like AO DLX, Robusta or Big Up. The list is long and the diversity of effects is also one of Hipstamatic's many successes. That said, we sometimes yearn for something a little more subdued, delicate, with more subtle effects, but that also manage to retain that originality: pictures that, despite the more restrained effects, conserve that Hipstamatic touch. It's along those lines that we have come up with a new Hipstography collection: The Cosmetic Collection.

Following The Organic Collection, The Lush Collection and The Candy Collection, our fourth venture is even more minimalist than the above. We've been testing dozens of combos, over the past few months, and it was a huge task: using the classic elements of the Hipstamatic catalogue while preserving that little touch we all love, a cosmetic touch…
A team of dedicated and talented hipstographers was on hand to help concoct these three new combos: Polina Sarri, Lara Khatchikian, Kathleen Magner Rios and Sebastian Oskar Kroll. Thank you all… and… allow us to hereby present Salvia, Lilium and Vitis.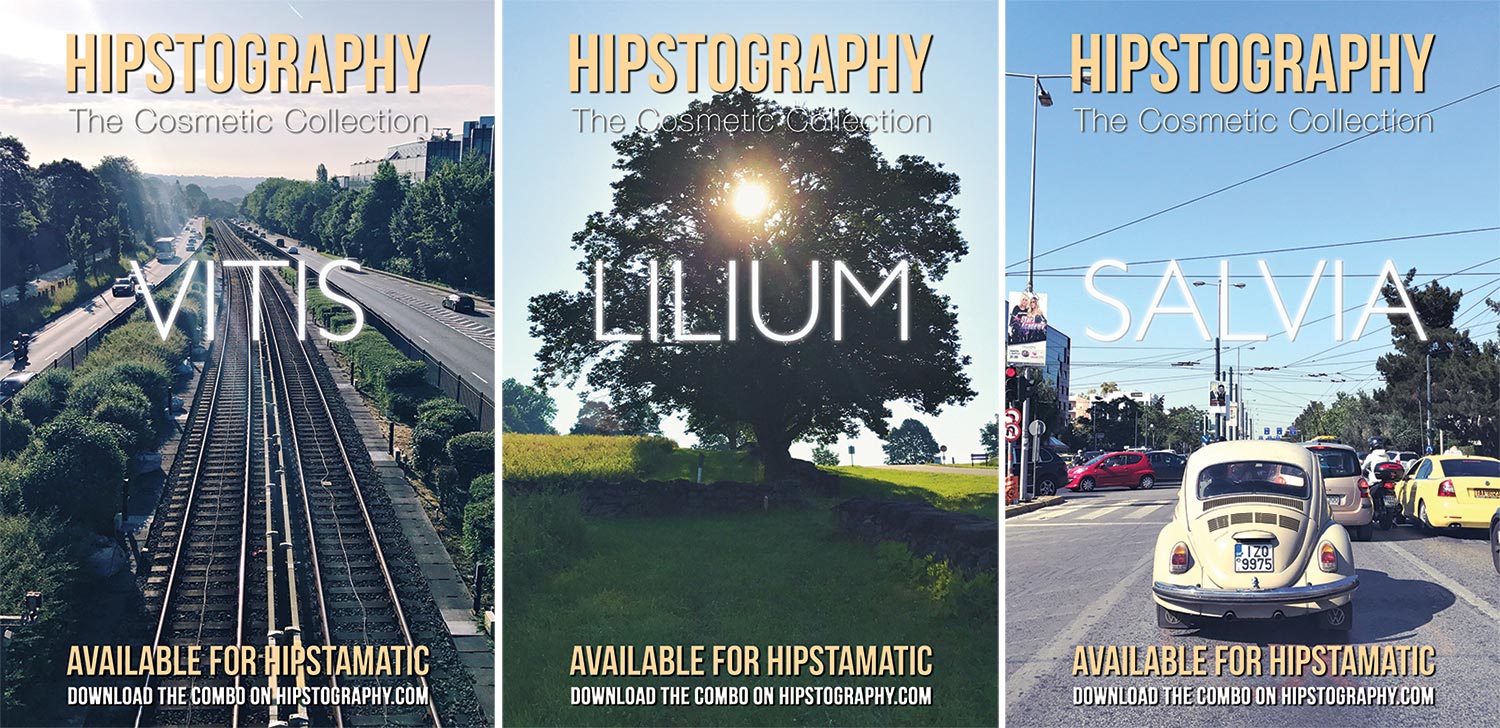 Salvia
Salvia is a combo that is cool, both in terms of character and color. Its main characteristic is a subtle effect that makes this combo delicately complex and understated, easy to apply in a wide spectrum of photos. It contributes to an airy feeling, conveying an almost transparent aura to the pictures. Helga Viking is held responsible for the bluish hue, counterbalanced by Apollo flash that gives warmth, while the Irom 2000 film adds a zest of brightness. Overall, it's a contemporary combo, to be used in varying light conditions with great efficacy, creating a muted, yet edgy result.
(Photos: Polina Sarri)
This combo, Salvia, is available for download at the bottom of this page.
You can find a number of pictures taken with this combo on this page.
Lilium
Lilium as a combo is a truly delightful addition to the Cosmetic Collection. With subtle hues of warm tones and soft colors, it transforms photos into a gentle canvas, bringing forth an almost dreamy and ethereal quality to the subject matter. Quite similar to the making of a perfume, with carefully selected potions of the right elements that blend well together, the lens, film, and flash used are delicately interwoven and dissolved into a creamy, fluid effect. The Yoona lens and Gotland film team up to convey this warm soft feel, while the Triple Crown flash comes in to give the Lilium combo a temperate accent, reminiscent of the base note of a perfume. The result is a smoothly concocted effect that compliments photographs of varied subjects and light conditions.
(Photos: Lara Khatchikian)
This combo, Lilium, is available for download at the bottom of this page.
You can find a number of pictures taken with this combo on this page.
(Photos: Kathleen Magner Rios)
This combo, Lilium, is available for download at the bottom of this page.
You can find a number of pictures taken with this combo on this page.
Vitis
By combining Jack London and Otto, two rather neutral, yet highly characteristic, elements from the Hipstamatic catalogue, we created Vitis. Jack London enhances the blues, and Otto adds warmth to the picture. Ideal elements for this collection, although contrary to Salvia and Lilium, its secrets are not found within the parameters of the film and lens. This combo was created by tweaking a number of functions in Pro Mode: clarity, brightness, shadows and glare. The result is a vibrant combo that enhances the contrast and sharpness of your pictures, while adding a little originality to your results, even in low light conditions.
(Photos: Sebastian Oskar Kroll)
This combo, Vitis, is available for download at the bottom of this page.
You can find a number of pictures taken with this combo on this page.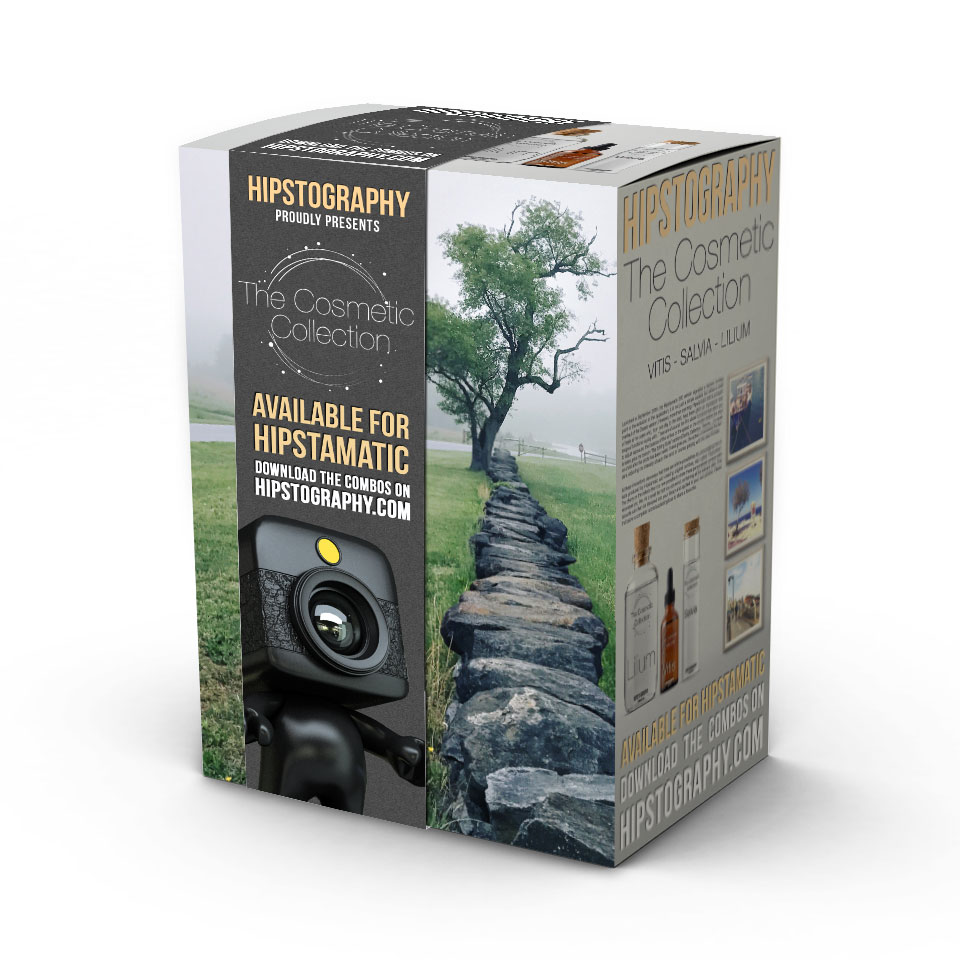 Before you proceed to download the 3 combos, please read the following technical and practical observations:
Practical manual
These combos, like those in the "Downloadable Combos" or "The Hipstography Combo Collections", can ONLY be applied AFTER you have taken your picture. These combos are elaborate combinations (unlike the usual lens, film and/or flash) that would consume a lot of resources and, hence, slow down Hipstamatic considerably. You can use them as you're shooting, but none of the Pro Mode parameters (such as exposure, clarity, definition, etc…) will be applied directly.
As an example, Lilium was created with Yoona reduced to 26%, with Gotland reduced to 21%, and Triple Crown reduced to 26%. The Exposure is +0.21, Clarity 15, etc… If you use the combo while shooting, you will end up with the Yoona, Gotland, and Triple Crown combo, although everything will be at the original 100% level. That being the case, you will need to apply the combo afterwards to get the full effect.
Download
On the practical side of things, you can find the downloads at the bottom of this page. You will have to open the page on your iPhone by using a browser like Safari or Chrome. If you happen to have arrived here - on this page - through an article or a link on Facebook, click on the bottom right icon that looks like a box with an arrow coming out of the top, then select the option of "Open in Safari". The Facebook navigation system doesn't allow this kind of download, so do not attempt the download while viewing the page within the Facebook app. Of course, you can always open the Safari app manually, go to hipstography.com, and click on the appropriate link, which will take you to the page in question if you choose to download at a later time.
---
These combos are available for download.
More information about this function can be found in this tutorial.
Please be aware: You CANNOT download the ".hipstamatic" file via the Facebook browser. You will only be able to download it on your iPhone from Hipstography.com via a browser such as Safari or Chrome.
---
This post is also available in: French