The Hipstography Awards 2015 – The Ceremony
By
Eric
on février 9, 2016
Bienvenue aux Hipstography Awards 2015
Pour la troisième année consécutive, c'est avec la plus grande joie que je vous accueille aux Hipstography Awards. Même s'il s'agit au départ d'une compétition, le but premier de ces Awards est de célébrer tous ensemble la plus formidable, la plus créative et la plus passionnante des applications photo: Hipstamatic. Certes il y aura des gagnants et des perdants mais quelle belle occasion de se retrouver une fois par an pour admirer l'étendue des possibilités offertes par cet outil qui a littéralement bouleversé le monde la photographie.
Ces Hipstography Awards sont également une occasion de glorifier la créativité de sa communauté. Au risque de me répéter, je voudrais remercier personnellement tous les hipstographers dont j'ai publié les photos car le site ne serait pas ce qu'il est aujourd'hui sans eux. J'ai eu des coups de coeur pour chaque photo ou série publiées, et ce pour une multitude de raisons, et c'est un honneur de pouvoir aujourd'hui publier une nouvelle fois d'aussi beaux clichés ou séries.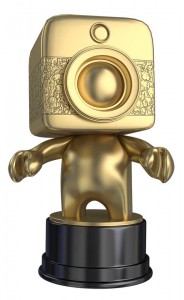 Cette année, le déroulement de la cérémonie sera légèrement différent des précédentes éditions. Nous commencerons comme d'habitude par la section "The Major Prizes Awards" avec 18 awards décernés à 18 "Photos of the day" mais ensuite, viendra le tour des "Special Awards"; ce sont des coups de coeur de certains membres du Jury pour une série de photos en particulier ou pour un photographe pour l'ensemble de son travail. Certains hipstographers ont littéralement ébloui des membres du jury qui ont donc désiré de les récompenser à titre personnel.
Et pour clôturer la cérémonie, place aux Grands Prizes Awards qui récompenseront les onze plus belles séries de l'année. Six Awards seront remis à six artistes pour leurs séries publiées dans la section Combos du site et cinq Awards pour des Portfolios.
Avant de démarrer les festivités, je voudrais remercier une fois de plus les membres du Jury qui, malgré des agendas plus que chargés, ont accepté de collaborer à ces Hipstography Awards. Merci du fond du coeur. Et puis, merci aussi à toute l'équipe de Hipstamatic pour le bonheur, le plaisir et les outils créatifs qu'ils nous offrent chaque mois depuis des années. Mesdames, Messieurs, voici le Jury de ces Hipstography Awards 2015:
Ce sont des photographes ou des artistes reconnus mondialement et
ils ont associé leurs noms à l'un des objectifs de Hipstamatic:
Ben Watts
Chris Hornbecker
Chiun-Kai Shih
David Loftus
Ruddy Roye
Ils sont journalistes, photojournalistes ou pionniers en matière de photographie mobile et
inspirent les utilisateurs par leurs connaissances:
Daniel Berman
Graeme Roy
Kate Wesson
Patrick Baz
Richard Koci Hernandez
Samuel Gasc
Simone Muresu
Ils... sont Hipstamatic:
Lucas Buick
Ryan Dorshorst
Aravind Kaimal
Mario Estrada
Allan Bedford
Luanne Dietz
Merci aussi pour votre participation à cet événement; vous avez été très nombreux à voter, plus de 13.000 votes ont été comptabilisés, toutes catégories confondues, et ont été additionnés aux votes du jury. Sans plus tarder, voici les gagnants de cette troisième édition des Hipstography Awards. Place aux festivités et que la fête commence!
Eric Rozen
Première partie de ces Hipstography Awards 2015:
This post is also available in: Anglais