The Hipstography Awards 2015 – The Ceremony
By
Eric
on February 9, 2016
Welcome to the Hipstography Awards 2015
For the third year running, I have the immense pleasure of welcoming you all to the Hipstography Awards. Although this is ultimately a competition, it is first-and-foremost a celebration of that incredibly creative and captivating photo application, that is: Hipstamatic. There will be winners and there will be losers, but regardless, what a perfect opportunity to take an annual, in-depth look at the huge range of possibilities offered by this little tool, which literally bowled over the photography world.
These Hipstography Awards are also the occasion to put the creativity that thrives in the Hipstamatic community on a pedestal. At the risk of repeating myself, I want to thank all the hipstographers who have allowed me to publish their pictures on the site, because without them, it just wouldn't exist! There were photographs and series that took my breath away for countless reasons, and I'm honored to, once again, publish these wonderful little works of art.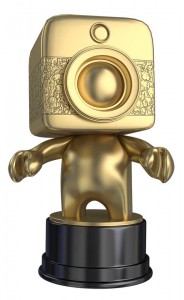 This year, the ceremony will unfold slightly differently compared to previous years. We will be starting off, as usual, with "The Major Prizes Awards", consisting of 18 "Photos of the Day". This will be followed by the "Special Awards"; these are awards that the jury members chose to give to certain series of pictures or a particular photographer, for the entirety of his/her work. A few hipstographers literally blew away certain jury members who have chosen to reward them personally.
To close the ceremony in style, we'll be handing out "The Grand Prizes Awards", which will be given to the eleven best series of the year. Six of those will be going to six artists for their series, which appeared in the Combos section of the site, and five Awards will be assigned to the Portfolios.
Before we launch the festivities, I hereby wish to thank the jury members who, despite their super-charged schedules, dedicated their time to contribute to these Hipstography Awards. I thank you profoundly. A huge thank you to the Hipstamatic team for the joy, fun and creative tools they send our way, every single month. So, ladies and gentlemen, let me introduce you to the Jury of the Hipstography Awards 2015:
They are world-renown photographers and artists, whose names
have been associated with Hipstamatic in one way or another:
Ben Watts
Chris Hornbecker
Chiun-Kai Shih
David Loftus
Ruddy Roye
They are journalists, photojournalists and pioneers in the mobile photography scene,
inspiring many a-user with their professional know-how:
Daniel Berman
Graeme Roy
Kate Wesson
Patrick Baz
Richard Koci Hernandez
Samuel Gasc
Simone Muresu
They are in fact… Hipstamatic:
Lucas Buick
Ryan Dorshorst
Aravind Kaimal
Mario Estrada
Allan Bedford
Luanne Dietz
And all of you hipstographers too!! Thanks for participating in this event! So many of you voted: in fact, we registered 13.000 votes that were then added to the jury's votes. Without further ado, here are the winners in this third edition of the Hipstography Awards. You may now get this party started!
Eric Rozen
First part of the Hipstography Awards 2015:
This post is also available in: French