The Hipstography Awards 2015 – The Ceremony
By
Eric
on February 9, 2016

From David Loftus to Berlewen Jolixor
for her portfolio "Flip the page!".
Concerning her portfolio: "I'd love to give a Special Award for constant humour, wit and technical ability... always makes me gasp and laugh at the same time."
David Loftus
'Flip the page!' by Berlewen Jolixor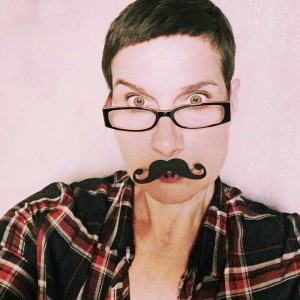 Name: Berlewen Jolixor
Hometown: Lyon, France
Resides: Saint Genis Laval, France
Profession: Restoration of historical monuments, painter, decorator
Hobbies: Tai chi, sci-fi, biking, photography
Hipstographer since: 2012
Year of Birth: It's a jubilee this year!
Favorite Combo:  Lowy  +  Blanko 1 
Favorite Lens:  Lowy 
Favorite Film:  Love 81 
Favorite Flash: The sun
"Little figures popping out of old books as if they are living their tiny lives amidst the adventures on these pages. It's a way of breathing life into stories or illustrating symbolism… In this case I used:
- A magical combo that I discovered during a Hipstamatic Sardinia contest. Sergio, Love 81 (magnificent texture) and Triple Crown flash (which reduces the murky effect of the Sergio lens)
- Old Arts et Metiers magazines from 1924 as backgrounds
- A little bit of a tribute to the upcoming Star Wars movie and e-books"
Berlewen Jolixor
---

From Samuel Gasc to Léna Maria
for her portfolio "Don't Forget to Validate".
Concerning her portfolio: "A fascinating exploration of a people in transition––neither where they have previously been nor where they intend to be in due time, a veritable microcosm of our own lifelong journey. Delightfully introspective and compelling portraiture."
Samuel Gasc
"Don't forget to validate" by Léna Maria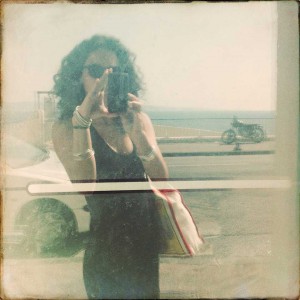 Name: Léna Maria
Hometown: Perpignan, France
Resides: Marseille, France
Profession: Author Photographer
Hobbies: Traveling, reading, walking,…
Hipstographer since: 2014
Year of Birth: 1985
Favorite Combo:  Florence  +  Blanko 1 
Favorite Lens:  Yoona 
Favorite Film:  Blanko 1 
Favorite Flash:  Cherry Shine 
"Don't forget to validate (your tickets) is a photography series made over the course of one year, in the buses, metros, and trams of Marseille. I saw it as an exploration of our daily lives, allowing us to discover that the time we spend in public transportation can be one of the most beautiful windows onto the city, others and ourself."
Léna Maria
---

From Simone Muresu to Lee Attwell
for her Combo #352.
Concerning her combo: "This is one of my favorite combos, because it mixes the warm contrast of the Ray Mark II lens with the texture and warmth of Blanko 1 film. This combo is perfect for landscapes at twilight, because it makes everything more paint-like, and for either portraits or self portraits, highlighting the colour of the skin. With this combo, Lee Atwell was able to give edge to her photos, especially those where there are various shades of red and the landscapes with contrasting sand/ocean."
Simone Muresu
Combo #352 (Lee Atwell)
Using: Oggl
"I always look forward to April as it represents to me a time of new beginnings and also opportunities to visit favorite spring destinations for photography. This series was taken in California as well as Washington State. The ocean shoreline north of Santa Cruz is one of the most scenic areas along the Pacific Coast - perpetually swept by the surf and often strong winds. After a rainy morning closer to home, the field workers were pruning the tulips in the Skagit Valley.
Lastly, Seattle is renowned for it's rain, and I was happy to wander the streets of the city in search of umbrellas, reflections, and steamy cafe windows. I love the warm tones of the Ray Mark ll Lens and the painterly, textured effect of the Blanko 1 Film."
Lee Atwell
---

From Patrick Baz to Susan Bein
for her series "Hommage to Arcimboldo".
Concerning her portfolio: "This series offers a new and artistic approach; work that shows clear evidence of genuine study and reflection."
Patrick Baz
"Hommage to Arcimboldo" by Susan Bein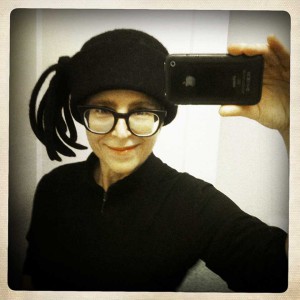 Name: Susan Bein
Hometown: Los Angeles (long, long ago)
Resides: Portland, Oregon
Profession: Photographer, Graphic Designer, Teacher
Hobbies: Crosswords and Sudoku
Hipstographer since: 2010
Year of Birth: 1952
Favorite Combo:  Tinto 1884  +  D-Type Plate 
Favorite Lens:  Florence (50%) 
Favorite Film:  Love 81 (83%) 
Favorite Flash: None
"Technical: I used Florence/Robusta and the Multi-Exposure Kit in Hipstamatic. I got the idea from seeing Polina Sarri's very inspiring post on Hipstography, and further refined the technique. I took silhouettes of friends and strangers, printed them onto paper, and carried several silhouettes with me when I went out to photograph each day. I would first photograph the silhouette, then photograph something else to fill the silhouette. It took several tries to line things up, to get the effect I wanted, and sometimes I got it right away, or got something surprising that I liked even better than my original idea.
The Photographs: I've tried to create new whimsical, mythological creatures, with a nod to Arcimboldo and an eye to modern times. I've filled their heads with the things I found around me, at home in Portland, Oregon, and on a recent trip to Paris. Each image has a bit of a puzzle in it; the mind has to do a little dance to see what is filling the head as a thing apart, and then to see it as an integrated composite, a new beast, with its own characteristics. "
Susan Bein
Next page:
This post is also available in: French