Les combos à télécharger
Ce fut l'une des grandes nouveautés de Hipstamatic apparue lors de la sortie de la version Pro en 2015: le partage des combos. Cette fonction est très utile quand le combo est complexe et qu'il utilise, par exemple, l'outil "Tone Curve". Cette fonction nous a donné l'idée de créer nos propres collections de combos, The Hipstography Combo Collections, et de vous offrir de temps en temps quelques combinaisons réunies autour d'un thème.

Si nous publions aujourd'hui ce tutoriel, c'est qu'un bug empêchait les téléchargements de combos depuis quelques mois. Hipstamatic vient de sortir une nouvelle version (360) qui corrige ce problème; les combos peuvent donc de nouveau être téléchargés.
Avant toute chose, une précision importante: pour télécharger les combos que nous vous proposons, il est impératif d'utiliser Safari ou Chrome sur votre iPhone; si vous avez cliqué sur un lien via Facebook, il faut faire demi-tour! Le navigateur de Facebook ne permet pas ce genre de téléchargement. Il est donc impératif d'ouvrir un browser, par exemple Safari, et de taper hipstography.com
Les combos à télécharger se trouvent dans la section "Combos à télécharger" mais aussi dans la section "The Hipstography Combo Collections". Pour y accéder, sélectionnez dans le menu déroulant qui se trouve en haut de chaque page  l'une de ces deux sections et ensuite confirmez votre choix.
Pour ce tutoriel, nous allons télécharger Lizzy, l'un des combos de "The Nostalgic Collection". Les liens de téléchargement se trouvent toujours en bas de page. Voici la procédure à suivre:
1. Cliquez sur la flèche verte; une page s'ouvre et vous demande si vous souhaitez télécharger Lizzy. Cliquez sur "Telécharger".
2. Ensuite, cliquez sur la flèche qui se trouve dans le coin supérieur droit et cliquez sur Lizzy.
3. Une fenêtre s'est ouverte et cliquez cette fois sur le logo d'un carré et d'une flèche qui se trouve aussi dans le coin supérieur droit.
4. Vous êtes maintenant dans une fenêtre qui vous propose tous les moyens de partager ce fichier; il faut choisir "Plus" qui se trouve à droite de la seconde rangée.
5. Descendez ensuite jusqu'au moment où vous apercevez l'icône "Copier vers Hipstamatic" (ou "Copier vers Hipstamatic X" si vous employez cette version). Et le tour est joué, Lizzy se trouve maintenant dans votre catalogue de combos.
Précision importante
Ces combos, comme tous les combos de la section "Combos à télécharger" ou de la section "The Hipstography Combo Collections", sont des combos qu'il faut appliquer APRES la prise de vue. Vous pouvez les utiliser lors de la prise de vue mais aucun des paramètres du Pro Mode (pourcentage de l'objectif, du film, Exposition, Eclat, Definition,...) ne sera appliqué directement.
Pour prendre un exemple concret, Pythagoras a été créé à l'aide de Madalena mais à 32%, de Gotland (18%) et de Triple Crown réduit à 68%. La clarté est réduite, ainsi que la definition, etc... En utilisant ce combo lors la prise de vue, vous obtiendrez un cliché dont le combo est Madalena 100%, Gotland 100% et Triple Crown 100%. Il vous faudra donc appliquer le combo choisi par après. Ceci est une limitation générale qui s'applique à tous les combos élaborés dans le Pro Mode.
Et du coup, nous voudrions profiter de l'occasion pour vous redonner les différents liens vers les six précédentes collections de combos signées Hipstography intitulées The Organic Collection, The Lush Collection, The Candy Collection, The Cosmetic Collection, The Nostalgic Collection et The Hellenic Collection.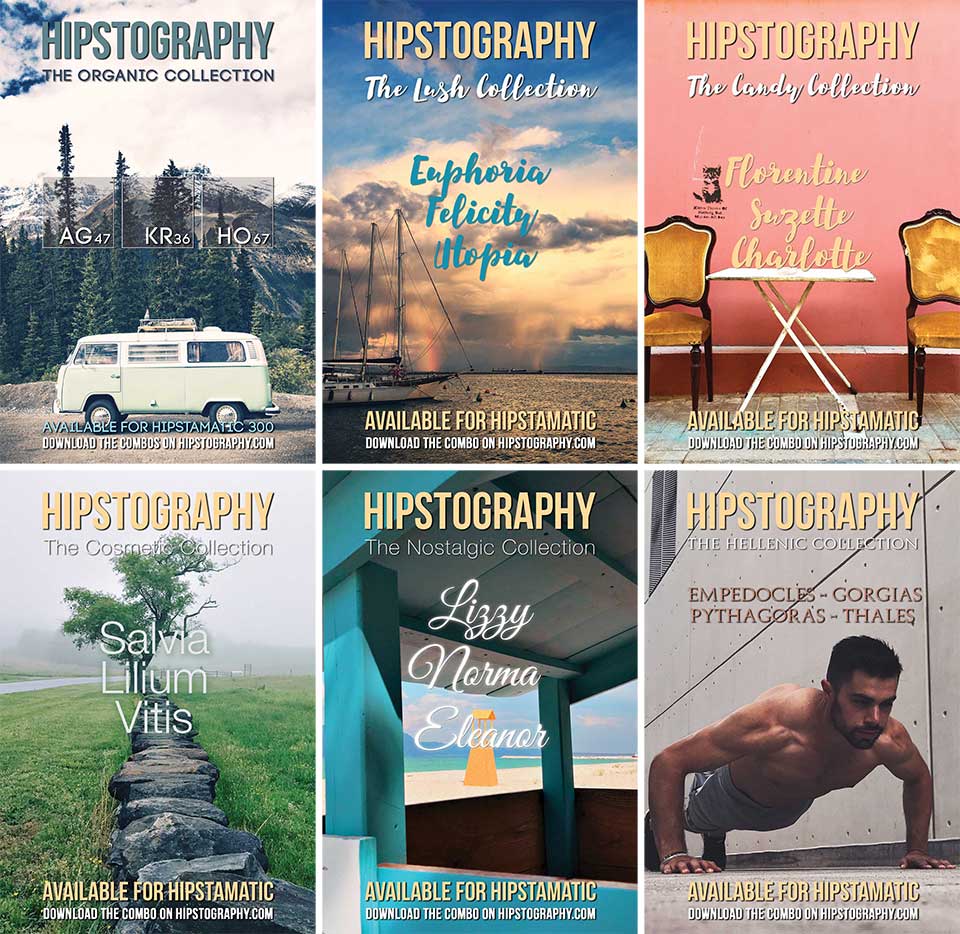 This post is also available in: Anglais