Inside The Haus: Doug Lambert, COO, Hipstamatic
By
Eric
on October 6, 2013
Doug, what is your job at Hipstamatic?
I'm the COO (chief operations officer) and have the pleasure of supporting an amazing team. I manage the operations of the business — jokingly we refer to it as, "killing the distractions", so basically managing the operations so everything runs smoothly and the team can focus on making awesome stuff. Innovation can only happen when those that are talented can focus on a daily basis, and the inhibitors, as it were, can be eliminated.
It's important that the team can enjoy what they do and continue to do it well. So, I focus on the administrative and back-office responsibilities so that the team can innovate. I get to deal with all the minutia, things more in the background, which is what keeps the business ticking. I love it.
Are you following their artistic work?
Absolutely! Ultimately I'm a fan first, co-worker second as it relates to the artistic work. Knowing this only furthers my objectives on managing the day to day operations and allowing my team the opportunity to continue producing, innovating and expanding upon their many artistic talents which benefit our business. As a musician and infinite student of photography; I have a genuine appreciation for my teams artistic contributions and ultimately, I have the luxury of applying these efforts into our day to day business.
Is there a conflict between the artistic side and making the business run? How do you balance those things?
In my opinion, we've been very consistent with the quality-first-mentality and I think that's been at the forefront of all our decision making. That's been representative in the marketplace, from when we launched in Dec. 2009 through to today. I'm thankful to say that we have successfully blended the two together. In December of 2009, nobody was talking about filters and square images produced from your mobile phone; thanks to Lucas and Ryan, they created a marketplace and thus bridged art and business. In-app purchases are just one bi-product of what they created. What I'm most proud of is that we have stayed consistent as a business. We have a very productive, small and focused team which puts art and our community first. The bi-product is that we are a successful business. We are humbled by our extremely loyal community and by maintaining a self-funded, community focused business model; we consistently stimulate ways to blend art and business.
Do you see the difference between such a creative company and a run-of-the-mill business?
Absolutely. To be creative you must be free to innovate, have the time to innovate and have the means to produce your idea and make it into a reality for the world to enjoy. By run of the mill, I'm guessing that phrase can only apply to businesses that do not allow the above to exist or at least do not sincerely embrace that reality. From a photography perspective, this interview, I'm also a fan and want to have a pulse of reality regarding what the community is thinking. So, for someone in my role to even be afforded the opportunity of doing an interview like this; it is really amazing and I appreciate the opportunity.
How did you join Hipstamatic?
My wife, Cyndi, actually introduced me to Lucas. I got the opportunity to work with him and I was thankful that both he and Ryan thought that my efforts were beneficial to the business. At that time, I believe I had a Blackberry. My wife had an iPhone, so I went and got myself an iPhone 4 and I was just amazed! Like anyone who uses Hipstamatic and wants to immerse themselves into it, I got hooked. So as far as the products go… yeah, I had a Blackberry and transitioned to an iPhone and I never looked back.
Are you using another camera?
The best camera is the one in your hand. Although I'm biased, I sincerely fell in love with Hipstamatic and now Oggl. If you were to come to my home, you'd see pictures of my kids all over the walls and they are all Hipstamatic pictures. We have an amazing, high quality, printing service which Cyndi and I use quite often. I order prints of the family and the kids for my parents, who are baby-boomers, and I am genuinely really proud of the end product. When I first started using Hipstamatic, my parents for example, were so amazed and asked me what camera I used and when I told them it was the iPhone and Hipstamatic, they couldn't believe it. When they saw the prints, they were hooked.
What was your reaction when Lucas or Ryan spoke to you about Oggl?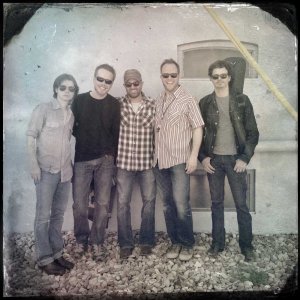 I learned early on that if they tell me that there's a new product, they are believers in their art and I for one am a believer of there art as well. I'm beyond questioning their innovation; rather I'm more anxious to see it and use it and how I can help them make it a reality. I was really pleased with the layout and vision of Oggl and more importantly, how they embraced quality and community within its framework. The product has stayed sincere to our overall business. As they chase perfection, I get to reap the benefits of the product they've come up with. That's a luxury and I'm very appreciative of that. I think that now, with Hipstamatic Classic, Oggl and Snap magazine and everything else we're doing. I'm very happily supportive of it all.
Do you lean more towards Oggl or Hipstamatic?
Well, I'm both, you know. I'm a traditionalist, but at the same time, I become really interested when, in our terms, get some love... For example, when I see that David Loftus loves my image, I think that is awesome. I respect David and am simply humbled that he would love my image. When I scroll through, I feel like I'm walking through the world's biggest art gallery. I love starting my morning by literally seeing amazing images, tapping on them to send some love and then moving on with my day. The beautiful image is first, it is what is most important. The artist becomes secondary and this to me is pure appreciation of a beautiful image, without distraction, without self inflicted narcissism, without distraction.
What are your personal favourites: film, flash, lens and combo?
For some reason, I always end up using DC and Loftus combo, because of the focus and the blur. I also use Jane quite a bit, as well as the AO black and white. As far as film goes, I usually use the Ina's 1969… the original. When I shoot with Hipstamatic Classic, I use "random" and then I get to set new favorites based on what I shoot. I typically use the Standard flash but occasionally I'll use "random", just to see, but as I said, I'm a bit of a traditionalist. My wife has used just about everything and she then educates me… I'm a student as well, like anyone else, so I'm constantly learning. Putting it on random helps you understand the possibilities and I'm usually very positively surprised by the results.
Photos: Doug Lambert 
Previous meetings: Lucas Buick - Ryan Dorshorst -  Aravind Kaimal - Mario Estrada - Molli Sullivan
Next meeting: Allan Bedford
© Eric Rozen - Hipstography
This post is also available in: French