The Nostalgic Collection
For this new Hipstography Combo Collection we wanted to get back to the very essence of Hipstamatic, to what made us 'stand up and take notice' from the get-go: the exaltation of the vintage effect. It's a bit of a tribute to our parents and grandparents who left us their dust-covered old pictures, found at the bottom of a box, often tarnished by time with faded colors but also undeniably charming.
The Nostalgic Collection is the fifth collection by Hipstography. We've chosen to stick to the same principles as the four preceding collections (The Organic Collection, The Lush Collection, The Candy Collection, and The Cosmetic Collection): a series of combos with subtle, clean effects that support those little Hipstamatic touches we all love so much.
These three new combos were concocted by a team of dedicated and talented Hipstographers: Polina Sarri, Lara Khatchikian, Kathleen Magner Rios, Lori Hillsberg and Stavros Dimakopoulos. So, it's with great pleasure and certain amount of pride that we hereby present Eleanor, Norma and Lizzy.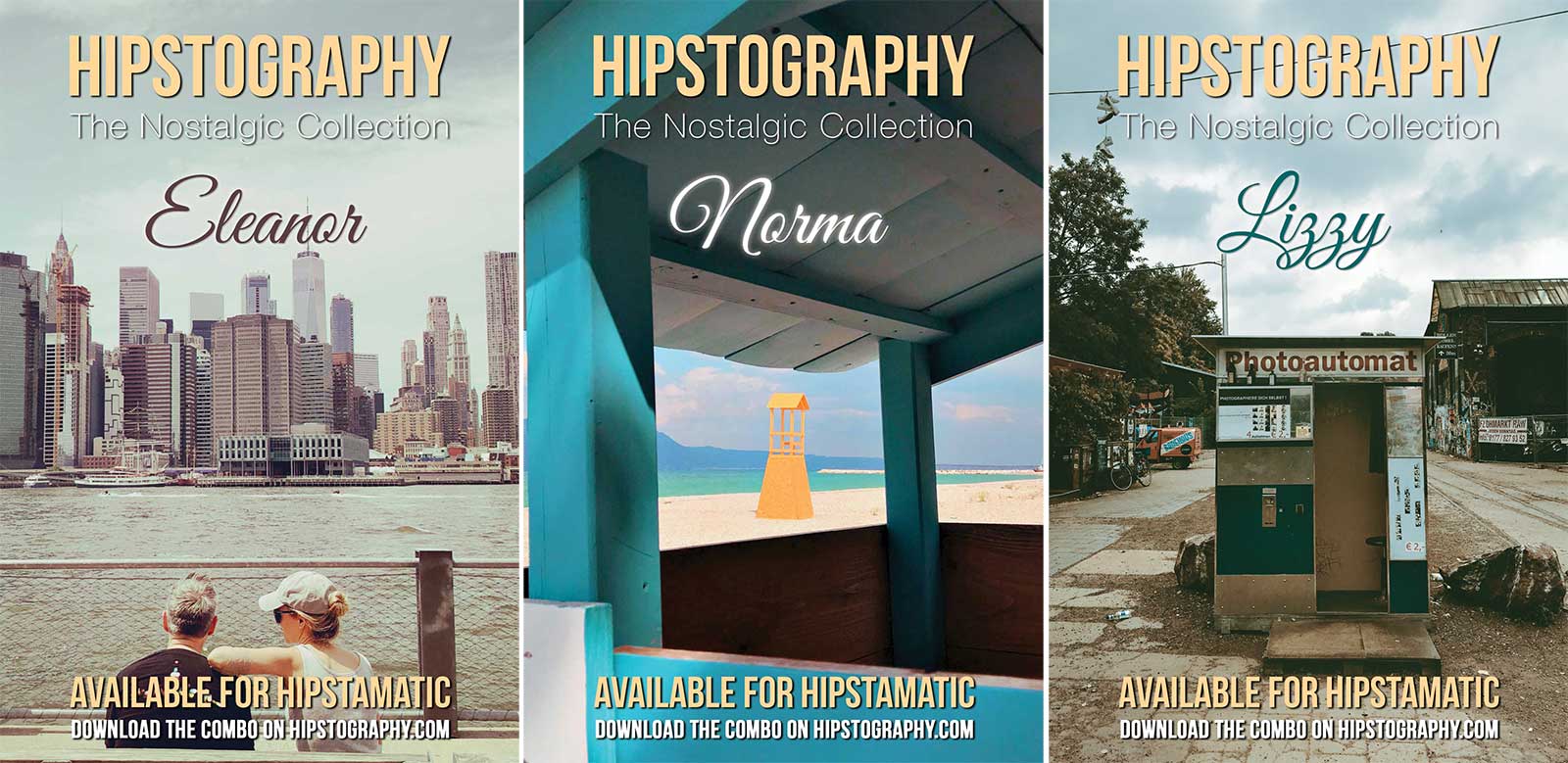 Eleanor
This combo was inspired by photos from the 60's. Finding memories of days past where family holidays and vacations were cherished. The tones in this combo are classic with the warmth of yesteryear. The Leprechaun Tears Gel played a big part in the look and feel of the combo. The highlights and shadows were brought down to give it that faded feel, and clarity pumped up to 30, which is reminiscent of the photos in your parents' photo albums.
It's a tribute to Eleanor Roosevelt for whom the combo is named. As a human rights activist, she had a major impact in NYC and was dubbed the First Lady of New York. She possessed a fierce sense of leadership and strong convictions and was widely respected and esteemed in her own right.
(Photos: Lori Hillsberg)
This combo, Eleanor, is available for download at the bottom of this page.
You can find a number of pictures taken with this combo on this page.
Norma
This combo was inspired by retro movies and musicals from the fifties and sixties, when visual approaches like Technicolor, CinemaScope and Panavision were the new thing. When dazzling mega stars appeared on the big screen, oozing with color and pizzazz, and made us dream, capturing our hearts and minds at just a glance.
Well, "some like it hot" and that is exactly what this combo is all about! Extra warm, saturated and juicy, ready to imitate an era of "happy-go-lucky" and "merry-go-rounds". The choice of Müller and Rijks definitely contributes to the nostalgic direction and though it is an unusual mix and not one of my favorites but in this case, with the right settings, works miracles. A dash of Apollo flash gives Norma its unique final touch.
This combo is dedicated to and named after Norma Jean, the young starlet that Hollywood set on the treadmill of success by changing her name. That's how Marilyn Monroe was born, the ultimate hot idol worshiped by fans and devoured by the system...
"Loneliness was tough
The toughest role you ever played
Hollywood created a superstar
And pain was the price you paid."
(Photos: Polina Sarri)
This combo, Norma, is available for download at the bottom of this page.
You can find a number of pictures taken with this combo on this page.
Lizzy
It was a picture by Rhonda Rogers Baumgartner that inspired this combo. I particularly liked the blue tones which seemed to completely fit in a vintage collection. We tweaked it in Pro Mode by - among other adjustments - lessening the texture and effects of the Love 81 film, as well as removing the frame. The lens, Erie GL is a relative newbie in the catalogue (released in February 2018 as part of the Cleveland HipstaPak) and by working on this combo we learned to handle it. It's destined to become a favorite!
This combo is called Lizzy, as a salute to Lizzy Lind af Hageby, a Swedish-British feminist and animal rights advocate. Lizzy became a prominent anti-vivisection activist in England in the early 20th century. She died in 1963.
(Photos: Eric Rozen)
This combo, Lizzy, is available for download at the bottom of this page.
You can find a number of pictures taken with this combo on this page.

Before you proceed to download the 3 combos, please read the following technical and practical observations:
Practical manual
These combos, like those in the "Downloadable Combos" or "The Hipstography Combo Collections", can ONLY be applied AFTER you have taken your picture. These combos are elaborate combinations (unlike the usual lens, film and/or flash) that would consume a lot of resources and, hence, slow down Hipstamatic considerably. You can use them as you're shooting, but none of the Pro Mode parameters (such as exposure, clarity, definition, etc…) will be applied directly.
As an example, Eleanor was created with Muir (100%), with Abbot K20 reduced to 40%, and Leprechaun Tears reduced to 40%. The Clarity is +30, the Highlights reduced to -25, etc… If you use the combo while shooting, you will end up with the Muir, Abbot K20, and Leprechaun Tears combo, although everything will be at the original 100% level. That being the case, you will need to apply the combo afterwards to get the full effect.
Download
On the practical side of things, you can find the downloads at the bottom of this page. You will have to open the page on your iPhone by using a browser like Safari or Chrome. If you happen to have arrived here - on this page - through an article or a link on Facebook, click on the bottom right icon that looks like a box with an arrow coming out of the top, then select the option of "Open in Safari". The Facebook navigation system doesn't allow this kind of download, so do not attempt the download while viewing the page within the Facebook app. Of course, you can always open the Safari app manually, go to hipstography.com, and click on the appropriate link, which will take you to the page in question if you choose to download at a later time.
---
These combos are available for download.
More information about this function can be found in this tutorial.
Please be aware: You CANNOT download the ".hipstamatic" file via the Facebook browser. You will only be able to download it on your iPhone from Hipstography.com via a browser such as Safari or Chrome.
---
This post is also available in: French