The Hipstography Awards 2013 – The Ceremony
By
Eric
on February 9, 2014

From Chris Hornbecker to Beatriz Sene
For her portfolio "Imagery into abstraction"
Chris Hornbecker is an award winning commercial advertising and editorial photographer. He has traveled all over the world shooting athletes, models, and celebrities. He is known for his adept lighting skills, his exceptional timing, and ability to capture the moment. Chris was instrumental in the creation of the "NSW Always On Freepak", in collaboration with Nike, released in July 2011. Aside from the 2 black/white films AO BW and AO DLX, we also have him to thank for the Hornbecker lens.
Concerning Beatriz Sene's portfolio: "I love the graphic nature of Beatriz Sene's work. She is doing in camera double exposures that remind me of a cleaner and crisp Salvador 84 lens look. Very nice technique and great use of it. Seeing these made me go out and try this combo and technique, Thanks for the inspiration Beatriz."
"Imagery into abstraction" by Beatriz Sene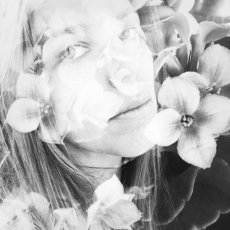 Name: Beatriz Sene
Hometown: Curitiba, Brazil
Resides: Curitiba, Brazil
Profession: Translator
Hobbies: Photography, Travel
Hipstographer since: 2012
Year of Birth: 1979
Favorite Combo:  Florence  +  Blackeys Extra Fine 
Favorite Lens:  John S 
Favorite Film:  Blackeys Extra Fine 
Favorite Flash:  RedEye Gel 
"Photography is a means of expression for me. The way I look at images completely changed a couple of years ago, when I saw the work of a Brazilian photographer named Geraldo de Barros, for the first time. He was heavily influenced by Gestalt theory which investigates our perception of incomplete forms in reference to the whole. I have tried a new visual language ever since. My photographic experiments with multiple exposures have been greatly influenced by Barros and Charles Swedlung.
The Florence lens reminds me of G2 because of the strong contrast, and with the BlacKeys Extra Fine film the photo is sharper. This combo is accurate and it preserves the detail that usually disappears with the multiple exposure setting. The result is clear and balanced with no edge. For me, the combination of aesthetics and technology is the way to abstraction."
Beatriz Sene
This post is also available in: French