The Hipstography Awards 2013 – The Ceremony
By
Eric
on February 9, 2014

From David Loftus to Kunstvibe (Vanessa Uher)
For her portfolio "Fusion of Reality and Truth"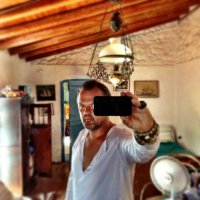 Award-winning, influential and internationally acclaimed, David Loftus' photographs for the books of Jamie Oliver, Rachel Khoo, (to name but a few) have brought food to life for millions of people. For over 20 years, David has photographed over 100 books. He works closely with the digital photographic brand Hipstamatic and has developed the most successful downloadable camera pack to date – the "Loftus Lens".
David Loftus' stripped-back, fuss-free style of photography, led Professional Photographer magazine to name him the 65th most influential photographer of all time by, in 2010. In 2012, David published his first book under his own name, a recipe collection entitled "Around The World in 80 Dishes".
Concerning Kunstvibe's portfolio: "It's a great honour to be asked to judge at the Hipstography Awards this year, and especially to be able to award a special 'David Loftus' award to the Hipstographer who has made the greatest impression on me personally.
Vanessa@kunstvibe was one of the first to make a huge visual impact on me with her mixture of soft atmospheric landscapes and snatches of backlit surf and city life. From back flipping divers, to painterly paddle boarders to kids dancing in the sunlight, from soft nudes to macros and skate boarders, her beautifully striking and haunting images always manage to invade my subconscious and have even begun to influence my dreams. A worthy and extraordinary photographer who manages to cross all boundaries and subjects without ever disappointing. Amazing."
'Fusion of Reality and Truth' by Kunstvibe (Vanessa Uher)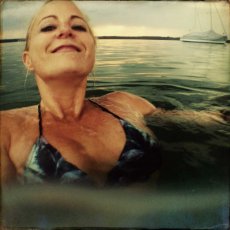 Name: Kunstvibe (Vanessa Uher)

Hometown: Berg, Germany

Resides: World

Profession: Artist (Painter/Musician/Graphic Designer & Photogapher)
Hobbies: Kitesurfing, flying,...
Hipstographer since: 2010
Favorite Combo: everyday different
Favorite Lens:  Salvador 84 
Favorite Film:  Sussex  (for the moment)
Favorite Flash:  Berry Pop 
"I fell deeply and irredeemably in love with Hipstamatic instantly. I have always enjoyed being a trashy kind of photographer. I love Pinhole, double exposures and long shutter speed photography: all kinds of painting with light that reveal things we don't see normally! I totally agree with Andreas Feininger who said: 'A technically perfect photograph can be the world's most boring picture.'
I believe that it is actually mainly the 'mistakes' that touch the soul somewhere. I love Natural Light Photography and for this I love my iPhone and Hipstamatic. My big Life Art Project is entitled "Fusion of Reality and Truth" (auf Deutsch:" Fusion aus Realität und Wirklichkeit") - and for this I like to confuse the viewer with photographs that looks like paintings and vice versa - snapshots that appear staged and staged shots that look like a weird coincidence. If I had to describe myself and my love for art in a few words then "passionate and enthusiastic" might be the first ones that come to mind. I believe that everything you do with love and passion will be good and authentic!"
Vanessa Uher (Kunstvibe)
This post is also available in: French